Illinois' economy is growing at an increasingly slower rate. That's according to the University of Illinois' monthly Flash Index.
The Flash Index has been declining for the past seven months. It measured the Illinois economy at 103.7 in October, down four-tenths of a point from September's 104.1 reading, and down 2.4 points from its post-recession peak of 106.1 in March.
U of I economist Fred Giertz compiles the Flash Index for the University's Institute of Government and Public Affairs, based on state tax receipts. Giertz says those tax revenues are currently strong, but that some economic factors pose problems.
For instance, Giertz says Illinois' unemployment rate of 4.5% is one percentage point higher than the national average, even if it's still relatively low compared to past years.
"So if you ask, how is Illinois doing compared to past years in Illinois, the answer is, we're doing pretty well," said Giertz. "If you ask how are we doing compared to the rest of the country, we're unfortunately the highest unemployment rate in the country."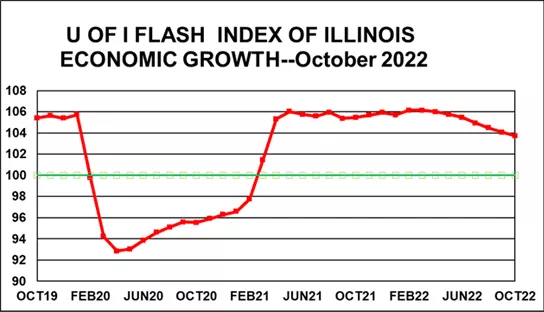 And while the state's economy has slowed, it is still growing, a far cry from the sharp contraction it suffered during the first year of the COVID-19 pandemic.
Giertz says Illinois' economic slowdown mirrors one in the national economy. And he says it's hard to tell if how slowdown will end: in a recession, or in a "soft landing" that avoids one.
"So I think that we're not in a recession right now," said Giertz. "It's certainly a possibility, and probably a higher possibility than we thought several months ago."
Giertz says right now, the Federal Reserve Board is trying to control inflation by raising interest rates. But doing that without causing a recession can be tricky, especially while the nation also weans itself from federal aid dispensed during the pandemic.