SPRINGFIELD – Fewer Illinois families have applied for college financial aid this year using the FAFSA — the Free Application for Federal Student Aid — and a campaign is underway to get more families in the state to complete the form. 
According to the Illinois Student Assistance Commission, overall FAFSA completion is down nearly 5% compared to this time last year, and applications are down by about 7% among students who are eligible for the state's Monetary Award Program (MAP) grants, which are given to low-income students who attend approved Illinois colleges.
Jacqueline Moreno, managing director of college access and outreach at ISAC, says this is also the first year that students at public high schools must complete either the FAFSA or Alternative Application for Illinois Financial Aid as a graduation requirement. Moreno says students can request a waiver, which would allow them to graduate without completing an application for financial aid.
"And unfortunately, we are hearing that families are completing a waiver, just because they're overwhelmed by the process, or they just want to hurry up and get the graduation requirement satisfied," Moreno says. She says the drop in the number of students completing an application for financial aid is concerning.
Moreno says they typically advise students to fill out their FAFSA before March 1, because they might lose out on funding that they'd otherwise be eligible for because financial aid decisions are often granted on both a need and a first-come first-served basis. She says students also can't make informed decisions about post-secondary education until they've completed an application for financial aid.
"Because schools don't cost their sticker price. They cost what is left after you exhaust all the different sources of financial aid," Moreno says.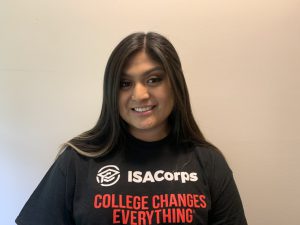 She believes the COVID-19 pandemic is at least partially to blame for the drop in applications this year. Moreno says families are overwhelmed and exhausted; additionally, many students who would benefit the most from financial aid are also from families that have been the hardest hit by the financial fallout of the pandemic.
"The FAFSA seems like a very hard form, even when we're not in a pandemic, and now it has to be done online. It's not being done in school, it has to be done, in most cases, virtually, with people you haven't met in person. It's very uncomfortable. And it seems like just too much for families," she says.
But Moreno says help is available to families who have questions or are uncertain about filling out the FAFSA.
Jocelyn Ramon is a member of the ISACorp, a group of recent college graduates trained to serve as mentors to high school students and their families as they navigate the college application process. Ramon graduated from Aurora University last spring. 
As a first-generation college student, Ramon says she can relate to families struggling to complete the FAFSA. She received assistance completing the form from ISAC when she was in high school.
"And definitely filling out the FAFSA made it possible for me to go to school," Ramon says. "Otherwise, I could have not been able to afford it." Ramon also speaks Spanish and has experience explaining the financial aid to students with parents who are immigrants and unfamiliar with the college application process.
If students and families have questions or are struggling to complete the FAFSA, Ramon encourages them to ask for help.
"Especially being a first-generation college student, you may feel alone at times. But there's people out there that do want to help you and want to see you succeed," she says.
Ramon, who grew up in Streamwood, Ill., is now pursuing a master's degree in higher education.
Even if students are unsure they want to attend post-secondary education, Moreno, with ISAC, says it's important to complete the FAFSA anyway. 
"You're filing the FAFSA to find out how much you could get. Don't write it off now," she says. "There's lots of time to decide what you want to do. But if you decide not to apply for financial aid, you're really exacerbating the disproportionate effect that it's having on lower-income, economically struggling families."
To find an ISACorp member near you, visit: https://studentportal.isac.org/isacorps. 
Lee Gaines is  reporter for Illinois Public Media.
Follow Lee on Twitter: @LeeVGaines