CHAMPAIGN — University of Illinois athletic director Josh Whitman announced Sunday that he has fired football coach Lovie Smith, a day after the Illini lost decisively to in-state rival Northwestern.
Hear athletic director Josh Whitman's Sunday afternoon news conference here.
Smith compiled a 17-39 overall record in five seasons at the helm of the Illini program, including 10-33 in Big Ten Conference play. Illinois is 2-5 this season, with one game remaining. Offensive coordinator Rod Smith will coach the team in an interim role at Penn State on Saturday. That matchup was announced by the Big Ten Sunday afternoon.
In a Sunday afternoon news conference, Whitman said the Illinois program is overall in a better place than it was when Smith took over five years ago, but the results on the field did not meet expectations. 
"Did we win enough games? Absolutely not," Whitman said. "I do feel strongly that we're much better positioned today to go out and attract the next football coach than we were five years ago."
Whitman said the program's facilities and overall staffing are far ahead of where they were when Smith took over the program.
Smith led Illinois to the Redbox Bowl in 2019, the program's first bowl game since 2014. His 6-7 record that season turned out to be the high water mark for the program during Smith's tenure. The Illini upset nationally-ranked Wisconsin for Homecoming, and staged a late comeback at Michigan State to clinch a bowl bid.
But Illinois was unable to build on that bit of success during the pandemic-shortened 2020 season.
"We were never able to quite get over the hump," Whitman said. "We're all competitors. We all know there's a scoreboard. We all accept the fact that when you sign on the dotted line for these opportunities, there are certain expectations that come with them.
Whitman said he made the decision following the 35-21 loss to Iowa December 5, but didn't tell Smith of his decision until Sunday morning.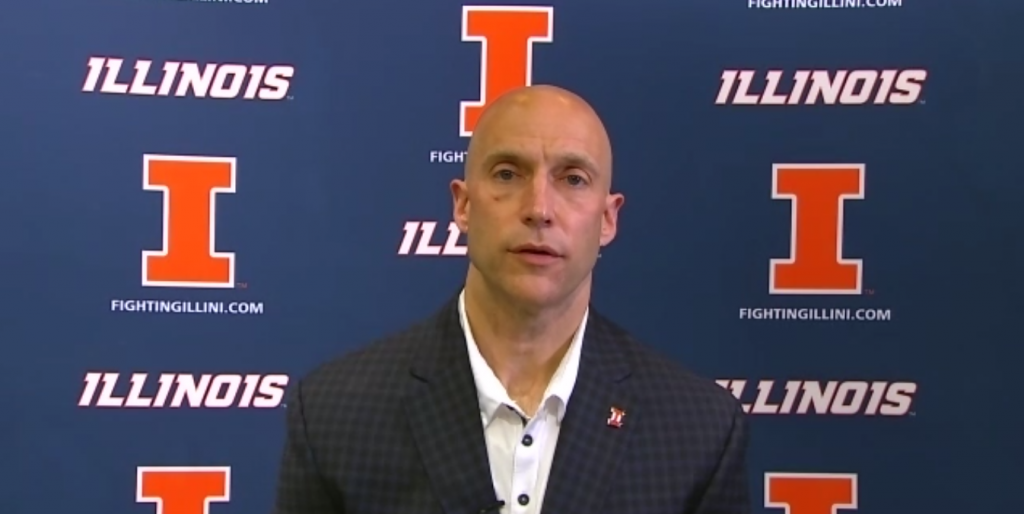 "I can't point to a single game or a single loss," Whitman said. "There was no turning point for me. I think it was an accumulation of observations and data points.
"Especially in this pandemic year, it was really never about the number of wins or losses. For me, it was about our competitiveness. It was about the way that we won, or the way that we lost, trying to always look past the scoreboard and see what's happening within the program and if it gave me optimism and hope about the future, or if ultimately we felt like a change was needed."
Whitman said Illinois will pay Smith about $2.3 million. He will get about $300,000 for his salary through the end of his contract year in January, and a $2 million buyout. Whitman said that money will come from the athletic department budget, which has already take a big hit because of the COVID-19 pandemic.
He said a nationwide search for Smith's replacement will begin immediately, and that the athletic department will not use a search firm to help with the process. Whitman hopes to have a new coach in place within the next few weeks.
Lovie Smith's Record at Illinois
| | | |
| --- | --- | --- |
| 2016 | 3-9 Overall | 2-7 Big Ten |
| 2017 | 2-10 | 0-9 |
| 2018 | 4-8 | 2-7 |
| 2019 | 6-7 | 4-5 |
| 2020 | 2-5 | 2-5 |