URBANA – Most leaders from the Democratic and Republican parties in Illinois are saying publicly that they support the guilty verdict against a former Minneapolis officer. Derek Chauvin has been convicted of murder and manslaughter in the death of George Floyd, the explosive case that triggered worldwide protests, violence and a furious reexamination of racism and policing in the U.S. The jury deliberated about 10 hours over two days in a city on edge against another outbreak of unrest. Floyd died last May after Chauvin, a white officer, pinned his knee on or close to the 46-year-old Black man's neck for about 9 1/2 minutes.
Governor J.B. Pritzker (D-Illinois) said in a statement, "no courtroom can ever replace a life, but it can and should deliver justice. Today, the jury in Derek Chauvin's murder trial honored that truth."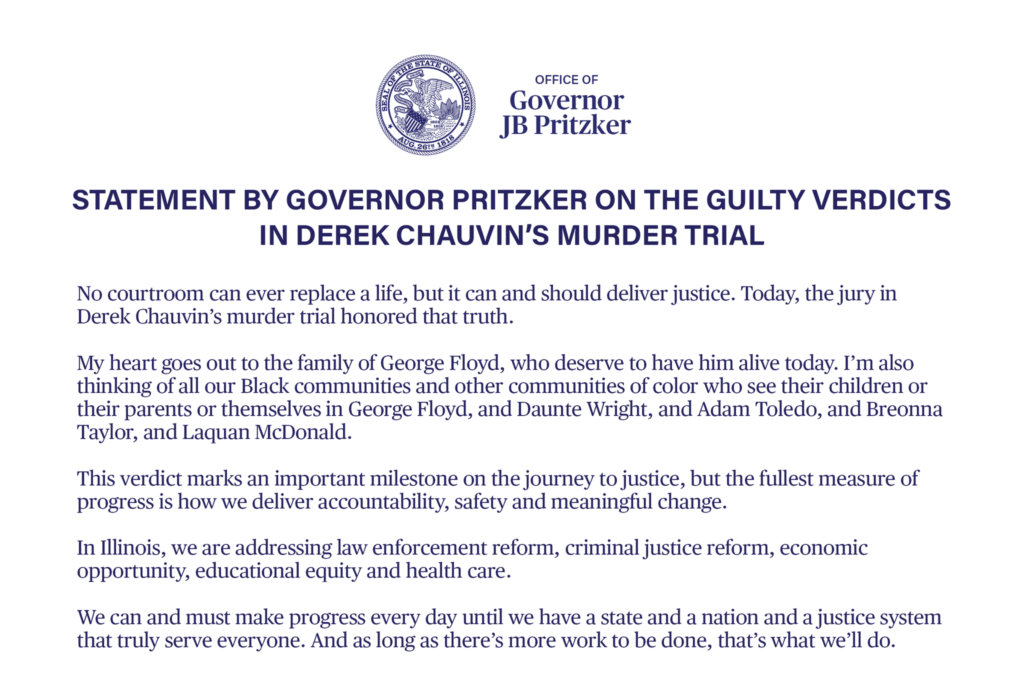 Illinois House Speaker Emanuel "Chris" Welch says the guilty verdict in the trial of ex-cop Derek Chauvin suggests quote "some common sense of justice." The Democratic leader says there's nothing to celebrate. And it shouldn't have taken Floyd's death to change hearts and minds. Welch also cited a police reform law passed by the Illinois legislature earlier this year. Lawmakers elected Welch as Illinois' first Black Speaker of the House in January.
Today, after 11 months, we have finally received a verdict that suggests we may have some common sense of justice.

— Speaker Emanuel "Chris" Welch (@RepChrisWelch) April 20, 2021
Illinois Senate Republican Leader Dan McConchie said the verdict "is justice under our judicial system."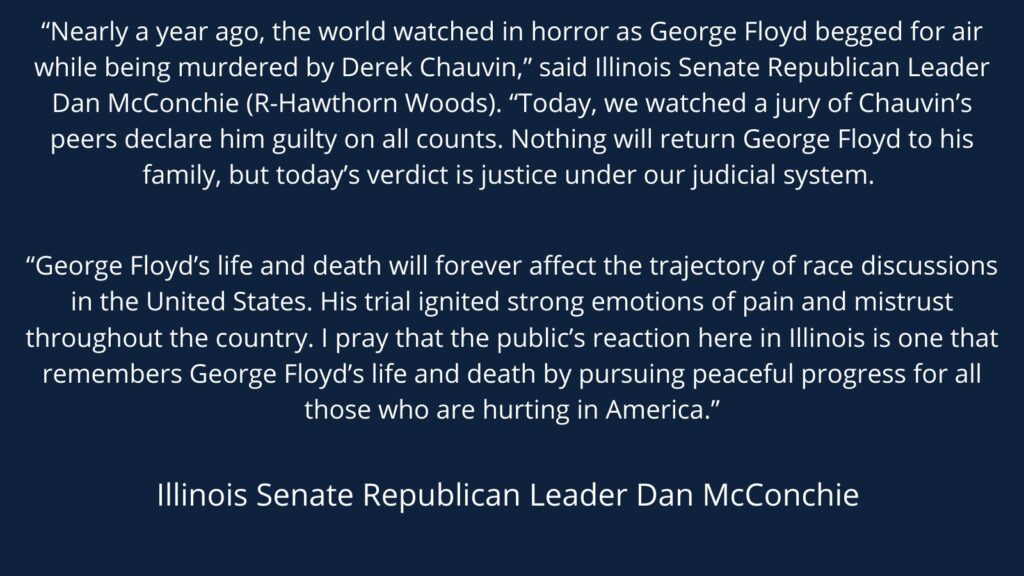 George Floyd's murder reignited the fight for justice across this country in the never-ending hope that someday justice might be found.

This verdict will not undo the tragedy & suffering.

It should serve as a historic marker in our ongoing work to build a just & equal society.

— Senate President Don Harmon (@DonHarmonIL) April 20, 2021
George Floyd was murdered at the hands of Derek Chauvin who betrayed his oath to protect and serve.

While this verdict won't bring George Floyd back, it brings his family and our nation closer to some semblance of justice and reminds us all that accountability is still possible.

— Tammy Duckworth (@SenDuckworth) April 20, 2021