ST. LOUIS — The Fighting Illini men's basketball team demolished Missouri in the 41st annual Braggin' Rights game Wednesday night in Saint Louis. The final score was 88-63.
Kofi Cockburn tallied 25 points and grabbed 14 rebounds for the victors. He said he'll enjoy his holiday travels a lot more after winning the border war for the first time in his career.
"I remember crying on the bus back (to Champaign)," Cockburn said. "I think this year, the circumstances are different. I'm way more happy right now. I think I'm going to have a really good flight back home. I'm going to enjoy time with my family."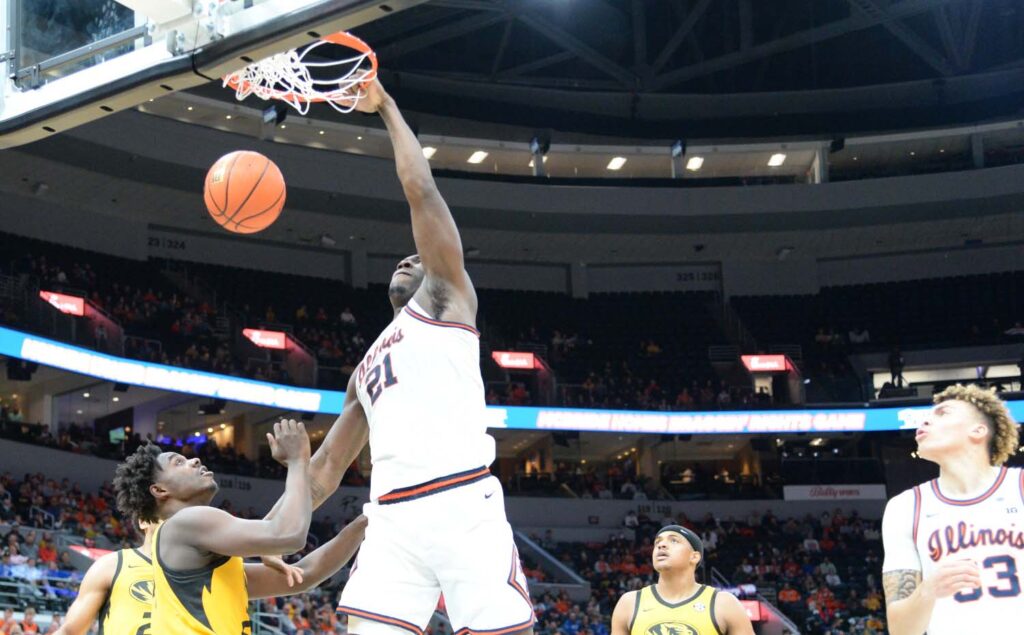 Alfonso Plummer added 22 points, and Trent Frazier added 15 for Illinois (9-3), which won this game for the first time since 2017. Illinois head coach Brad Underwood credited Frazier as the team's unsung hero.

"Trent's a really good player. He plays on the ball, off the ball, guards the other team's best player, never turns it over, plays close to 40 minutes every night," Underwood said. "You put him in this game, and he understands how much it means to our fans. I'm happy for him he gets to go out with a smile on his face."
Underwood was also thrilled by the teams' respective assist-to-turnover ratios, noting that his Illini held the Tigers to just six assists, while forcing 12 turnovers. By contrast, Illinois assisted on 20 baskets, and committed 15 turnovers.
The Illini also won the rebounding  battle, 39-27. They converted almost half of their three-pointers, with both Plummer and Jacob Grandison connecting on 3-5, and Frazier 3-7. Overall, the team was 12-25 from behind the arc.
Missouri (6-6), which has struggled from three-point range all year, made just 6-23 attempts. Leading scorer Kobe Brown was held to 1-7 from long distance. He still managed to score 13 points and grab a team-high 7 rebounds.
One time Illini recruit Javon Pickett, who's enjoyed some of his best career games in the Braggin' Rights series, was held to three points on 1-8 shooting. Jarron Coleman led the Tigers with 16 points.
All the Illini players are now traveling home for Christmas, whether that means California, Puerto Rico or Jamaica. The team didn't have a Christmas break in 2020. Now vaccinated, they're all cleared to spend the holiday with family.
Next for Illinois is a home game on Florida A&M on Dec. 29, before resuming Big Ten conference play Jan. 2 at Minnesota.
Illini women fall at home to Tigers
Despite a fast start, the Illinois women's basketball team fell at home to Missouri in the 'Braggin Rights game 84-65. De'Myla Brown scored a career-high 22 points for Illinois in the loss.
The Illini jumped out to a 13-1 lead, sparked by three three-point buckets from Sara Anastasieska, who finished with a season-high 19 points.
But Missouri (11-2) would roar back to tie the game at 16-16 by the end of the first quarter, then keep that momentum to build a 40-26 halftime lead.
Illinois (5-7) would get no closer than eleven points in the second half. Another challenge awaits the Illini after a short Christmas break when they host No. 6 Maryland on Dec. 30.
Rob McColley covers University of Illinois sports for WILL.