Betsy Crosswhite says it felt like a punch in the gut when her son's school closed to limit the spread of the coronavirus. That's when she realized she would need to become her son Shane's teacher and therapist. 
Crosswhite and her family live in Wilmette. She and her husband have three kids, including Shane, 15, who is on the autism spectrum. 
On the last day of March, Illinois schools shifted all instruction to e-learning or remote learning days. A directive from the Illinois State Board of Education says the goal is to get educational opportunities to students by any means possible. The state recently published recommendations for best practices, including for students with disabilities. 
But for Crosswhite, that transition from parent to teacher isn't an easy one. She says her son, Shane, relies on a schedule and he struggles when his routine is disrupted.
"So his recreational activities all shut down, his therapies decided to shut down and he really can't receive occupational therapy via telehealth services, and speech therapy is also hard for him via (video conferencing)," she says. 
Most Illinois school districts use some form of digital learning service to communicate with students, including the video conferencing service Zoom or a Google classroom. But Crosswhite says screens are particularly challenging for Shane. She says like many children with special needs, he's easily overstimulated.
"Whatever iPad time he has it's really closely monitored by me," Crosswhite says. "And I only give him about 15 minutes a day, because it can turn very negative. So e-learning for him that first week was a real challenge. And I kind of cried uncle early on saying it's too hard for him. He doesn't understand why he's not in school. He doesn't understand why he's seeing his teacher on a video and not in person. And it led to crying fits and all that stuff."
Shane attends New Trier Township High School in Winnetka. Crosswhite says they tried a video conference with a speech therapist from school, but it didn't go well. 
"It was me chasing him around with the camera while (the speech therapist) is trying to even do one or two things for him. And it just didn't work out," she says. "It's exhausting because it's 24/7, I can't leave him alone."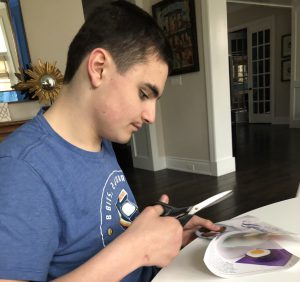 Crosswhite says her son sees the people in his life in specific roles. It's hard for him to adjust when they take on roles he's not used to, she says.
"So it is a challenge and we're having to really break down those barriers for him, and I think it's really uncomfortable for him. Because again, it's not routine. It's not the norm of what I'm asking him to do and pushing him to do."
Most special needs kids have what are called individualized education plans, or IEPs. IEPs are legal documents that lay out a program to meet a child's unique needs. They include goals and objectives tailored to each student. Crosswhite says she took a look at Shane's IEP goals recently. 
"I just think we all have to anticipate that he's not going to meet them this year. And we'll have to sort of do a redo for next year," she says.
'Very long days'
Lauren Kamnik is home alone with her three children in Deerfield, two have special needs. She says trying to give her children individualized attention is nearly impossible. 
"It's minute by minute. Honestly, these are very long days," she says. 
Kamnik's children attend Deerfield Public School District 109. Her son Wesley, 10, has a rare condition called GAND, or GATAD2B-associated neurodevelopmental disorder, characterized by an intellectual disability and difficulty with speech. 
"He's in a classroom where he's learning how to wash his hands and, you know, brush your teeth and money and that kind of thing. And he's not learning those skills (right now)," Kamnik says. 
Her other son, Oliver, 11, has emotional and behavior diagnoses, including issues with depression, anxiety and ADHD. He normally attends a therapeutic day school. 
"He's in an environment where they're trying to get them socially and emotionally regulated. And he's not getting that right now," Kamnik says. 
Kamnik says she relies on her children's school district to provide the interventions and support her sons need.
"The therapies, the psychology visits, the social worker visits, I mean, that's what they got in school, and they're not getting any of it. My son (Wesley) was nonverbal and because of speech therapy, he now talks. These things make a difference," she says.
Kamnik also relies on the school day to get a break for herself. She says managing three children as a single parent, including two with special needs, is hard in the best of times. Now, she says, it's taking a toll on her mental health.
"I think most parents, they need time, whether it's a car ride to work or just time to decompress and take a break, and it just isn't happening. You don't have it at all," Kamnik says. "I feel myself spiraling into sadness and depression. I think everybody in the country is sad because it's a very lonely, isolating time, but this is different."
'The system just doesn't work for him'
Tia Hartsell and her partner are both essential workers. Hartsell is a social worker at a nonprofit that serves adults with developmental disabilities, and her partner works for UPS. They have two children, a toddler and a seven-year-old, Haden, who is on the autism spectrum.
"He's incredibly smart. But he just doesn't really get social stuff very well. He's like super, super high energy," Hartsell says. 
Haden attends the Urbana School District 116 and spends half his day at a program that provides services for young children with autism. Hartsell says her son thrives in a one-on-one learning environment which he's not getting now. 
"He can't really do the online learning stuff because he literally needs somebody right there with him to be able to get him to really focus on that and do it. There's just no way that I can do that like all the time."
Hartsell's partner works nights and is home during the day, but can't provide the attention Haden needs. Hartsell says she doesn't have time or the energy to work with him during the evenings. 
Hartsell says the Urbana school district has done a great job providing parents with resources.
"The problem is we're not teachers," she says. "And the system just doesn't work for him. Sit down at a computer — he just can't do it on his own. And we don't have the ability to do it to the degree that he needs it. And (the school) knows it, but there's not much they can do either."
Hartsell also worries the progress Haden has made will erode the longer students remain out of school.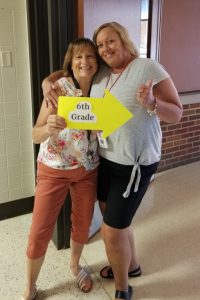 "I'm just terrified that he's just going to go back after months and months and months of no structure and you know, being off those expectations, that it's just going to be like starting from ground zero again," she says.
'They don't have that structure'
Since schools closed, special education teachers across the state have struggled to teach their students.
Cindy Kline works with special education students in the Triad Community Unit School District 2 located east of St. Louis. She's set up a Google classroom for her students. But Kline says talking to kids while they're at home can't recreate the classroom.
"They don't have that structure, they don't have all the things that we spent all year setting in place to keep them focused. And so then that escalates into problems with parents or them getting behind or them getting stressed, you know, and that makes it difficult," she says.
Kline says she's changed the way she teaches now. It's less about meeting their IEP goals, she says, and more about making sure they're OK. She recently asked her students to write journal entries as a school assignment. 
"But I don't go in and work on the things I normally would work on," she says. "I don't highlight their capitalization and punctuation and all those things… I write back to them just like it was a letter, and I encourage them to go outside and get some sunshine… because I don't want them getting in a funk and getting depressed."
It's not just the students who might be depressed, it's also their parents. Kamnik, the mother of three from Deerfield, says she finds solace in social media groups for parents of special needs children.
"It's nice that I have a bunch of friends that I can pull up and be like, 'I've hit my wall.' And they can't do anything but at least they talk you through it, and make you laugh," she says.