CHAMPAIGN – Going maskless in school. Visiting a grandparent in India. Protecting a baby sister.
These are some of the reasons Champaign-Urbana kids got vaccinated against COVID-19 on Wednesday in one of the county's first clinics for the newly eligible, 5-11 age group.
"Now that I know it doesn't hurt too much, I'm actually looking forward to the second vaccine," said Keen Tang, age six. (Keen and other newly-vaccinated children have more to say about their experiences later in this article.)
The U.S. Food and Drug Administration authorized the Pfizer-BioNTech COVID-19 vaccine on Oct. 29 for children between the ages of five and 11.
In the almost two weeks since then, the Champaign-Urbana Public Health District (CUPHD) has vaccinated roughly 1,250 kids. The district itself has held three clinics, including the one on Wednesday. It also provided doses for Urbana School District 116's clinic on Friday.
"Those first thousand appointments went really quickly," said CUPHD Maternal and Child Health Director Brandon Meline.
Limited supply means limited access
Because the demand for doses has been high, the district and other Champaign-Urbana healthcare providers had to restrict shots to those who made appointments ahead of time.
The supply of the low-dose vaccine for 5-to-11 year-olds is still tight — and will likely continue that way for a few weeks, Meline said.
"We were, as a public health agency, able to secure 2,100 doses that first week. That was after a back and forth with the state to explain why I wanted that many," Meline said.
The federal Centers for Disease Control and Prevention sent a limited number of low-dose shots to Illinois, which in turn had to divide them up among Illinois health agencies.
The downside to the appointment approach – as opposed to walk-ins — is that it tends to reduce access to low-income, minority groups. Those who are internet-savvy and have flexible work schedules often book up appointments first.  
To reach a wider swath of families, CUPHD is working with local school districts to set up on-site clinics. Urbana School District 116 held its clinic for 5-to-11 year-olds on Friday. Champaign Unit 4 plans to host clinics on November 22 and 23.
The Tolono-Philo area Unit 7 and Rantoul city school districts are setting up clinics as well. As with District 116, their doses will come from the Champaign-Urbana Public Health District.
Pharmacies and health care providers, like Carle Health, can order their own supply of pediatric Pfizer vaccines, separate from the public health district's order.
Kids look forward to mask-free school, holidays with grandparents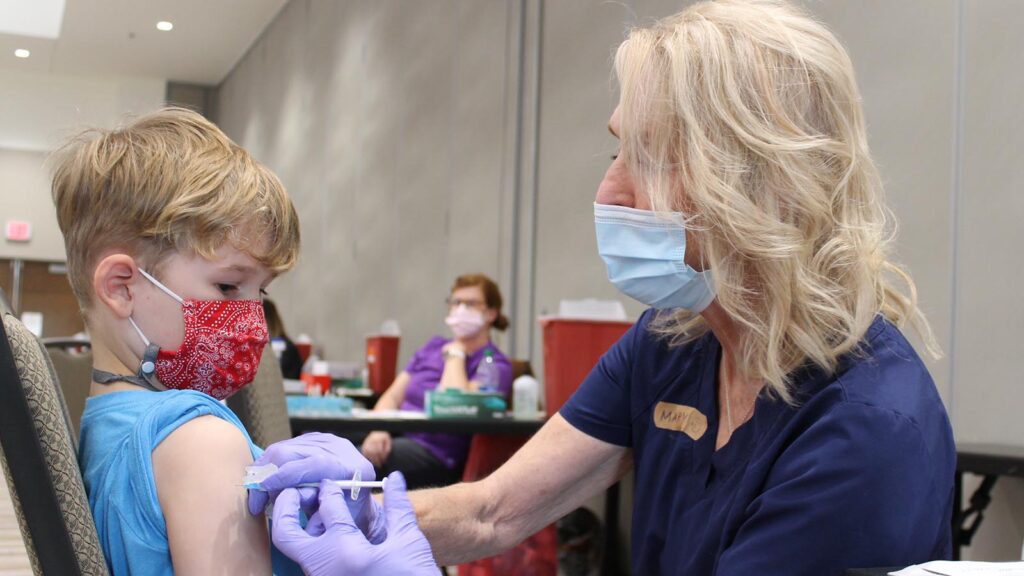 The Champaign-Urbana Public Health District's third clinic for 5 to 11-year-olds started on Wednesday afternoon at 2 p.m.
Six-year-old Keen Tang walked with his father into the I Hotel and Conference Center in Champaign. Helpers guided the pair through the sleek conference hall towards a nurse at a desk. There, Keen picked out a dinosaur-patterned Band-Aid and braced himself for his COVID shot.
After the prick of the needle, Keen realized the shot wasn't so bad. He was even looking forward to his second dose.
His father, Chen Tang, was relieved that Keen was finally eligible. Tang, a University of Illinois graduate student, and his wife have been homeschooling Keen during the pandemic.
"We are homeschooling because of, you know, concerns about COVID. But now with this, we're actually thinking about getting him back to school next semester," Tang said.
He leaned in conspiratorially and stage-whispered, "Because we are pretty done."
Now, the Tangs are just waiting for kids under five to become eligible for a shot, so they can protect their two-year-old from the virus.
Other kids at the clinic on Wednesday had similar revelations to Keen. The shot didn't hurt as much as they expected, and it was definitely worth it for their future freedom.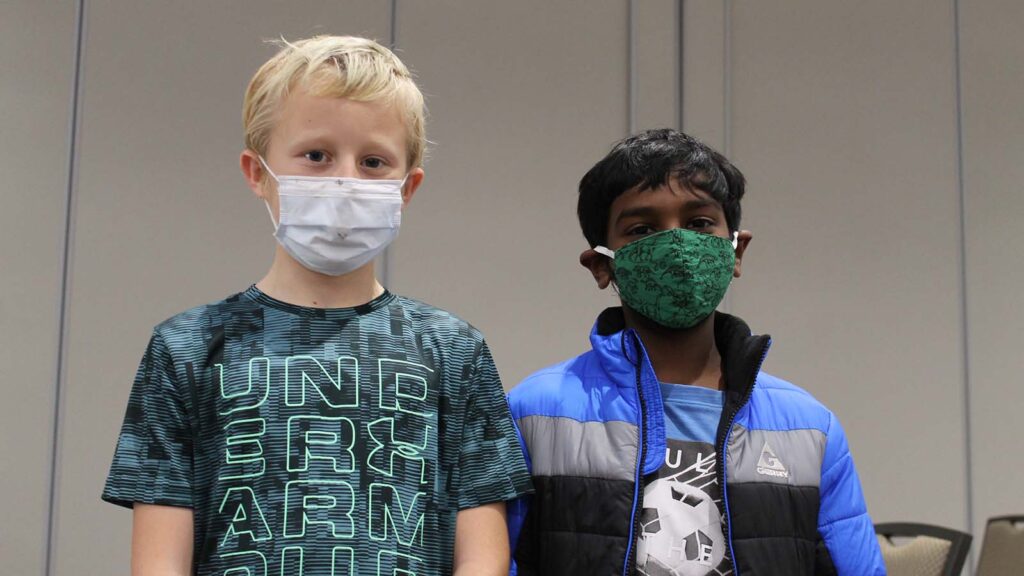 Nine-year-olds Daniel Lawrence and Brady McKinney were excited to take their masks off once the vaccine's protection kicks in. They both wear masks at school and it hurts their ears.
Holy Cross School students Raavi and Shlok Sidhu got vaccinated so they can visit India in December. The plan is to see their grandfather and attend a wedding.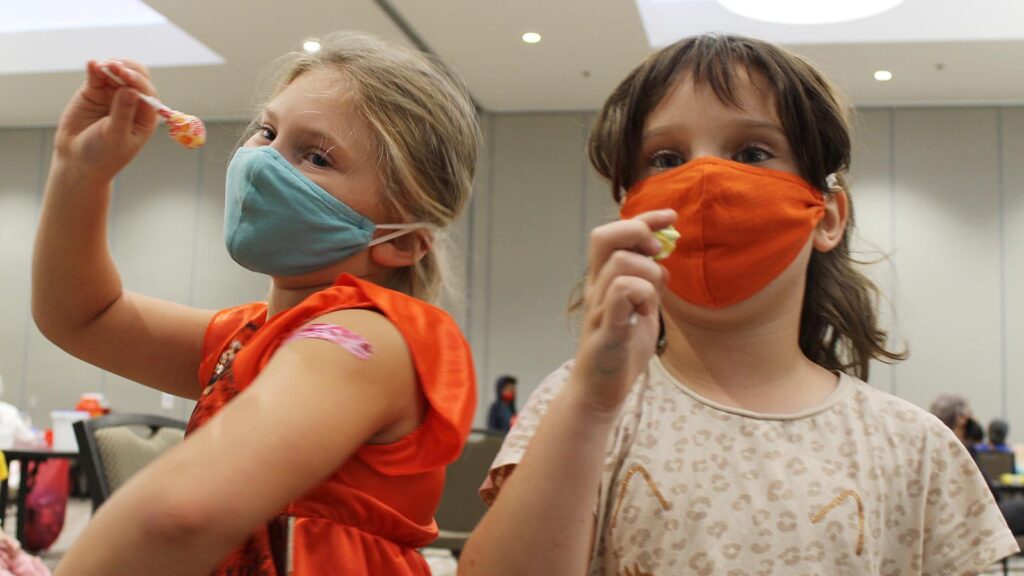 Izzy and Selena Logman, both age seven, want to go to the movie theater.
Thomas Alvarez, age 5, was motivated by his grandmother's promise that he could eat chicken at Red Lobster afterwards. His grandmother was motivated to protect Thomas and his baby sister.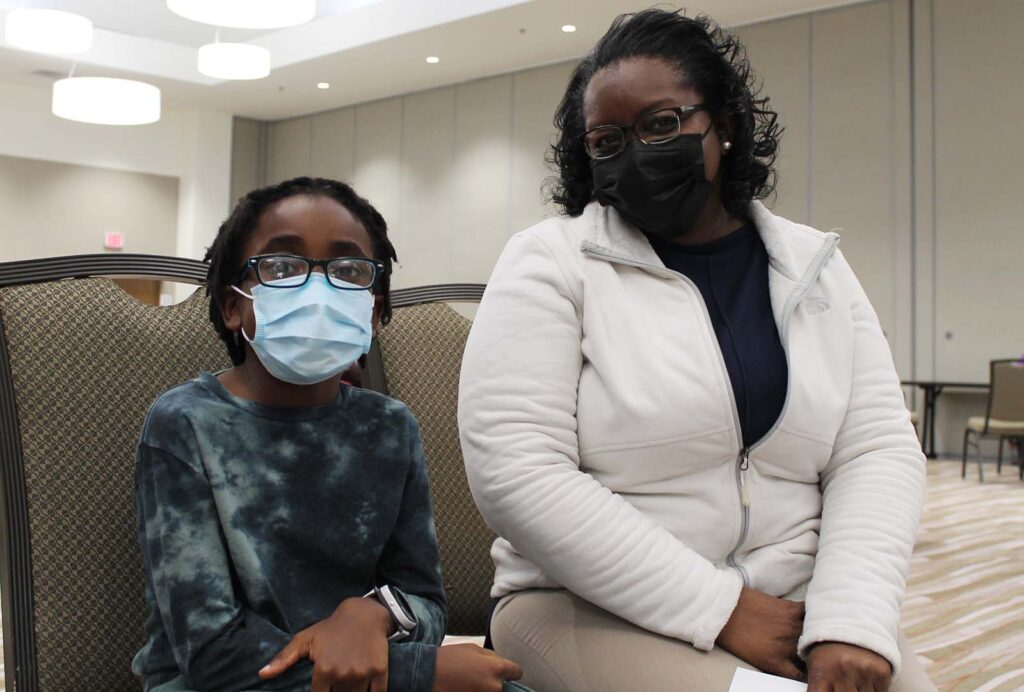 And second-grader Jonathan Candler got vaccinated so he could keep his grandmother safe when he sees her at Thanksgiving.
Emily Hays is a reporter for Illinois Public Media. Follow her on Twitter @amihatt.