With schools and public libraries closed due to the COVID-19 pandemic, communities are finding creative ways to provide children access to books and reading materials.
Alexa Valadez, a seventh grader at Urbana Middle School, helps manage a "little free library" in her neighborhood in northeast Urbana. 
It's a collection of books for children of all ages that anyone can borrow from, which Valadez says is especially needed right now.
"Now that we are in quarantine… some people are getting bored of being inside," Valadez says. "So they can enjoy a good book."
Valadez got involved with the little free library two years ago when she was invited to participate by Lucia Maldonado, the Urbana School District's Latino Parent Liaison.
Maldonado says the original idea was to help kids have easy access to books when school is out.
"During the summer, I know that many immigrant and Latino parents work, and students spend a lot of time at home," Maldonado says. 
"I wanted to make sure that our students, even if their parents were working and didn't have time to take them to the library, that they were going to have access to reading materials."
For her first little free library project, Maldonado says she chose a location on Ivanhoe Drive in northeast Urbana because many of the district's Latino families live there.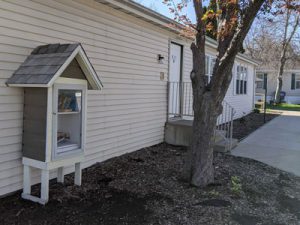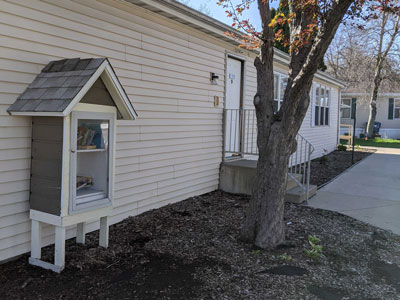 She's now ramping up to create three new little libraries in neighborhoods with high numbers of Latino students: Northwood and Woodland Acres in Urbana and Shadowwood in Champaign.
The goal is for the projects to be a community effort, Maldonado says. Several community members who work in construction have already agreed to help supply materials.
"My hope is that we can find a student in each neighborhood to be the community librarian," Maldonado says.
Valadez says when she sees kids coming to borrow books from the little free library on her street, it makes her feel good about the way she's helping her community.
"I feel happy because they're appreciating my work," she says.
The most popular books with kids in her neighborhood are baby books and graphic novels. Valadez says kids appreciate having books in both Spanish and English.
Maldonado says little free libraries are especially important now that school is closed for the rest of the academic year.
"Having a centralized place for kids to get reading materials will make a difference especially for those who don't have internet access at home," she says. "I think this is a perfect way to keep them engaged."
Maldonado says she also uses the little free libraries to distribute information to parents from the schools, as well as keep them posted on community resources for health care and information provided by the Mexican and Guatemalan consulates when they visit Champaign-Urbana.
Details are still being worked out for the creation of the additional little library locations in Champaign-Urbana. 
Maldonado says anyone interested in donating books or other supplies can reach her at lmaldonado@usd116.org. 
Follow Christine on Twitter: @CTHerman