MACOMB – A mural honoring civil rights pioneer the Rev. Dr. C.T. Vivian and his connections to Macomb was officially unveiled on Saturday in the 200 block of East Carroll Street.
The mural, entitled "Life of a Servant," is 75 feet long and 18 feet tall.
On one end a profile of an older Vivian overlooks significant events in his life – graduating from Macomb High School, attending Western Illinois University, preaching in Nashville, and leading groups on the steps of the Selma, Ala., courthouse.
On the other end is a depiction of President Barack Obama awarding Vivian the Presidential Medal of Freedom.
"You won't find a better looking mural anywhere in the country," said Jock Hedblade, executive director of Macomb Area Convention and Tourism Bureau.
Hedblade partnered on the mural project with Byron Oden-Shabazz, director and founder of the C.T. Vivian Project Foundation of Macomb.
The mural is one part of efforts in Macomb to recognize Vivian as a pillar of the civil rights movement that will culminate in a permanent center to honor him at the site of his childhood home.
"We have some big ideas about a lot of stuff that's coming up, and I think we're going to put this town on the map, nationally," Hedblade said. "We're going to do it with your help, so we appreciate that."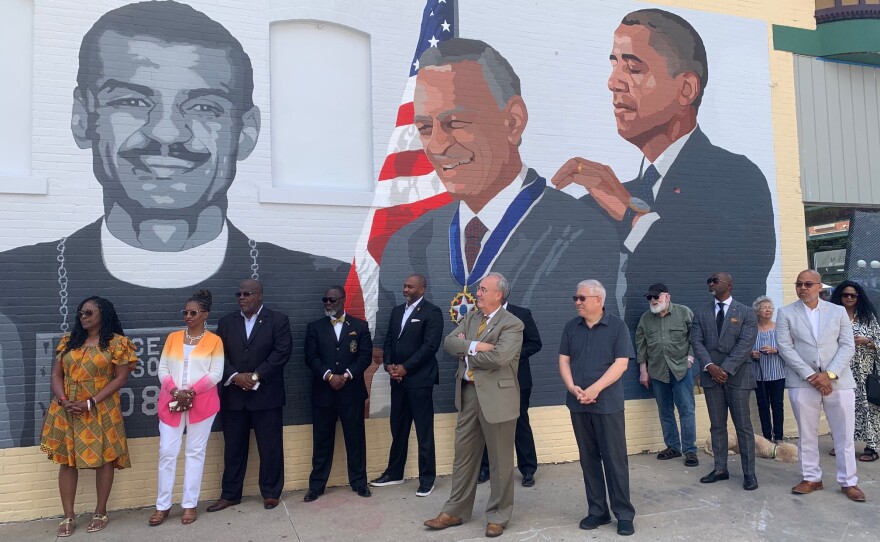 Hedblade and Oden-Shabazz tapped Macomb artist Michael Mahoney to design and paint the mural.
Mahoney said at first he saw the large canvas as an opportunity to showcase his artistic skills.
But as he read and learned about Vivian, the project became more personal for him.
"I was so inspired by this man, all I could think of was, what can I do to truly honor his memory through the strength of my image," Mahoney said.
Oden-Shabazz said the mural was made possible by donations from the people of Macomb.
As Mahoney was painting, people would drive by, and then checks would show up at city hall, Oden-Shabazz said.
"You did that, this community did this," Oden-Shabazz said. "That's what is so important the legacy. I'm comfortable in saying that I'm sure C.T. Vivian would appreciate this, because a collective did this."
Others to speak at the unveiling ceremony included Macomb Mayor Mike Inman, WIU President Guiyou Huang, and Teresa Haley, state president of the Illinois NAACP.
"C.T. Vivian did so much for civil rights. He was a part of our movement. So learn your history about C.T. Vivian and support the Macomb community," Haley said. "Find out everything that he did, because he did make a difference, and that's why we're here today."
Many of Vivian's descendants were also there to take family photos in front of the mural and to celebrate his legacy in Macomb and beyond – a legacy that's enshrined in art, in history, and in the hearts of the people in his hometown.