SPRINGFIELD – Michael Madigan (D-Chicago) is suspending his campaign to be Illinois House Speaker.
Madigan has long been one of those most powerful politicians in the state. He's been House speaker for all but two years since 1983, and also chairs the state Democratic Party.
In a statement, Madigan says his suspension is not a withdrawal from the speaker's race. His announcement effectively makes the campaign for House Speaker to be a free-for-all.
Democrats hold a supermajority in the chamber. Nineteen Democrats say they would not support Madigan for speaker following his connections to a federal corruption investigation involving ComEd. Madigan has not been charged and denies wrongdoing.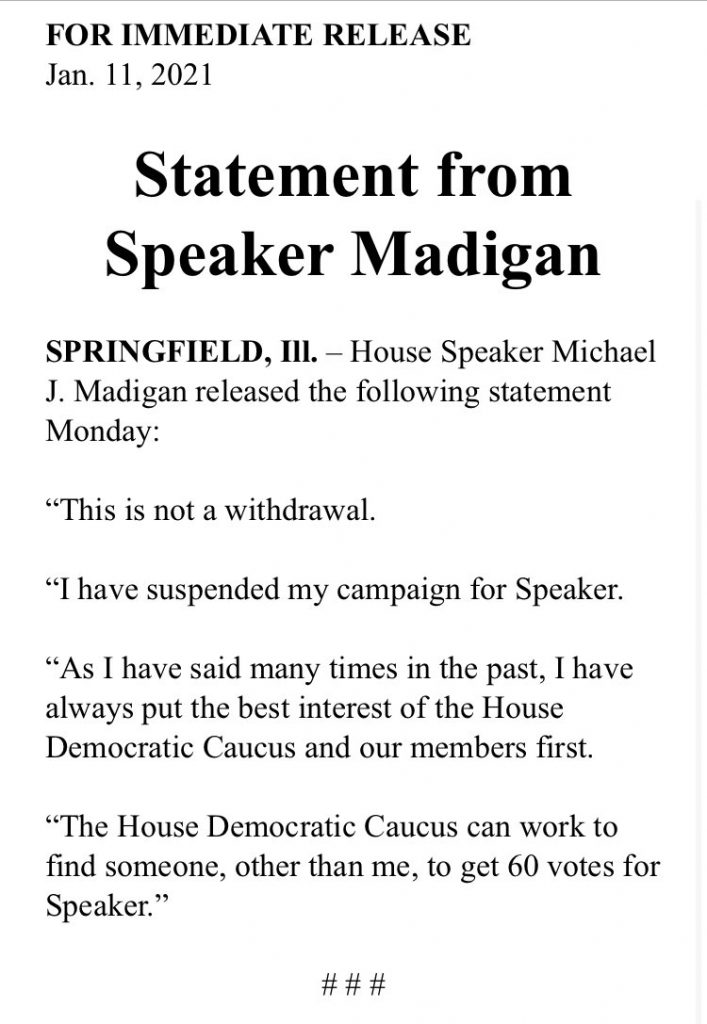 On Sunday evening, a vote in a private House Democratic caucus meeting left him with only 51 tentative votes for a historic 19th term as speaker. That figure is nine votes shy of the 60 Madigan needs to retain his title and all the power that goes with it. Already the nation's longest-serving state House speaker, Madigan made it clear he had no intention of stepping aside in November even after a federal indictment nabbed four people alleged to have orchestrated a bribery scheme for Madigan's benefit. Madigan has not been charged.
Madigan's current challengers face a tough path to 60 votes too, with State Rep. Ann Williams (D-Chicago) garnering 18 votes Sunday evening and State Rep. Stephanie Kifowit (D-Oswego) getting three. State Rep. Kathleen Willis (D-Addison), who stunned colleagues in December by vowing to vote against Madigan for speaker despite being a member of his leadership team and announced her candidacy last week — dropped out of the race in the middle of the caucus meeting, lending her support to Williams.
Lawmakers are meeting this week to inaugurate a new General Assembly and the House will elect a speaker, which for 18 times during the past 38 years has been a lock for powerful Chicago Democrat.
In mid-December, an Illinois House committee ended its consideration of a breach of trust claim against Madigan, voting down further proceedings that could have led to discipline against the powerful Chicago Democrat. The committee vote to authorize a charge against Madigan was 3-3, but Democratic control rendered it a rejection. House Republican Leader Jim Durkin had sought a charge of conduct unbecoming a legislator against Madigan after federal prosecutors implicated the longtime leader in a bribery scheme involving utility ComEd. Democrats said the investigation should be left to the federal government. Republicans said procedure obligated them to fully investigate.