Ann Crain has volunteered at the Abraham Lincoln Presidential Library and Museum in Springfield for four years. 
She greets guests and answers questions about the exhibits– which all focus on the life, and legacy, of President Abraham Lincoln. 
Every year, the museum brings out its copy of the Gettysburg Address around the anniversary of its recitation. (President Lincoln delivered the short speech on November 19, 1863, at the dedication in Gettysburg, Pennsylvania of a cemetery for Union casualties in the Battle of Gettysburg earlier that year.) The yellowed paper scrawled with Lincoln's cursive handwriting rests in a glass box inside one of the museum's exhibits.
But now, for the first time, Crain said the document is accompanied by a QR code. Once scanned, Crain said guests can read a transcription and listen to a reading of the text.
"It had the exact wording that was on the placard and the transcript of the Gettysburg Address," Crain said. "So you could read it there and look up at the actual handwritten one."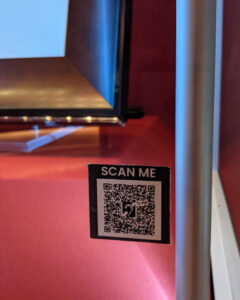 The museum's copy of the address — known as the Everett copy — is one of five copies written in Abraham Lincoln's own hand.
The museum will start to prioritize accessibility more in the future, according to Christina Shutt, the museum's executive director. 
Shutt said she wants the museum to make everyone feel welcome at the museum, regardless of their identity.
"The only way we can show that is if we are presenting content in languages that they recognize and understand," Shutt said. "And so they can literally hear and see those stories too."
This comes as many museums throughout Illinois, including Champaign's Krannert Art Museum, start to add accommodations for people with disabilities. These accommodations often include audio descriptions of pieces and sign language interpreters.
When new exhibits are displayed in February, Shutt said all pieces included in the Treasures Gallery, where the Gettysburg Address is housed, will include QR codes with audio and large print descriptions.
"Every museum in America should be that kind of place where people can walk in and feel welcome and feel that their story matters," Shutt said. 
"So, we're starting with the Gettysburg Address, but [that's] by no means an endpoint for us."
Farrah Anderson is a student journalist with Illinois Public Media's student newsroom. Follow her on Twitter @farrahsoa.