CHAMPAIGN – It can be challenging for parents to bond with their new baby when the child ends up hospitalized following the birth.
Champaign resident Paige Raab knows that firsthand. Her two traumatic birth experiences — which both resulted in stays in a hospital neonatal intensive care unit, or NICU — led her to launch a new nonprofit: The Nest Postpartum.
The organization aims to provide care coordination and emotional support for parents, as well as meals, and assistance with transportation and lodging for families from out of town.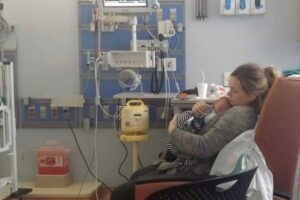 "The NICU can feel really isolating — especially when you're in a situation where you're the only person you've known who has been through and is you," Raab says. "So our main mission is just to change that narrative of the NICU stay, to one that's focused on community and support."
The group just launched a fundraiser, with the hopes of raising $40,000 dollars to cover six months of free services, beginning this fall.
Raab, a physical therapist who works in a community-based setting, says she shifted her focus professionally after her birth experiences. Now, she primarily works with babies who've just arrived home from the NICU and are at risk of developmental delays.
She spoke with Illinois Newsroom about how her personal and professional experiences led to the founding of The Nest Postpartum.
This interview has been lightly edited and condensed for length and clarity.
Christine Herman: Can you talk about the traumatic birth experiences you had with your two children?
Paige Raab: With my first birth, he actually had to be transferred to another hospital about an hour and a half away, and I had to stay here. So I definitely navigated that separation, as a new, first-time mom, wanting to just like scoop up and snuggle my baby and start bonding with him — and he's, you know, an hour and a half away. 
I would say with my first experience, I was just… I didn't know anybody else who had ever had a NICU stay. So I think I just internalized everything, you know, that this was on me, this was my fault. I just kind of shoved it deep, as we tend to do as moms, and moved on.
With my second birth, that is when things got really overwhelming. And same thing: I just internalized everything and tried to move on with my life. 
Eventually it caught up with me, and I started having panic attacks, flashbacks, you know, post-traumatic stuff that is pretty typical, or, that can happen with NICU families and NICU moms.
CH: It sounds like, even with the level of support you had, it was still extremely challenging and emotionally difficult to go through everything you went through.
PR: Yeah, well, I mean, NICU moms are around 70% more likely to develop postpartum depression or have some sort of postpartum mood disorder following their their NICU stays. 
And that's because of the fact that most of the time, it's unexpected, you're seeing stuff that, you know, you don't want to see. As a new parent, you can't bond with your kid how you envisioned or feed them how you wanted to right away. 
So a lot of times that uncertainty can just can lead to some mood disorders. When it became too overwhelming for me, I reached out to somebody who specialized in traumatic births and NICU stays, and it was just tremendously helpful for me, and helped me get back on track.
CH: Let's talk about your new nonprofit, The Nest Postpartum. First of all, what led you to create it?
PR: Champaign-Urbana is unique in the fact that we have a large Level 3 NICU. And we serve a lot of central Illinois, we're serving families within an hour and a half or two hours in each direction, outside of Champaign-Urbana, but we don't necessarily have all the same resources that larger communities, like Chicago or St. Louis, do. 
So what I was running into quite a bit was: families were telling me things like, my baby didn't feel like my baby until I brought them home. Families were telling me that — especially families that lived out of town — it was very difficult for them to get to and from the NICU every day. And also just the heaviness of maybe having a child in the NICU and having other children at home and just trying to balance some normalcy for your older kids while also showing up for your child in the NICU.
CH: Can you talk a little bit about the services you all hope to provide?
PR: We are going to be providing lodging for families that do not have lodging locally. We've partnered with transportation within a 70-mile radius around Champaign-Urbana, so we're going to be helping out with transportation to and from the NICU. And we're also going to be providing prepared meals for families. 
And the other part of our organization — and probably the thing that I'm most proud of — is that we have care coordinators. And as families are referred to us, they will stay with the same care coordinator the whole entire NICU journey. We are reaching out every week just to be that consistent emotional support for families and also just chat with them and decide how we can best support them in the next week.
Christine Herman is a reporter at Illinois Public Media. Follow her on Twitter: @CTHerman