CHAMPAIGN – From schools to restaurants to hospitals, restrictions are once again underway around Champaign County as COVID-19 cases rise.
Friday will be the last day for in-person classes at Champaign Unit 4 Schools and Urbana School District 116. Both districts are switching to remote instruction only, starting Monday.
At a Thursday news conference, Champaign-Urbana Public Health District administrator Julie Pryde urged education and religious institutions to switch to virtual experiences only.
"We are recommending today, and we're already sent it out to the school(s), that all schools switch to remote learning through January," said Pryde. "We're recommending that faith based organizations go to remote services only."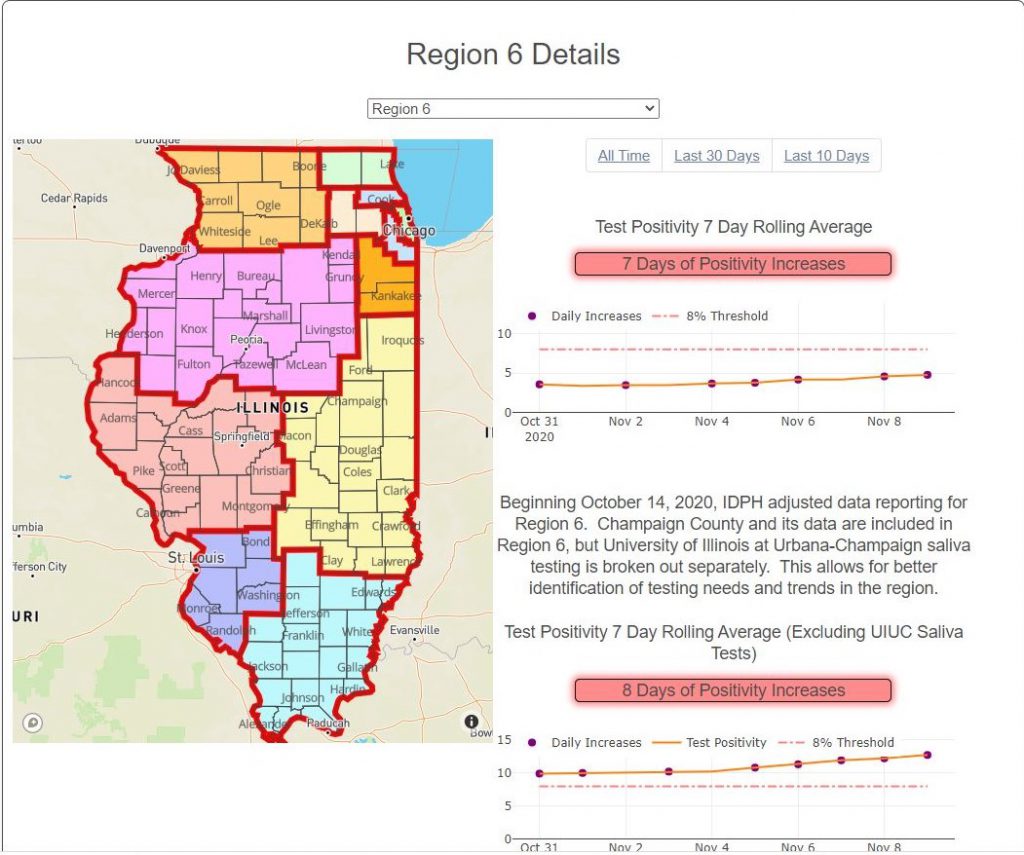 Public health officials have reported more than 700 new COVID-19 cases in Champaign County for the seven days ending Wednesday, along with eight deaths. Another 105 cases were reported on Thursday.
Pryde said it was likely that Illinois' Region Six, which covers Champaign County and the rest of east-central Illinois, could be ordered by state officials to move to the Tier Two mitigation level next week, limiting gatherings to six people at bars and restaurants and ten at social gatherings.
Pryde also asked bars and restaurants to keep observing, or start observing, bans on indoor dining. And she strongly urged people to reconsider holiday gatherings, and to only gather with immediate household members.
"We're urging people not to gather with others outside of  your own household at Thanksgiving," said Pryde. "If you're going to do that, despite our guidance, we suggest you assume everyone at that gathering is infectious, including yourself, and treat them as such. If possible, gather outside. If you have to be inside, keep your windows open with air circulation by placing fans pointing outwards. And wear a mask and distance at all times when you're not eating or drinking."
Other facilities are also restricting members of the public. Carle Health announced additional visitor restrictions will begin at its hospitals starting Friday. Only one support person is allowed for outpatient procedures. Inpatient visitors must be over the age 18 and wear PPE at all times. There are very specific rules for different areas of Carle facilities, from Labor to Rehab to End-of-Life, which can be accessed by clicking here. 
Wednesday, November 11, was the sixth deadliest day since the coronavirus pandemic hit Illinois, with 145 COVID-19-related deaths reported.  There were 5,258 people in the state's hospitals Wednesday evening. Officials say that broke a record of 5.042 hospital patients set just the night before. Before that, the highest number of Illinois hospitalizations had occurred in late April, when officials feared they would run out of beds. 
The numbers prompted the Illinois Department of Public Health to strongly urge residents for the next three weeks to stay home whenever possible and to eliminate nonessential travel. Julie Pryde echoed the concern from IDPH.
"People need to stay home as much as possible, and go out only if necessary," said Pryde. "Avoid travel, and not have gatherings, even those with close family and friends outside of your household. I cannot stress how much we're seeing a lot of people who have been gathering with, whether it's their parents or their grandparents, other family and friends. And tragically, we're seeing a lot of spread that way."