URBANA – Because opioid pain medications can be so addictive, there's an urgent need for scientists to develop alternatives for treating pain. One of the researchers looking into this issue is Aditi Das, associate professor of comparative biosciences at the University of Illinois at Urbana-Champaign.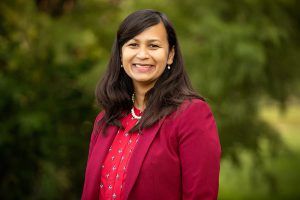 Das studies how the body handles lipids — a class of molecules that include dietary fats, like omega-3 and omega-6 fatty acids that are found in fish, nuts and other foods. These lipids are processed by the body to form other molecules, some of which naturally suppress pain and inflammation. 
Das spoke with Illinois Newsroom's Christine Herman about her latest study, published in the journal Nature Communications.
The study, involving neurons and immune cells from mice, finds modified versions of naturally occurring lipids target multiple cannabinoid receptors. In doing so, the lipids interrupt pathways involved in pain and inflammation, thus showing potential as non-opioid alternatives for the treatment of pain.
This interview has been edited for clarity and length.
Christine Herman: What did you set out to learn in this research study?
Aditi Das: When people consume fatty acids — omega-3 and omega-6 fatty acids — they just think of them as food they're consuming. What they don't think about is how these molecules are processed in the body to generate this huge class of lipid signaling molecules — or metabolites — that have many, many different functions. 
They can affect things like cardiovascular health, inflammation, cancer, neurological diseases.
So my lab is interested in understanding the biochemistry and the link between omega-3 and omega-6 fatty acid and all these different diseases.
CH: In this study, you took two naturally occurring lipids and chemically modified them in a way that the body does under inflammatory conditions. Then what exactly did you test them for? 
AD: During inflammation and pain, there are lots of enzymes that get elevated in the body. Those enzymes convert these naturally occurring lipid molecules into the epoxide form. (I looked at epoxides, but there are, of course, many other modifications these enzymes do).
I looked at how these epoxides interact with some of the receptors that are known to be involved in pain. So, for instance, the molecules that are being generated in the body interact with the same receptor that cannabinoids — like THC and CBD from cannabis — interact with. 
Then we collaborated with Professor Hongzhen Hu from the department of anesthesiology at Washington University in St. Louis, who has much more of a handle on pain and itch.
He looked at how these molecules interact with DRG — or dorsal root ganglion — neurons from mice. They are primary cell lines, meaning they are isolated from the mice in real time and then used. These DRG neurons are in the sensory neurons, and that is where the pain sensation is captured and then sent to the brain. 
What we realized is these molecules in the DRG neurons suppressed, ideally, the pain sensation, but through a pharmacological approach [involving mouse cells]. We haven't done these experiments in animals yet.
CH: What are your next steps for this particular research study?
AD: I'm interested in looking for more lipid metabolites in the brain that are derived from the omega-3 and omega-6 fatty acids that will interact with these receptors. And also, of course, to understand more about the pharmacology.
So, the next step will be moving to a preclinical model [involving animal studies] — or looking for more metabolites like this, which are more stable and present in larger in quantities in the body. 
Lipids are typically not used for drugs, but nowadays, lipids are becoming quite popular. They are a little unstable [in the body], but if the pharmacology is good, I think people should put effort in trying to stabilize and use them as drugs. 
There is actually one lipid-based drug in clinical trials. It is a very similar lipid metabolite molecule, which is stabilized, and is supposed to be an anti-pain drug targeting neuropathic pain. So there are some previous examples of lipid-based anti-pain drugs; this is not completely a 'new kid on the block.'
Das' study, published Feb. 10, is titled "Anti-inflammatory dopamine- and serotonin-based endocannabinoid epoxides reciprocally regulate cannabinoid receptors and the TRPV1 channel."
Christine Herman is a reporter at Illinois Public Media. Follow her on Twitter: @CTHerman