CHAMPAIGN — The Illinois men's basketball team survived a second-half surge from Northwestern to beat the Wildcats 73-66 Sunday afternoon in Champaign.
Junior center Kofi Cockburn scored 19 points and grabbed 15 rebounds, his 13th double-double of the season. But head coach Brad Underwood says the Illini center didn't enjoy the game.
"Tonight was as bad as I've seen Kofi, as flustered," Underwood said. "Kofi was showing us his arms at halftime, said he was getting his jersey tugged, and Kofi never shows emotion."
Illinois led by as many as 18 points, but as the Wildcats' defense forced 14 second-half turnovers, the visitors cut that lead to one. Freshman wing R.J. Melendez helped seal the win by converting 6-6 free-throws in the final minutes. He said learning from his veteran teammates prepared him for the moment.
"Being with the vets every time in practice, going at it with them, guarding them, I know it's going to make me better," Melendez said. "The little stuff that they've learned for the past five years, four years, it's been amazing."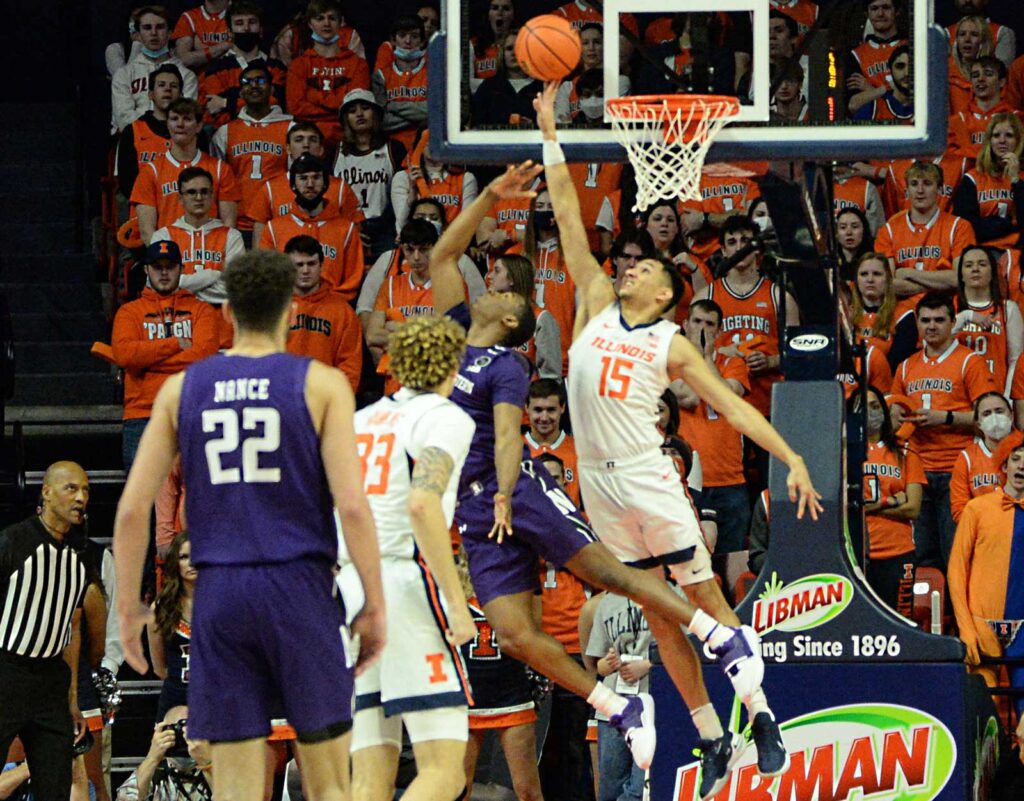 Melendez finished with 14 points and six rebounds for Illinois. His fellow Puerto Rican Alfonso Plummer tied Cockburn for game scoring honors, scoring his 19 points on 5-11 shooting from the three-point line.
Northwestern was led by Ty Berry with 16 points. Chase Audige added a dozen, and Pete Nance scored 10 for the Wildcats.
Northwestern's stiff second-half defense held Illinois to 1-13 from long distance. By contrast, Illinois hit 9-16 three-pointers before the break. The Wildcats converted seven of their 24 attempts from behind the arc.
Illinois out-rebounded the visitors 47-30. The Illini's 20 turnovers represented their second-worst ball-handling performance of the season, after November's 26 turnover debacle at Marquette, which the Illini lost 67-66 without Cockburn in the line-up.
Next up for the Illini is a road game at Rutgers. The Scarlet Knights beat ranked Wisconsin and Ohio State teams in their last two outings, and hope to add another win over a top team to improve their chances at an NCAA Tournament bid. By contrast, the Illini are playing for a Big Ten Championship, and to improve their seeding in the tourney.
Individually, Cockburn will be seeking his 42nd career double-double when the teams meet in Piscataway, New Jersey. That would put him in the all-time career lead among Illini players. He's currently tied with Skip Thoren, who played at Illinois in the mid-1960s.
Illinois at Rutgers tips at 6pm Wednesday and will be televised on the Big Ten Network.
Rob McColley covers University of Illinois sports for Illinois Public Media.