CHAMPAIGN — Two things needed to happen for the Illini men to win a share of the Big Ten men's basketball championship yesterday. Last-place Nebraska needed to beat first-place Wisconsin, in Madison, without its best player, Bryce McGowens.
Then, Illinois needed to beat the league's hottest team, 24th-ranked Iowa.
Both happened. But not before the Illini allowed the Hawkeyes to build a 15-point first half lead. Illinois had to roar back in the second half to win 74-72. Hawkeye forward Kris Murray missed a potential go-ahead three-pointer with less than five seconds to play, and Illinois guard Trent Frazier grabbed the decisive rebound.
Illinois head coach Brad Underwood captured the feelings of many Illini fans, who went to bed stunned by the turn of events.
"It was a weird, weird day, you know, I'm laying in my recliner, eyes closed. I looked, Nebraska's down ten (points)," Underwood said. "I never watch a game on TV, so I kind of flipped to my phone, and all of a sudden they're up one, and now the old heart starts racing, and it's a crazy game. It's the best league in the country because of that."
Listen to Brad Underwood's full postgame press conference here.
Students and players stormed the court as confetti exploded from the State Farm Center rafters. The team and coaches climbed a ladder and cut down the nets. The crowd chanted "one more year" when Kofi Cockburn got his turn with the scissors.
Cockburn, who participated in Senior Night ceremonies before the game, says he got wrapped up in the moment.
"I almost said it, too," Cockburn said. "That was special, man. It was all emotions, all the things that were going through my mind at that moment, you know, cutting that net down and just feeling so much pride and happiness. It just felt right."
Underwood said the whole experience was emotional and humbling for him.
"I'm happy for Champaign-Urbana. I'm happy for the state of Illinois," Underwood said. "It's been a long time coming. It's a great program. I'm very privileged to be the head basketball coach here. Now we've got to go enjoy this one a little bit and get ready for Friday."
With the win, Illinois earned the top seed in this week's Big Ten Tournament. Because the Illini beat Wisconsin in their only regular-season match-up, and because the Badgers lost 74-73 to Nebraska on Sunday, Illinois will open tournament action on Friday morning at 10:30 CT against the winner of Thursday's Indiana-Michigan game.
Keegan Murray scored a game-high 22 points for the Hawkeyes, and grabbed 11 rebounds. Twin brother Kris scored 13 for Iowa, and Tony Perkins chipped in 17 points, 12 rebounds and a team-high five assists.
Iowa committed ten turnovers for the game, and Illinois 12. The Illini out-rebounded the Hawkeyes 41-38.
Cockburn tallied his 15th double-double of the season, scoring 21 points and grabbing 14 rebounds for Illinois. Coleman Hawkins just missed a double-double, scoring nine points and grabbing 11 boards. Hawkins started in place of Jacob Grandison, who sat out the game, and wore a sling on his left arm while nursing a shoulder sprain.
Andre Curbelo scored 14 points, dished out a game-high six assists, grabbed four rebounds, blocked one shot and stole one ball, committed four turnovers, sank 5-5 free throws and fouled out. Alfonso Plummer added 15 points for the victors.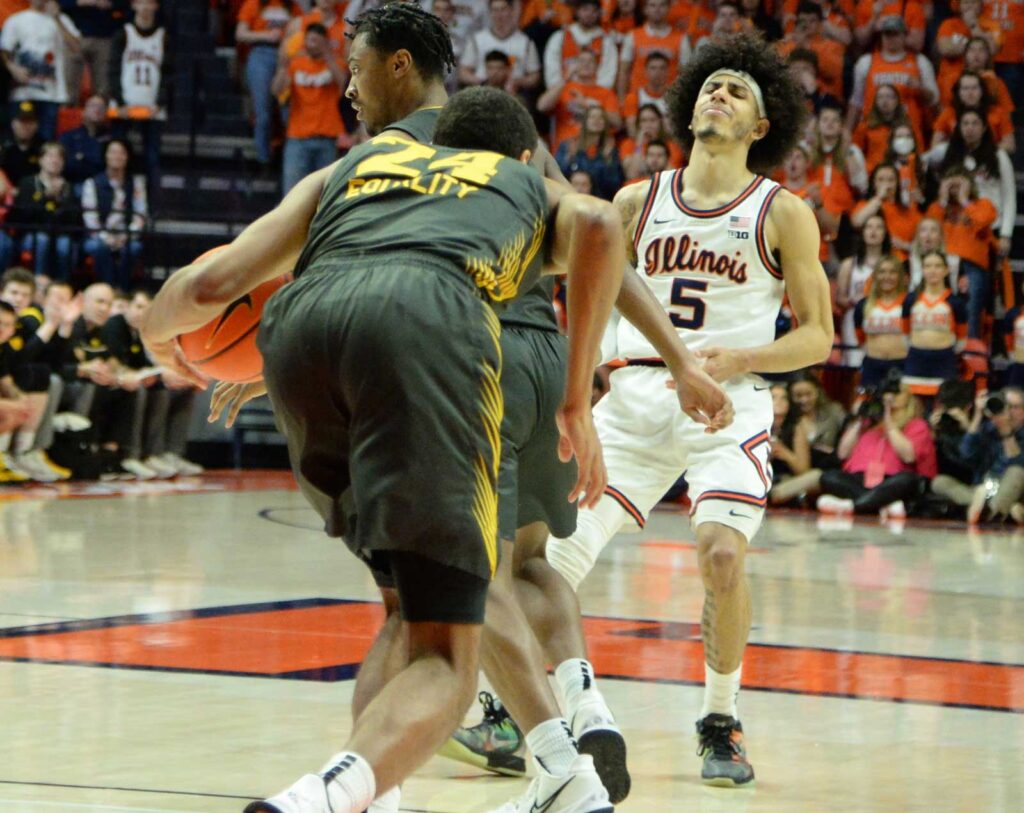 The first three days of the Big Ten Tournament will be televised on the Big Ten Network, before moving to CBS for the semifinals and championship game.
Illinois is now 22-8 on the season, while Iowa is 22-9. The Hawkeyes tied for 4th place in conference with a 12-8 record, along with Ohio State and Rutgers. Tiebreakers put the Scarlet Knights at the No. 4 seed in the BTT, and Iowa No. 5.
The Fighting Illini's hopes for a conference crown were kept alive when Nebraska upset No. 10 Wisconsin earlier Sunday.
They didn't let the opportunity go to waste, claiming at least a share of the Big Ten championship for the first time since winning it in 2004 and '05.
Illinois finishes 15-5 in conference play, tied with Wisconsin for the league championship. It's the first Big Ten regular-season title for the Illini since 2005
Illinois opens the Big Ten tournament on Friday as the top seed. The bracket was set on Sunday night, see below.
Rob McColley covers University of Illinois sports for Illinois Public Media.