CHAMPAIGN — The Illinois men's basketball team overcame a crafty Penn State defense for a 60-55 win Thursday night in Champaign.
First year Penn State coach Micah Shrewsberry dedicated his defenders to shutting down Illinois' inside-out game, preventing top scorers Kofi Cockburn and Alfonso Plummer from getting shots. That left Da'Monte Williams open.
"I've coached against Da'Monte Williams. I know how tough that kid is, man," Shrewsberry said. "He makes big shots. He makes big plays. He's an elite role player, and I'm like daring him to shoot the basketball at home."
Williams led the Illini in scoring for the first time in his career, with 14 points. Kofi Cockburn was held to just seven field goal attempts. He converted four of them, plus three of four free throws for 11 points. Trent Frazier and Jacob Grandison each connected on a pair of three-pointers and a single two-pointer. Frazier's 2-3 performance from the charity stripe got him to 10 points. Grandison finished with eight.
Shrewsberry said his defensive game plan was effective, but not quite effective enough.
"We picked who was going to take shots," he said. "It almost worked. I've seen it work in the past. I've done it at different places with different teams, and we've had success doing it. You know, he made four (three-pointers). He made four big ones."
Illinois head coach Brad Underwood agreed that PSU's strategy was effective. He liked the way his star player responded.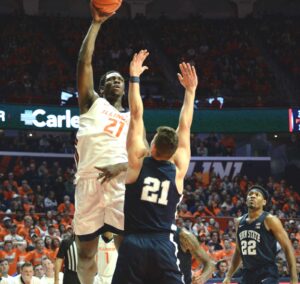 "We saw a lot of different things tonight. Guys not being guarded, triangle-in-two, zones, a bunch of combination defenses," Underwood said. "I'm really proud of Kofi (Cockburn). I thought he was tremendous defensively on a night when he wasn't great offensively, and they did a good job of taking him out of that."
Jalen Pickett scored a game-high 18 points for the Nittany Lions. He dished out seven of his team's eight assists and grabbed five rebounds. John Harrar led PSU with six rebounds, tying Cockburn and Alfonso Plummer for the game's top performance., Overall, Penn State controlled the boards 34-29.
There weren't many assists or turnovers on either side, a consequence of Penn State's deliberate pace and limited possessions. The Nittany Lions assist-to-turnover ratio was 8/12. The Illini had 11 assists compared to eight turnovers. Ten of the game's turnovers were steals. Illinois garnered six, and Penn State four.
The Illini improved to 14-5 in the Big Ten conference and 21-8 overall. Penn State fell to 7-12 and 12-15.
Illinois is guaranteed a double-bye in next week's Big Ten Tournament, and they still have a chance to tie Wisconsin for the regular season championship. For that to happen, the Badgers must lose at home to last-place Nebraska, and the Illini must defeat 24th-ranked Iowa in Champaign, both on Sunday. The Badgers vs. Huskers tips at 2pm on the Big Ten Network. The Iowa-Illinois matchup starts at 6:30 pm on FS1.
Rob McColley covers University of Illinois sports for Illinois Public Media.