CHAMPAIGN — The Illini men's basketball team cut a 16-point deficit to one in the closing minutes of Thursday night's game in Champaign, but Ohio State left town with an 86-83 win.
The Buckeyes neutralized star center Kofi Cockburn in the low post, and it wasn't until Cockburn fouled out, and coach Brad Underwood was ejected for arguing with referees, that a smaller line-up mounted the comeback.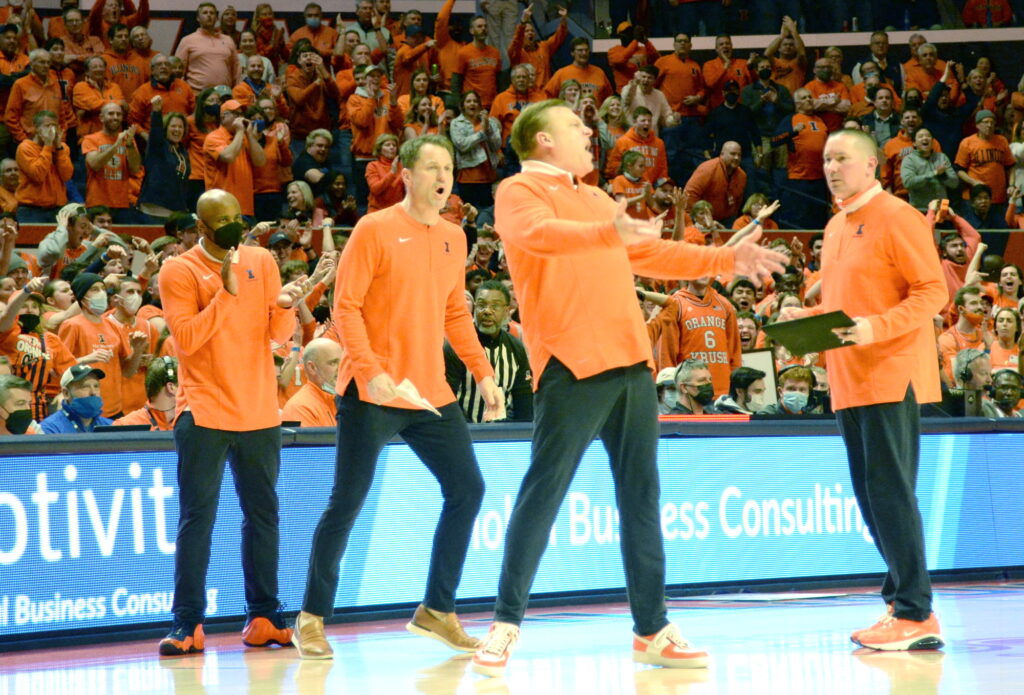 Sophomore wing Coleman Hawkins took over at the five spot during the Illini run. He scored 10 points, and added three steals and two assists. Hawkins said good things happen when the Illini force defenses to change strategy.
"Personally, I like playing the five," Hawkins said. "It's just mismatches, you know, switches. People get confused. They don't know if I'm going to pop, if I'm going to roll. It's kind of like being a quarterback on offense, finding shooters, finding open guys, and just creating mismatches."
Underwood was surprisingly upbeat for a man who'd just lost and been booted from a game. But he too was excited to see that the five-out offense proved effective. He also made plain that he's not looking to bench Cockburn. He was just happy to find a second option when defenses put all their energy into frustrating the star big man.
"I think we found a new way to play. I liked our five out stuff," Underwood said. "Nobody believes more in Kofi Cockburn than me, I mean that dude is special. Unfortunately, he missed ten layups."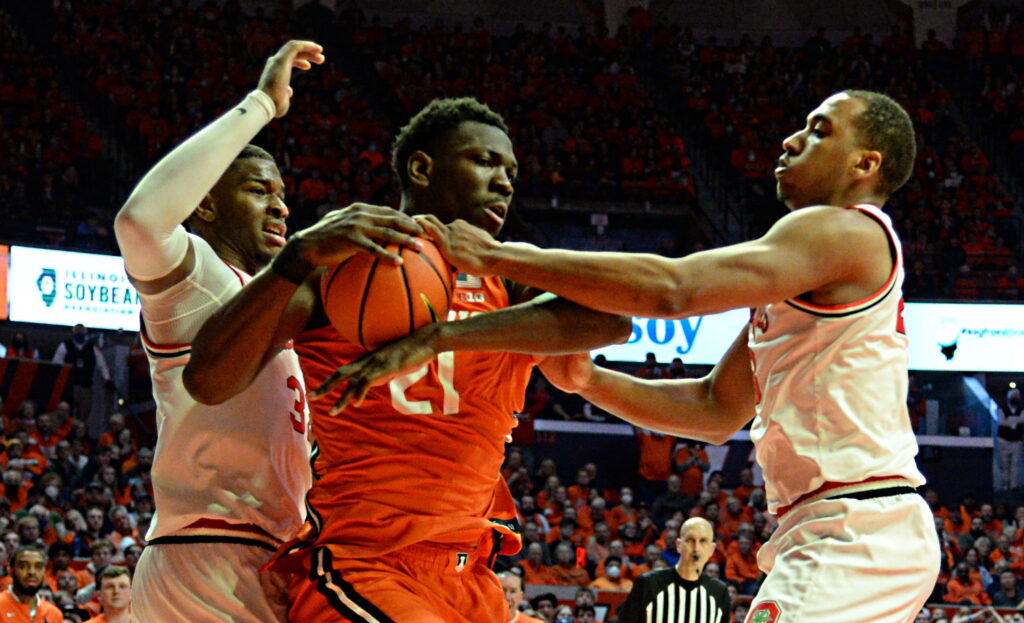 Alfonso Plummer led Illinois in scoring with 26 points on 8-10 shooting from the three-point line. That tied him with Dee Brown, Trent Meacham, Brandon Paul and Kevin Turner for the most three-pointers ever converted by an Illinois player during a single game.
Jacob Grandison added 14 points for Illinois. Trent Frazier and Cockburn each scored a dozen, but Cockburn needed 15 field goal attempts to get there. He converted just five of those attempts.
Hear Brad Underwood's full postgame press conference here.
Ohio State was led by a trio of potent scorers. Freshman guard Malaki Branham tallied 31 points on 10-14 shooting. All-conference forward EJ Liddell added 21 points, including 6-7 free-throws. On the defensive end, Liddell blocked four shots. Kyle Young scored 18 for the Buckeyes, while teaming with Liddell to harass Cockburn defensively in the paint.
Illinois gained a slight advantage on the boards, winning the rebound battle 30-29. The Buckeyes shot 52 % from the floor, 50 % from three-point range and 81.3% from the line. Illinois shot 47.6% from the floor, 48% from the arc, but only 64.7% on free-throws. Illinois was 11-17 from the line, while OSU shot 26-32. Four of those attempts resulted from Underwood's technical fouls.
Underwood's frustration mounted as game officials assessed fouls against Cockburn, including an offensive foul for raising an elbow while navigating a low-post spin. That elbow felled Young. While it was certainly a foul, Underwood's anger stemmed from the fact that Cockburn has not benefited from such calls throughout the season, including two losses against first-place Purdue, where Cockburn was repeatedly struck in the face by thrown elbows, one resulting in a concussion.
Following Underwood's ejection, assistant coaches Geoff Alexander and Chester Frazier ran the offense and defense, respectively. Assistant Tim Anderson was responsible for player substitutions. Underwood watched the comeback on TV, from the Illinois locker room.
Illinois drops to 19-8 on the season, 12-5 in Big Ten play, a full game behind conference leaders Purdue and Wisconsin. Ohio State improves to 18-7 overall and 11-5 in the league. Next up for the Illini is a Sunday afternoon match-up with Michigan in Ann Arbor. Tipoff time is 1pm central on CBS.
Rob McColley covers University of Illinois sports for Illinois Public Media.