CHAMPAIGN — The Illinois men's basketball team beat No. 10 Michigan State 56-55 Tuesday night in Champaign, despite the absence of Kofi Cockburn and Andre Curbelo.
Senior guard Trent Frazier led all scorers with 16 points and held star MSU freshman Max Christie to 1-8 shooting and just two points. Frazier also led Illinois in assists with five.
Spartans coach Tom Izzo praised Frazier's all-around effort.
"I've liked Trent Frazier since he was a freshman," Izzo said. "He is a competitive SOB, you know, he comes at you, seems to be classy, I talked to him after. I thought we did a decent job on him, but he does a decent job defensively for a guy who's not that big. I think he just plays hard as hell."
Hear MSU coach Tom Izzo's full postgame press conference here.
Illinois converted a single field-goal in the game's final 9:45. The Spartans consistently chipped away at a 15-point second-half Illini lead. Then, with just 0.2 seconds remaining in the game, and down by two points, Spartans forward Malik Hall missed the first of two free-throws. He made the second, perhaps accidentally, for the final score.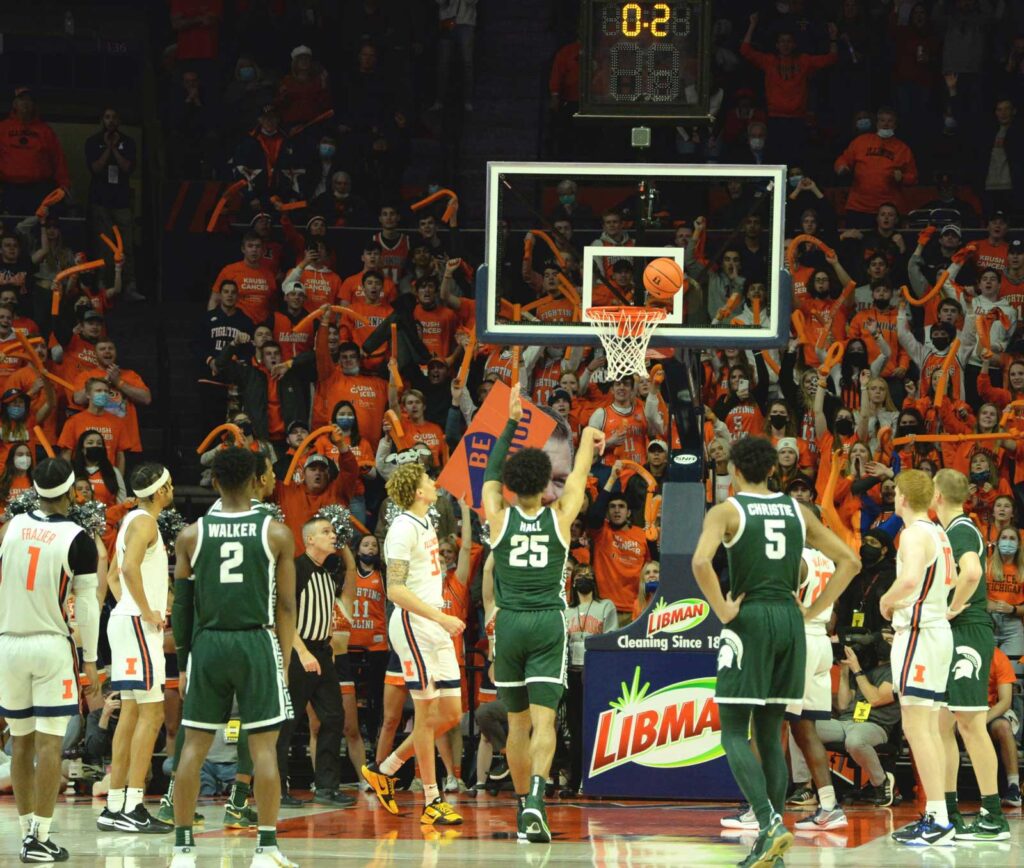 Alfonso Plummer added 11 points and four assists for Illinois, and freshman Luke Goode provided nine points, two assists and four rebounds.
Illinois was cold from the floor and three-point range. The Spartans were colder. The Illini shot 41.5% percent overall to MSU's 34.5%. MSU managed 3-14 shots from three-point range (21.4%) to Illinois's 9-29 (31%). But MSU flourished at the charity stripe, converting 14-17 free-throws. The Illini shot only seven times from the line, making three.
The Spartans out-rebounded Illinois 41-27. The Illini had a better assist-to-turnover margin, at 14:7. MSU assisted only nine times, and turned the ball over on eleven possessions.
Illinois head coach Brad Underwood said he'd prepared his team for a messy game.
"I walked in yesterday (Monday) with boxing gloves into scouting report, into film, and I told our guys that it was a heavyweight fight, and it was going to be 12 rounds, and you're probably going to get knocked down, and you're going to get up, and you're probably going to get knocked down again. It's about how many times are we going to do that," Underwood said.
Listen to Illinois coach Brad Underwood's full postgame press conference here.
Marcus Bingham led Michigan State with 13 points. Gabe Brown added 10. Tyson Walker led the Spartans with a game-high six assists.
Cockburn sat on the Illini bench. It was his second straight missed game while going through concussion protocol. Curbelo did not attend the game and was in COVID-19 health and safety protocols. He played with a fever at Maryland last Friday night, according to Coach Underwood.
The win elevates No. 24 Illinois to first place in the Big Ten at 7-2. MSU and Wisconsin are now 6-2 in the league.
The Illini return to action Saturday afternoon at Northwestern.
Rob McColley covers University of Illinois sports for WILL.