The first case of a new deadly strain of coronavirus has been confirmed in the U.S. in the state of Washington. The announcement was made Tuesday by the U.S. Centers for Disease Control and Prevention. Chinese authorities have confirmed nearly 300 cases of coronavirus in China, including several deaths. More cases are being identified in other countries as well.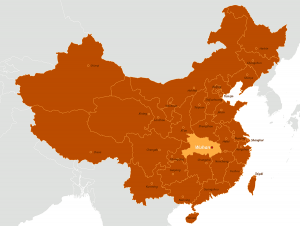 The CDC said O'Hare International Airport will join four other U.S. airports this week in screening passengers traveling from Wuhan, China, where the virus originated.
The agency said it will work with the Department of Homeland Security to funnel all travelers from Wuhan to airports conducting health screenings.
A spokesperson for the Illinois Department of Public Health said in an email that no cases of the virus, known as 2019-nCoV, have been confirmed in Illinois at this time.
IDPH is working with the CDC to monitor for any cases and has provided interim guidance to health care providers and local health departments on how to evaluate patients under investigation and prevent the spread of the virus.
"Based on the information we currently have, the risk to the general public is low," the email from IDPH reads. "As we learn new information, we will be sure to share it with the public."
The IDPH website contains additional information about symptoms, transmission, prevention and treatment of coronavirus infection.
CDC officials said the agency is continuing to closely monitor the rapidly evolving situation.
While most coronaviruses infect animals, not people, they can evolve into strains that infect humans, which can then spread between humans, according to the CDC. Recent examples include the SARS and MERS viruses.
The CDC reports the new coronavirus appears to be linked to a large seafood and animal market in Wuhan, China, which suggests it spread from animals to people to start.
But since a growing number of patients have reported no exposure to animal markets, it appears "limited person-to-person spread is occurring," according to the CDC.
Follow Christine on Twitter: @CTHerman