CHAMPAIGN – A rainbow flag, Black Lives Matter pins and a roll of toilet paper are among items Parkland College students recently 'laid to rest' in a time capsule featuring the events of 2020.
Phi Theta Kappa, the Honors Society chapter at Parkland created the time capsule. The students buried the capsuled during a physically distanced ceremony outside the Staerkel Planetarium on December 22. It will will be unearthed in 2050. 
Lori Garrett is an associate professor of Natural Sciences at Parkland and the chapter's advisors. She says students wanted to capture the chaotic events of 2020.
"A lot of it was very symbolic because pretty much everyone's lives had been somewhat turned upside down," says Garrett. 
Students included a face mask and roll of toilet paper to reflect the COVID-19 pandemic. The U.S. Centers for Disease Control and Prevention advised people to wear masks because they help prevent people who are infected — whether they know it or not — from spreading the coronavirus.  In early 2020, many retailers ran out of toilet paper because shoppers hoarded the item in advance of city and state lockdown orders. As reported by the Associated Press: NCSolutions, a data and consulting firm, said online and in-store U.S. toilet paper sales rose 51% between Feb. 24 and March 10, as buyers started getting uneasy about the growing number of virus cases. But sales rocketed a whopping 845% on March 11 and 12 as states announced lockdowns.
Garrett says they also included a voter registration card, sample ballot and the Time magazine 'Person of the Year' issue with President-elect Joe Biden and Vice president-elect Kamala Harris on the cover.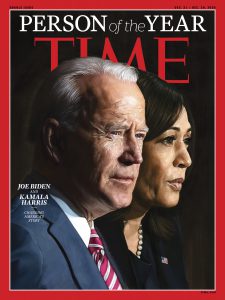 They also wanted to capture the social movements of 2020, so students included the rainbow flag, a symbol of the lesbian, gay, bisexual, transgender and queer communities.
Pins from the Black Lives Matter movement were also buried. In late May, thousands of people of many racial and ethnic backgrounds took to the streets to protest police killings of Black men. The protests, which began in Minneapolis following George Floyd's death after a police officer pressed a knee on his neck until he stopped breathing, became a national phenomenon as protesters decry years of deaths at police hands. 
Garrett says students wanted future classmates to have an unfiltered view of the events of 2020.
"As time passes, sometimes things get more romanticized or they get a little bit more corrupted," says Garrett. "And so this way we're leaving a frozen in time snapshot of what life was like during this crazy year." 
There were also two flash drives included in the capsule. Garrett says one has pictures of Parkland College in 2020. The other is filled with news articles on events, people and places in 2020, including people who encouraged or strongly disagreed with wearing masks during the COVID-19 pandemic. Also included were articles on climate change, the economy and QAnon. QAnon is an apocalyptic and convoluted conspiracy theory spread largely through the internet and promoted by some right-wing extremists. The flash drive also has stories on the top books, music and movies of 2020.
Garrett says there is a backup for the flash drives, because it's expected technology will change by 2050. 
"We're also going to be backing a lot of this information up digitally through the Parkland Archives," says Garrett. "So that way if they can't access the flash drives, they'll still be able to get to the information. If you think back 30 years ago, we certainly weren't using flash drives back then. We were using floppy disks that a lot of people never even heard of."
Why did the Parkland College students choose to open the capsule in three decades? 
"Part of it, a lot of them are very young, so they'd like to be around when its unearthed," says Garrett. "And when you're 18-years-old, 30 years sounds like a really long time."