CHAMPAIGN – Thousands gathered in the streets of downtown Champaign on Saturday afternoon for a peaceful march in support of the Black Lives Matter movement. The march, which was organized by local nonprofit Paign To Peace, drew people from across the county.
Protesters gathered in Hessel Park around noon to meet and make signs, and began marching soon thereafter. People of all ages and skin colors joined in the march, chanting things like "I can't breathe," "Black lives matter" and "Being black is not a crime." 
The march took place after more than a week of nationwide demonstrations denouncing police brutality against people of color. Protests kicked off in Minneapolis after footage circulated of a white police officer kneeling on George Floyd's neck, killing him.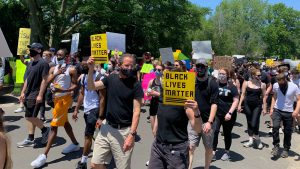 Protesters in Champaign chanted Floyd's name, as well as Aleyah Lewis', who was forcefully arrested by Urbana police earlier this year. 
Many locals marveled at the crowd size, saying they'd never seen so many people protesting for a common cause in Champaign before.
"I've never seen activism like this in my hometown, so this is just beautiful," Andrehyu Rosas-Allen says. "It's a time for all of us to band together toward injustice in our society."
He held a sign that read "Tu lucha es mi lucha," which translates to "Your fight is my fight."
"As somebody who's a member of the Latin American community, I feel like it's very important that these two minorities come together," he says. "It's not just black people's fight, at this point it needs to be about human rights."
The protest remained peaceful throughout the afternoon, which was a priority for organizers of the march.
"No violence, no looting, I don't want to be a part of that," said attendee Tony Russell. "But I want my children to know, I want my grandchildren to know, that when it was time to stand up, I stood up."
Health and safety were also top priorities for organizers, who encouraged all attendees to wear masks to protect against the spread of the coronavirus. The majority of protesters did show up in masks, and for those who didn't, Champaign County Board member Mike Ingram had them covered.
"There's still a pandemic going on, and I want to make sure that while we're fighting for the community, we're not actually negatively impacting the community," said Ingram, who carried around a bag full of homemade masks and distributed them to protesters. "This just happens to tie two things that I'm very passionate about together."
Marchers made several stops at major intersections throughout Champaign, at which point organizers would speak out about police brutality and inequality.
The educational aspect of the march was helpful to some white attendees who were marching in support of racial equality for the first time.
"I'm acknowledging my white privilege. I'm acknowledging that I can never be in a black person's shoes. I just want to show up, I just want to say 'I support you,'" said Tonya Lawyer of Urbana. "I'm at the place in my life right now where I want to become more active in this and not sit on the sidelines, and this is my first step toward that." 
More protests are planned throughout the weekend in Champaign County, but this was by far the largest so far.