CHAMPAIGN – Doctors began performing abortions on patients at the renovated Planned Parenthood clinic in Champaign earlier this month. But on Wednesday morning, the doctors and patients were absent, as reporters and visiting politicians were given a tour of the health center, where surgical abortions have resumed after several years.
"So this is where the doctors and the medical assistants will meet," explains health center manager Jennifer Fetters, as she shows off  the procedure room, where abortions are performed on an increasing number of out-of-state patients.
"The procedure begins, and then once the patient is done with their procedure, we're going to take them into Recovery, which is right over here," Fetters continued, as she led the visitors into an adjoining room.
The Planned Parenthood clinic in Champaign had stopped performing surgical abortions several years ago, and only offered medical abortions, prescribing medications for women to take at home to end a pregnancy. But earlier this month, the clinic began offering surgical abortions once again in a newly renovated first-floor health center.
Planned Parenthood of Illinois (PPIL) says the expanded health center in Champaign has doubled the number of patients that can be served by the organization in central Illinois. Surgical abortions were already available at Planned Parenthood's Springfield clinic.
Planned Parenthood now provides in-clinic abortions at seven sites in Illinois, as it works to meet a growing demand from out-of-state patients flocking to Illinois. due to abortion bans in surrounding states. Planned Parenthood recently opened two clinics in the Chicago suburbs to serve patients coming in from Indiana and Wisconsin. And a new clinic is planned for southern Illinois as well.
Planned Parenthood of Illinois president and CEO Jennifer Welch says that since the U.S. Supreme Court ruling in Dobbs v. Jackson Women's Health Organization  overturned the court's 1973 Roe v. Wade decision in June, women in states that have banned abortion have turned to Illinois for help.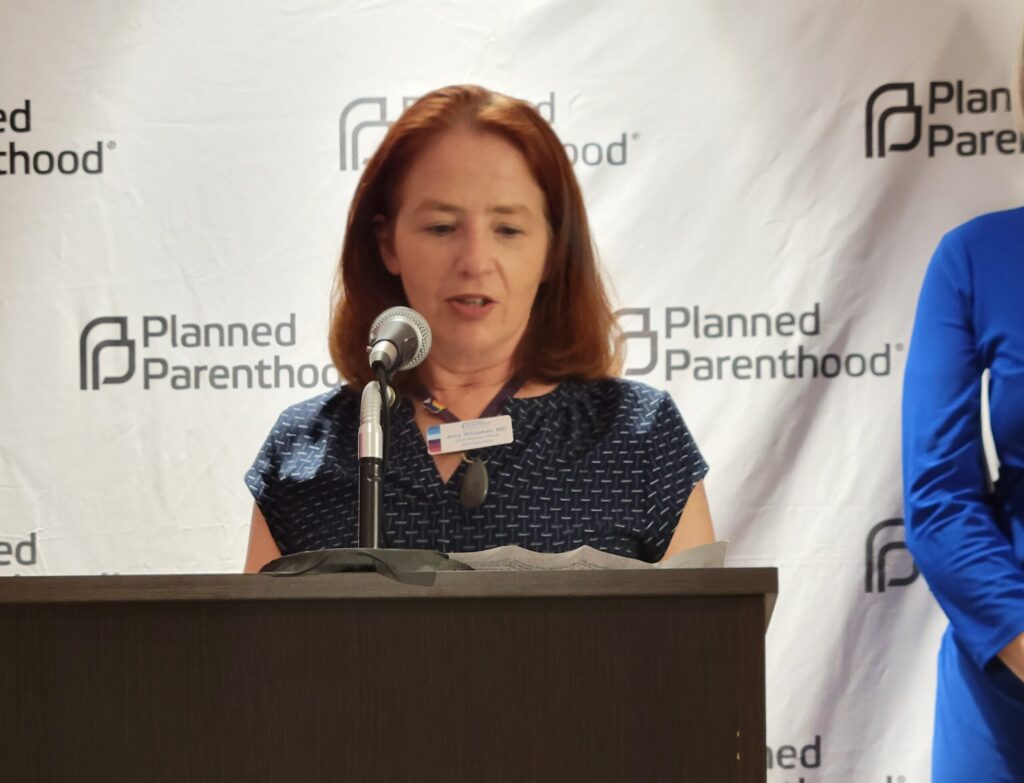 "Our unique geographic location makes us the largest surge state for abortion patients in the country," said Welch at a Wednesday news conference.
Abortion remains controversial in Illinois, and Planned Parenthood officials say anti-abortion demonstrators show up at the Champaign clinic a few days out of every week. But the Democratic majority in the Illinois General Assembly passed legislation in 2019 ensuring legal abortion in the state up to the point of fetal viability outside the womb, which is usually considered to occur around 24 weeks. The measure repealed a previous on supporting an abortion ban if Roe v. Wade was overturned. 
Welch says the states nearest to Illinois that reliably permit abortion are Michigan and Minnesota.
Doctor Amy Whitaker is Planned Parenthood of Illinois' Chief Medical Officer. She says that across Illinois, Planned Parenthood clinics are seeing patients from about thirty states that ban abortion.
"Since Roe was overturned, the expected surge of patients coming to Illinois is here," said Whitaker. "The number of patients from other states that have been forced to travel to one of our PPIL health centers is at an all-time historic high."
Whitaker says the Champaign clinic has seen patients from eleven states since Roe v. Wade was overturned, with the majority of out-of-state patients coming from nearby Indiana. Planned Parenthood officials say Indiana patients have made up about eleven percent of the Champaign clinic's clientele since the Supreme Court's Dobbs ruling.
Shortly after the Dobbs ruling, Indiana lawmakers passed a new law that bans most abortions in the state. But the law was blocked by a judge, pending a state Supreme Court hearing scheduled for 2023. Although Indiana's abortion ban is on hold for now, Planned Parenthood officials say the number of patients coming to their Champaign clinic from Indiana has grown by 40 percent in the past year.