CHAMPAIGN – A police processional escorted the body of a slain Champaign police officer from the Champaign county coroner's office in Urbana to a funeral home in Decatur on Thursday.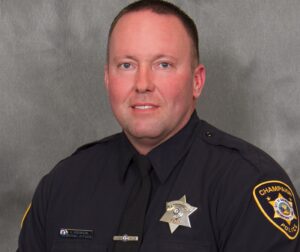 People lined the processional route in several locations, as the body of 44-year-old Chris Oberheim was taken to Graceland-Fairlawn Funeral Home.
One of those locations was along University Avenue in downtown Champaign, at the Champaign Police Department building. Richard Taylor says he came out to watch the processional, out of respect for the police officers who frequently drop by the nearby Habitat for Humanity store where he works.
"And a lot of the guys, they come and volunteer with us on the weekends," said Taylor. "And I met quite a few of them. They were very nice people, I mean cool, great. I just hate to see this happen."
The processional took place one day after Oberheim died from gunshot wounds during an early morning domestic violence call on Champaign's far north side. Another officer whose name has not been released was also wounded. A suspect, 24-year-old Darion Lafayette of Champaign, also died. The incident remains under investigation, and few details have been released.
The Champaign Fire Department had lined the street with fire trucks for the processional. About 30 firefighters plus some Champaign police officers, stood at attention and saluted as the processional went by. Two fire department ladder trucks suspended a large U.S. flag over the processional route.
Jamey Hitt of St. Joseph stood along the sidewalk as her firefighter husband took part in the proceedings.
"It's important to show our support to the family and to the police department at this time, because they're in deep sorrow," said HItt.
Brandon Stokes also said he wanted to show support for police officers at a difficult time. As Security Manager for the Champaign Public Library, Stokes says he's met some of the officers, and appreciates the work they do in what he calls a difficult time.
"You know, there's just a lot of what seems to be tension, nationwide really, just a lot of tension," said Stokes. "Police have been trying to bridge the gap of working with the communities. So there's a lot of work that goes into that."
Oberheim's body was transported in a hearse, accompanied by police officials in vehicles from several departments from around east central Illinois. Those included Police Chief Anthony Cobb and other Champaign police officials, and officials from the police departments of Urbana, Rantoul, Danville, Charleston, Mattoon, Mansfield, Decatur, Paxton; the Champaign, Macon, Vermilion and Piatt county sheriff's departments; the Illinois State Police; and the University of Illinois and Parkland College campus police departments.
Funeral arrangements for Oberheim were incomplete as of Thursday evening, according to the Graceland-Fairlawn funeral home website.