Post updated August 22 at 4:45 p.m.
CHAMPAIGN – Police in Champaign are looking for the person who shot a 20-year-old man along busy Green Street late Saturday night.
In a press release, Champaign police say they responded to shots fired in the 100 block of East Green Street just before 11:30 p.m. Officers arrived to find a 20-year-old man suffering from multiple gunshot wounds. Emergency crews took him to the hospital where he is in critical condition after surgery. The victim's name has not been released pubicly.
Back at the scene, police say they recovered more than 50 casings from the scene. Additionally, several cars were damaged by gunfire.
Police say the shooter fled the area and remains at large. Officers do not have a motive for the attack.
In another press release on Sunday, University of Illinois police chief Alice Cary said none of the people involved in the shooting were affiliated with the University of Illinois Urbana-Champaign.
Large crowds of young adults were observed along Green Street on Saturday night. Classes at the U of I begin on Monday.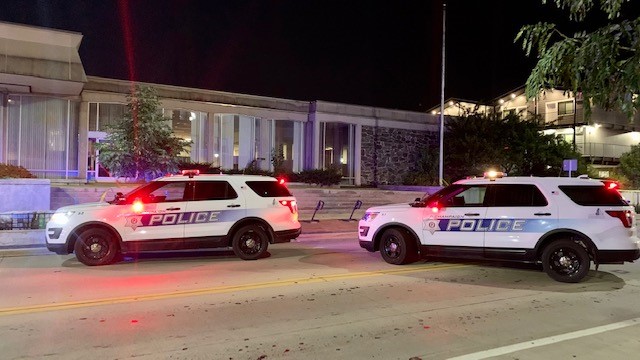 ---
 Original post from August 22 at 1:48 a.m.
CHAMPAIGN – Police are investigating after a report of shots fired in Champaign's Campustown late Saturday night.
An Illini Alert from the University of Illinois reported a "HAZARD" at Second and Green Streets around 11:35 p.m. on Saturday.
Subsequent alerts said there were shots fired in the area and the suspected shooter had left the area. An alert Sunday at 12:31 a.m. said the emergency had ended and it was safe to resume regular activities in the area.
Police are expected to issue a statement later on Sunday morning.
Thousands of young people were observed on Green St. patronizing bars and restaurants. Classes at the University of Illinois Urbana Champaign begin on Monday.
A heavy police presence will remain for quite some time. Please continue to avoid the area while the investigation proceeds. https://t.co/n83n08Jrly

— U of I Police (@UIPD) August 22, 2021
Scene at Green St. & Second St. in #Champaign @ChampaignPD still have lanes shut down nearly an hour after shots were reported fired. Officers say a person was struck but no other info. An official statement will be out this morning. pic.twitter.com/PxQtvQDoko

— Reg News (@RNewsWILL) August 22, 2021