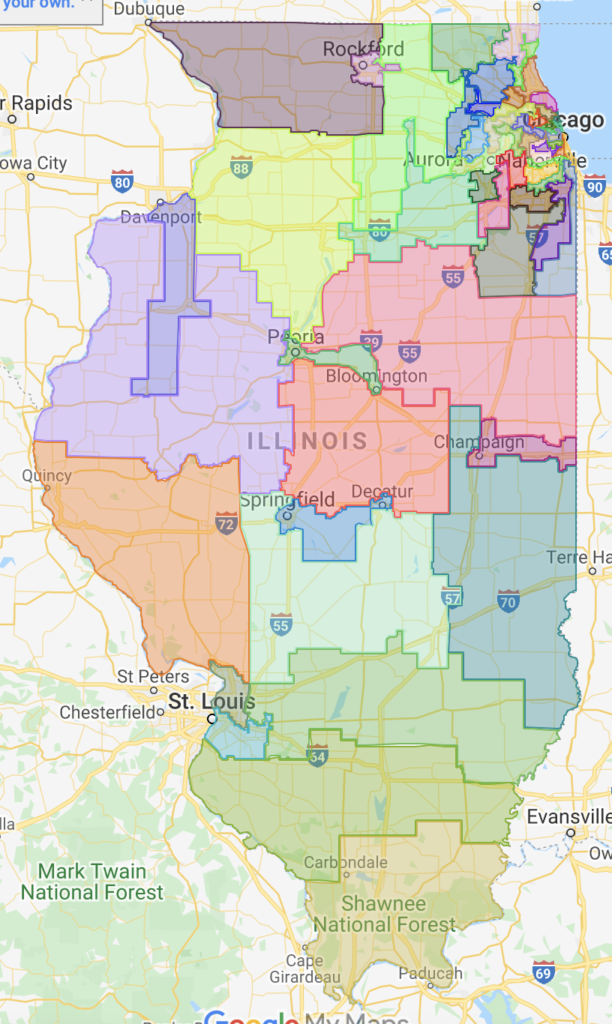 SPRINGFIELD – Gov. JB Pritzker on Friday signed new legislative district maps Democrats pushed through the General Assembly a week ago — maps Democrats approved on partisan lines over objections from community advocacy organizations, self-styled government reform groups and Republicans.
"Illinois' strength is in our diversity, and these maps help to ensure that communities that have been left out and left behind have fair representation in our government," Pritzker said in a statement. "These district boundaries align with both the federal and state Voting Rights Acts, which help to ensure our diverse communities have electoral power and fair representation."
While a candidate in 2018, Pritzker votwed veto a map drawn by lawmakers or political staff. But the governor has since softened that answer, saying he'd only veto an unfair map that doesn't reflect Illinois' diverse communities.
New House Speaker Chris Welch (D-Hillside), Illinois' first Black House speaker, characterized Pritzker's signature on the new maps — which also include the first remap of Illinois' five judicial districts in nearly 60 years, as well as the Cook County Board of Review — as a "win for the people of this great state" and thanked Democrats who worked on the House and Senate redistricting committees "tirelessly to make sure that Illinois remains a model for the nation for minority representation."
"With Governor Pritzker's signature, people of Illinois can be confident in a legislative map that is reflective of the diversity that we see in every corner of our state," Welch said in a statement. "Not only does this map adhere to state and federal laws, but it is a product of more than 50 public hearings where citizens came to tell us what their communities look like to them."
Pritzker on Thursday told NPR Illinois and other news outlets that he was still reviewing the new maps to make sure they comport with the federal and state Voting Rights Acts. House GOP Leader Jim Durkin (R-Western Springs) on Friday spun that as misleading at best and a lie at worst.
"Today, on a summer Friday afternoon, with no fanfare, Gov. Pritzker broke that promise and signed the legislative maps, even though yesterday he told reporters he was 'undecided'…" Durkin said. "Governor, not only did you sell out, but you lied."
State Rep. Tim Butler (R-Springfield) characterized the Democrats' mapmaking process as a farce. 
"I think what we have here today is the culmination of a forgone conclusion among the Democrats in Illinois," Butler said. 
The new maps are meant to take effect in 2023, though lawmakers will run in the new district boundaries for elections next year. Democrats last week wrapped a months-long process with dozens of hearings — though most were sparsely attended either in person or over Zoom — with community advocacy groups focused on areas of the state from Chicago to southern Illinois.
But those same community advocacy organizations begged Democrats to delay the mapmaking process until Illinois gets official 2020 Census data, expected in August due to COVID-related delays. The majority party instead forged ahead with aggregated data from the Census Bureau's American Community Survey, plus feedback from those 50 or so meetings this spring and voter data.
Republicans and government reform organizations this spring joined with community groups asking for Democrats to wait for official Census data. But the the GOP also had extra incentive for a delay beyond June 30th — a 50/50 shot at controlling the hyper-partisan redistricting process after an appointed panel of mapmakers would inevitably deadlock.
But that path is no longer an option now that Pritzker's signature is on the legislation containing the new district boundaries. However, litigation over the maps from community advocacy organizations is widely expected, and if courts find Democrats' use of non-Census data in drawing the maps either resulted in mal-apportionment or otherwise isolated the state or federal Voting Rights Acts, the district lines could be adjusted with court supervision.
Otherwise, Democrats may revisit the boundary lines after Census data is published in August.
This story will be updated.