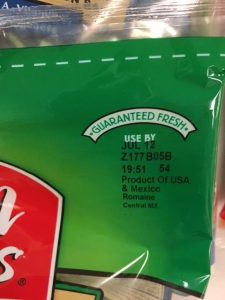 CHAMPAIGN – If you recently bought packaged garden salad, the Champaign-Urbana Public Health District says you should check to see if its been recalled.
In a press release late Wednesday, health leaders reported there are six cases of Cyclosporiasis in Champaign County. The intestinal illness can cause watery diarrhea, loss of appetite, bloating, low grade fever and other symptoms. It can be treated with antibiotics.
The Illinois Department of Public Health says the cases are part of a multi-state outbreak.
The cases are linked to recalled salads under the Fresh Express brand. They may also be branded under the following retail store brands: ALDI Little Salad Bar, Giant Eagle, Hy-Vee, Jewel-Osco Signature Farms, ShopRite Wholesome Pantry, and Walmart Marketside.
The salads contained iceberg lettuce, red cabbage and/or carrots. The recall includes products marked with the letter "Z" at the beginning of the Product Code, followed by the number "178" or lower.
On its website, Fresh Express says more than 200 people have become ill because of the recalled salad.
The Food And Drug Administration says the recalled products were made in Streamwood, Illinois at a facility owned by Fresh Express. FDA investigators are currently inspecting the facility according to an agency press release.