CHAMPAIGN – Republican Congressman Rodney Davis says infrastructure is a top priority, but he voted no on President Biden's bipartisan infrastructure law.
He says Jan. 6 rioters should face charges for breaking the law, but he is not willing to criticize Republicans who encourage their beliefs.
These are some of the fine lines Davis walks as he navigates a new legislative district and a Republican Party still defined by former president Donald Trump.
"I don't think I've changed at all. I'm still proud of my bipartisan record," Davis said. "I'm a conservative who actually is proud of being able to get things done here. And I'm not going to sacrifice my core values and principles that I ran on when I first ran in this district in 2012."
Davis spoke with The 21st this week about his recent votes and his perspective on those promoting false claims of election fraud in the 2020 presidential election.
Davis currently represents Illinois' mixed urban and rural 13th District. He recently announced he will run for re-election in the newly redrawn 15th District, a safe Republican district that includes his hometown of Taylorville. Democrats in Springfield drew the district to loop around the urban areas in his old district.
Yes to infrastructure, just not this law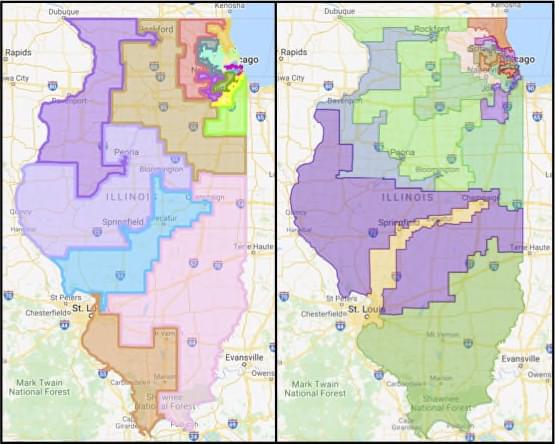 Improving highways and transit are some of Davis' top priorities, he says. He recently spoke at an event celebrating new hydrogen-fuel buses in Champaign-Urbana as a rare Republican clean energy booster.
Despite his focus on transportation, Davis says Biden's infrastructure bill was too tied to a separate spending bill that includes universal pre-K and paid family leave.
"All you had to do is look at comments from President Biden and colleagues of mine, like Pramila Jayapal, who said, these two bills are tied together," Davis said.
Congressional progressives like Jayapal (D-WA) did seek commitments from moderates on the separate social bill before voting for the infrastructure bill. Many Republicans focused on this link to justify their nos.
The few House Republicans who did vote yes on the infrastructure bill have faced backlash from far-right members of their party, including death threats after Rep. Marjorie Taylor Greene (R-GA) tweeted their office numbers.
The 2020 election
Davis upholds the result of the 2020 election, despite attempts from his party to cast doubt upon it. 
However, speaking on The 21st, Davis said disputing election results is common from both parties. 
"You know, you had Stacey Abrams talk about how she had the election for Georgia governor stolen. There was discussion after Hillary Clinton lost in 2016," Davis said.
While Abrams recognizes that her defeat in 2018 was legal, she does see it as unfair and linked to suppression of voters of color. Clinton has also questioned the fairness of her defeat, given interference by Russia. However, neither engaged in sustained campaigns to overturn their results as Trump did.
A few Republican lawmakers, including Rep. Greene, actively promote Trump's false claims that the election was stolen. Many others voted to prevent Biden's inauguration but have remained silent since.
Davis made clear on The 21st that he believes Jan. 6 rioters broke the law. He urged those questioning election integrity to talk to their local election officials, who he said are doing a great job.
Emily Hays is a reporter for Illinois Public Media. Follow her on Twitter @amihatt.