Researchers at the Nature Conservancy have developed a map identifying the best places in Illinois to install renewable wind energy. They say it is a tool to help speed up the move away from fossil fuels.
The central United States has the potential to generate a total of 1,000 gigawatts of renewable wind energy, according to the new analysis. That's about equivalent to the total amount of electricity the nation generates now. Meanwhile, Illinois has the potential to generate up to 60 gigawatts of wind energy—the equivalent to powering a city the size of Springfield. Currently, Illinois produces about six gigawatts of wind energy.
The maps outline 17 states, including Illinois, that the researchers deem the "wind belt"—an area encompassing the Great Plains and beyond, stretching from Ohio to Montana. These states are known for strong winds with few barriers, and thus their potential for renewable wind energy. In the map, the researchers highlight the best areas to install wind turbines without disrupting people, wildlife or protected natural areas. It shows that more than 2 million acres in Illinois are ideal for wind development, meaning they would cause no conflicts with wildlife and protected natural areas.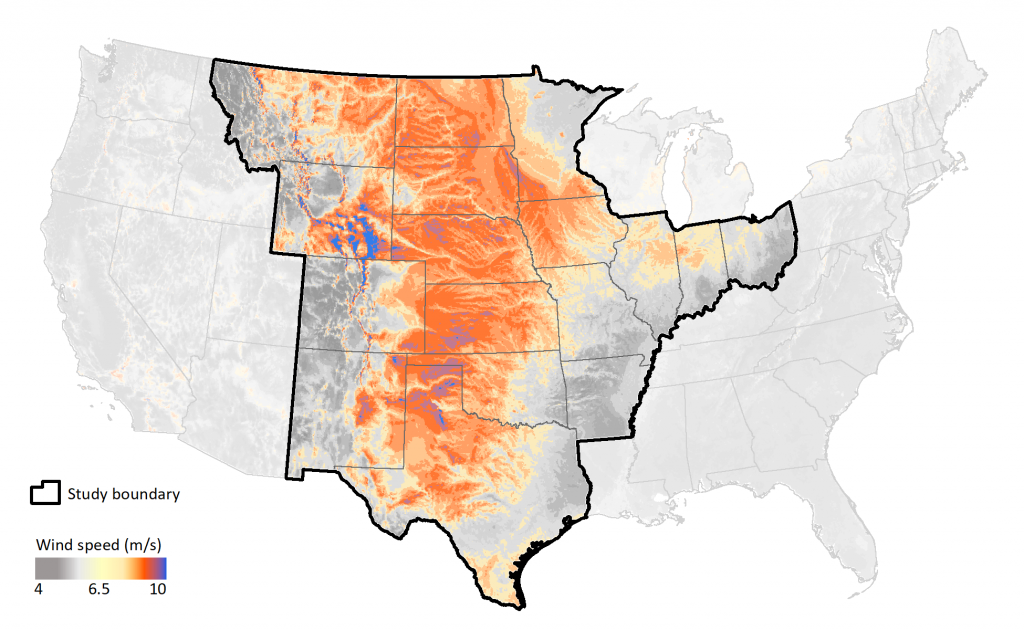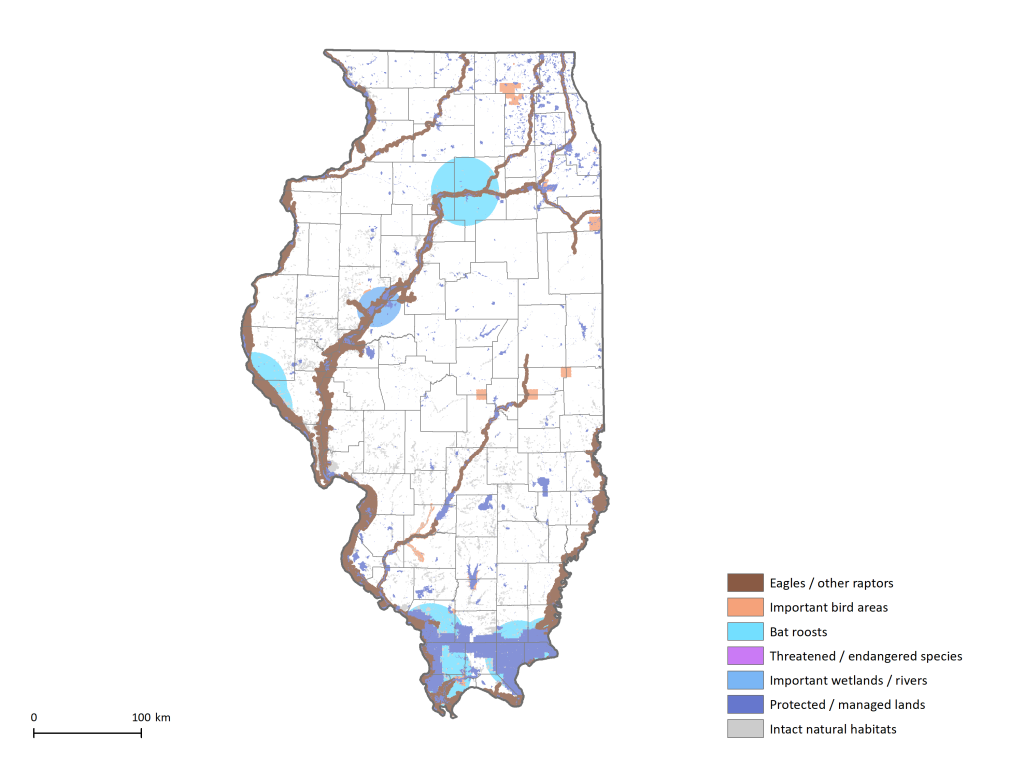 "We're actually rather fortunate here in Illinois that the areas that are best-suited for installing wind turbines are the ones that have a lot of features that make them less likely to have severe wildlife impacts," says Jeff Walk, Director of the Nature Conservancy in Illinois. "So really where we have our flat prairie landscapes that are now predominantly corn and soybean fields, those are relatively lower risk for harming wildlife than areas around river corridors for example."
The Illinois map includes areas to avoid, like Starved Rock State Park along the Illinois River, and spots where native wildlife like bats, prairie chickens and eagles are found and need to be protected.
Despite historically being one of the country's leading producers of coal, Illinois has seen a rise in clean energy initiatives in recent years, including both solar and wind power. Walk says the map is part of a greater push to spur wind energy development in the area.
"We're actively working with the energy industry to use these tools and get renewable energy broadly deployed so we can reduce our dependence on fossil fuels," Walk says. "Being here in the prairie peninsula, just with those flat open landscapes, there's not a lot of barriers that prevents those winds from being strong and reliable. This is the wind belt, and we have a viable wind source that can be turned into sustainable energy."
Lecia Bushak is a reporter at Illinois Public Media. Follow her on Twitter @Lecia_Bushak.