URBANA – Colleagues are remembering State Senator Scott Bennett for his wit, his work on public safety, and his Central Illinois upbringing.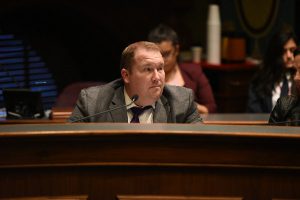 In a statement Friday afternoon, his wife Stacy says Bennett succumbed to complications of a large brain tumor. Champaign County Coroner Duane Northrup says the 45-year-old Champaign Democrat was pronounced dead Friday afternoon at Carle Foundation Hospital in Urbana. Bennett is survived by his wife and two children. He was hospitalized early Thursday.
Stacy Bennett said in a statement that her husband's death was sudden, and unexpected, and left the family in complete shock.
"Scott will forever be known for being an extraordinary father, husband, and friend. His quick humor and wit could light up any room he entered. We will miss his stories, the way he could always make people laugh, and his genuine kindness," says Stacy Bennett in a statement. "Scott lived a life full of service and constantly looked for ways to lend his time and energy to helping our community and state. He worked tirelessly to find solutions to society's most pressing issues by finding common ground and compromise. To say he will be greatly missed is an understatement."
Bennett grew up in Gibson City and received a law degree at the University of Illinois. He worked as a prosecutor in McLean and Champaign Counties, before his appointment in 2015 to fill a state senate seat left vacant when Mike Frerichs became state treasurer.
In a statement Friday afternoon, Frerichs remembered Bennett as a man with quote "a big laugh and an even bigger heart", who was not afraid to tack difficult issues.
Bennett was among the lawmakers who proposed amendments to the SAFE-T Act, the criminal justice reform measure due to take effect in Illinois next month.
State. Rep. Jehan Gordon-Booth (D-Peoria) expressed condolences on behalf of the House Public Safety Group.
"The loss of Senator Scott Bennett is an unexpected tragedy. Senator Bennett's collegiality and dedication was instrumental to the work of refining and enhancing the SAFE-T Act, and his dedication to his community was paramount. His passing is a sad moment for our state as a whole, and his community, his friends, and his family in particular. We are united in grief with all who loved Senator Bennett, and wish peace and comfort for his family," said Gordon-Booth in a statement.
Reaction from around Illinois
In a statement, Governor JB Pritzker (D-Illinois) said Bennett was a 'good man who always operated with the best interest of his constituents in mind.'
"The entire state is a better place thanks to his service," said Pritzker in the statement.
Former State Senator and Republican gubernatorial candidate Darren Bailey tweeted "Lifting the family of Senator Scott Bennett in prayer."
Illinois Senate President Don Harmon (D-Oak Park) said in a statement that he was devastated to learn of the death of Bennett."
Champaign mayor Deborah Frank Feinen says Bennett was 'a man who truly made a difference in the lives of so many people across Central Illinois.'
"Scott, a fifth-generation Central Illinoisan, was committed to his family and his constituents in Champaign and Vermilion Counties. He was a staunch advocate for resources to enhance education, advance economic development, and improve the lives of our most vulnerable populations. During my time serving as Champaign's Mayor, Scott was a tireless voice for our region, always willing to help when asked on any issue of importance to the City of Champaign or the community," said Frank Feinen in a statement.
State Sen. Chapin Rose (D-Mahomet) called Bennett "Scotty" in his statement. Chapin, a Republican, said he worked with Bennett without partisanship.
"I always looked forward to seeing him around town whether at the YMCA or the Buffalo Wild Wings, where we could occasionally run into each other with our kids. The world needs more Scott Bennetts, not less. Our prayers go out to his entire family," said Rose in a statement.
State Rep. Carol Ammons (D-Urbana) says she's at a loss for words and heartbroken over Bennett's death. 
"The Senator and I have worked side by side my entire legislative career. Throughout that time, I have always valued his insight, his passion and willingness to do the right thing for our communities and the people of Illinois. I am heartbroken to lose such a dear friend, and I join his friends, colleagues in the General Assembly and the rest of Illinois in grieving his passing," said Ammons in a statement.
Another Republican, State Rep. Mike Marron (R-Fithian) praised Bennett, a Democratic lawmaker.
"Scott embodied professionalism and bi-partisanship in his role of Senator and I will be forever grateful for all the accomplishments we were able to bring to the great people of Champaign and Vermilion counties. My heart goes out to his wife, children, and family at this time. I hope to find opportunities to honor our lost statesman in the coming weeks and months," said Marron in a statement.
State Senator Elgie R. Sims, Jr. (D-Chicago) called Bennett a friend and colleague in his statement.
"To say that I am devastated by the loss of my friend and colleague Scott Bennett is an understatement. Senator Bennett always led with much grace and dignity, and I will forever be grateful for his stewardship, partnership and friendship. Scott worked tirelessly on behalf of his constituents, evidenced most recently by his work on the subsequent trailer bills of the SAFE-T Act where he willingly sacrificed time with his family over the holiday weekend to improve the lives of people he would never meet. His service is indicative of his commitment to his District and the people of Illinois," said Sims, Jr. in a statement.
The president of the SEIU Local 73 union also made a statement about Bennett's passing.
"Scott Bennett was an ally to the labor movement in Illinois. He stood up for working families by supporting the Workers' Rights Amendment and supported our members in their fight for a fair contract at the University of Illinois – Urbana Champaign," said SEIU Local 73 president Dian Palmer in a statement.
Illinois State Comptroller Susana A. Mendoza called the passing of State Sen. Bennett "terrible, shocking news."
"It is also an immeasurable loss for the state Senate, his constituents and the entire state of Illinois. He was a beloved colleague to all he served with. I had the honor and pleasure of working with Sen. Bennett – including recent discussions to increase awareness of autism in the workplace. He will be remembered for his warmth and wit. Not only was he one of the kindest legislators, but one of the most effective," said Mendoza in a statement.
This is a developing story. Check here for updates.