Editor's Note: Illinois State Police released videos of the deadly May 19 shootings in Champaign. You can find a synced video of area surveillance cameras and police body cams here. The video is graphic. Viewer discretion is strongly advised.
CHAMPAIGN – On the day after Champaign Officer Chris Oberheim's funeral, Illinois State Police released surveillance and police bodycam video of the confrontation in which he was killed, a second officer was wounded, and Darion Lafayette was also killed.
Meanwhile, the Champaign County state's attorney concluded that the second officer, Jeffrey Creel, was justified in shooting Lafayette, during the confrontation in the parking lot of Champaign's Town Centre apartment complex in the early morning hours of May 19.
"Officer Jeffrey Creel's use of deadly force was legally justified and appropriate," stated State's Attorney Julia Rietz. Her preliminary report was issued Thursday, around the same time the Illinois State Police posted video of the incident on their YouTube account.
Bodycam video made by both officers shows them approaching an apartment at the Town Centre complex on the north end of Champaign. Creel and Oberheim had arrived in separate squad cars at 3:32 a.m., after receiving a report of a woman being physically abused.
Town Centre surveillance video shows a man, later identified as Darion Lafayette, leaving the apartment building and getting into a parked car. The officers approach the car, with Creel addressing Lafayette: "What's up, man? Champaign Police. How are you?"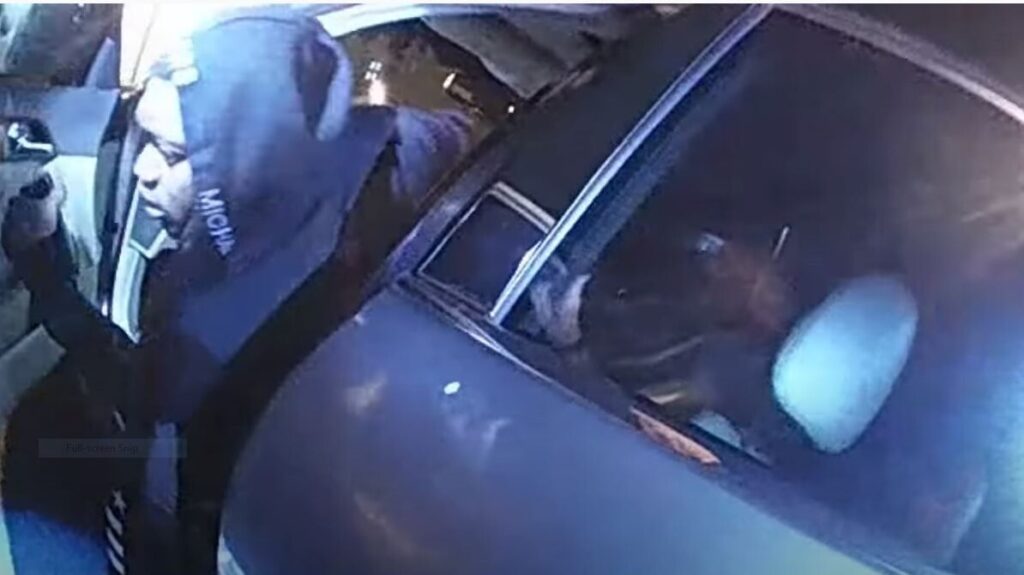 Lafayette speaks indistinctly, and Creel follows up: "Put your hands where I can see 'em. What are you doing?" By this time, Lafayette is getting out of the car.
"Drop your hands, now," says Creel.
"I ain't got nothin', man," says Lafayette.
But Rietz, in her report, says Lafayette had a gun in his right hand. Lafayette and Creel struggled, with the officer attempting a bear hug, and Oberheim trying to assist him.
Creel's and Oberheim's bodycams are dislodged and fall to the ground. Only Oberheim's bodycam and the apartment surveillance camera remain in positions where they can show what happens next, and State Police have withheld those parts of the videos from release. But the bodycam audio records the sounds of several shots fired, several cries, and Officer Creel's voice, making a radio call for help: "Shots fired, officer down".
Rietz' report says evidence indicates Lafayette emptied a Glock 9mm handgun in the process of firing at the two officers, who were each shot three times. Oberheim fell to the ground as he was shot, with one bullet striking his head. The report says Officer Creel was forced to the ground by bullets hitting his chest, which were blocked by body armor, and one hitting his arm. Getting to his feet, Creel saw the gravely wounded Oberheim on the ground and Lafayette on his feet. In Creel's own report, quoted by Rietz, the officer stated "fearing that Darion would again try to shoot and kill me and Officer Oberheim, I immediately fired my sidearm numerous times into Darion until I felt we were safe." Rietz says Lafayette was also shot three times.
Lafayette was pronounced dead at the scene. Officer Oberheim was pronounced dead at Carle Hospital.
Rietz' report says Lafayette had been on probation for Aggravated Domestic Battery, and could not legally possess a firearm.
The state's attorney's report concludes by stating that Officers Creel and Oberheim were legally justified in approaching Lafayette and ordering him to show his hands. And Rietz argues Creel was justified in firing at Lafayette, in order to prevent "great bodily harm" to himself or others.
A State Police investigation continues into the May 19 incident, and Rietz states in her report that new evidence and new eyewitness testimony may turn up.
"However, we do not expect any additional evidence or information to affect or alter our preliminary opinions," Rietz writes.
The report says officers later located an adult woman and two children in Lafayette's apartment. All three were physically unharmed. A Department of Children and Family Services welfare case is now pending.
Read the Champaign County state attorney's report here: 509609470-5-19-21-Report-Final