CHAMPAIGN — The Illinois men's basketball team took 4th-ranked Purdue to double-overtime before succumbing 96-88 on Monday afternoon.
Sasha Stefanovic drained 5-8 three-pointers for a team-high 22 points. 7-foot-4 center Zach Edey connected on nine shots in the paint to add 20 for the visitors.
The nationally-televised game was billed as a battle of big men, meaning Purdue's Edey and Trevion Williams versus Illini preseason Big Ten Player of the Year Kofi Cockburn. But Cockburn spent most of the game on the bench, dealing with foul trouble. He picked up his fourth foul at the 17:23 mark of the second half, and sat until the under-8:00 media timeout. His fifth foul came just 41 seconds into the first overtime.
Backup center Omar Payne had the same problem, garnering three fouls in just seven minutes of playing time. Forward Coleman Hawkins was suffering from what coach Brad Underwood called "the flu," and played less than four minutes, all in the first half.
That left third-string center Benjamin Bosmans-Verdonk to man the post against two of the conference's best big men. Illinois coach Brad Underwood praised Verdonk's effort.
"I thought we showed some resilience. Played 30 minutes without Kofi. Benjamin Verdonk was about everything we want our program to be about. The fight. The competitiveness," Underwood said. "I think Trevion Williams is one of the best players in our league and he shot 33% today."
Illinois point guard Andre Curbelo made a surprise return, playing in a game for the first time since November. He scored 20 points and grabbed a team-high six rebounds in 25 minutes off the bench. Underwood said Curbelo had practiced only twice leading into the game, and added that he'd planned to play his point guard no more than eight minutes.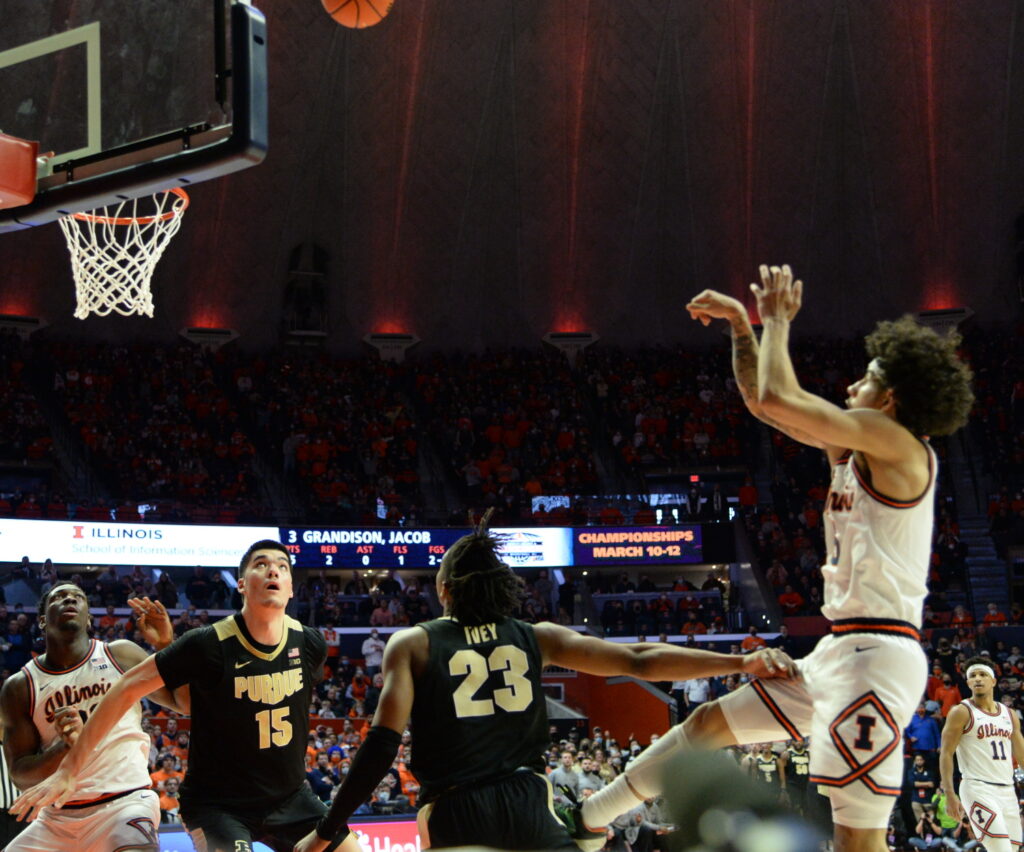 Stefanovic, Edey and guard Jaden Ivey tied for rebounding honors with eight apiece. Ivey drew ten Illini fouls and converted 13-15 free-throws en route to scoring 19 points for the Boilermakers. In all, the visitors outrebounded the hosts 46-39. Game officials assessed 23 personal fouls against the Illini, and just 15 against Purdue.
Alfonso Plummer led all scorers with 24 points, including 6-12 from three-point range. As a team, the Illini were 12-33 from the arc while the Boilers converted 8-18.
Illinois drops to 6-1 in the Big Ten, and 13-4 overall. Purdue improves to 4-2 in the league and 15-2 on the season. The Illini return to action Friday at Maryland. Tipoff time is 6:00pm CT on Fox Sports 1.
Rob McColley covers University of Illinois sports for WILL.