URBANA – Andrea Maldonado is a senior studying music education at the University of Illinois. 
She plays the violin and was performing Latin American music prior to going to college. While the curriculum is great, Maldonado wanted more, so she decided to start her own ensemble.
"And I talked to Danny who I also knew was very much interested in Latin music, and we worked on this project together and built it up," said Maldonado. "So, we had a place to play the music that we love and grew up with."
Danny Ortiz is a senior and plays the drums. Between the two of them, they formed Grupo Illini last August. 
It's a student-run organization prioritizing Latino music on campus.   
"Both Andrea and I are (studying) music education. And the program is really white. Anything Latin that you see here in the School of Music isn't really Latin. It's really whitewashed," said Ortiz. "Andrea reached out to me and was like, let's create our own group. And I was like, okay."
Throughout the semester they perfected a set-list of songs, including "Amor Eterno" by Rocio Dúrcal, a Spanish singer and "Como la Flor" by Selena (Selena Quintanilla Perez), the beloved iconic Tejano singer.
But, surprisingly, not everyone in Grupo Illini is a music major. Junior and singer Julia Rivera is studying information sciences.
"And that's what I really liked about the club is that you don't have to be in courses," Rivera said. "You don't have to know how to read music. You don't have to do all that. As long as you come and you just try to have fun and try to do your best."
Guitarist Roberto Aviles joined the group because of the focus on Latin music.
"And it's also like a chance for me to get back to my roots, I listen to mostly white people's music, and why not challenge myself to not play music from my roots," Aviles said.
While Grupo Illini began to develop, another Latin ensemble in the U of I School of Music began its course for students who are interested in receiving credit. 
Guido Sánchez-Portuguez is a guitar professor and leads the classroom-based ensemble. 
He says they play a range of styles from Mexico through the Caribbean and South America.
"When you say Latin American music, people are gonna think Afro-Cuban music, you know, like salsa, maybe Afro-Brazilian music, like samba, or bossa nova," said Sánchez-Portuguez. "Afro-Dominican music like merengue or tango [from Argentina], but there's a lot more. We're trying to cover that area of all these other styles."
Latin American music is full of complex rhythms and most of the musical variety comes from percussion instruments like bongos and conga drums.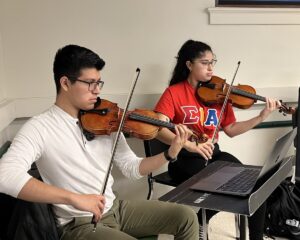 And it's hard to sit still during a performance. 
It's why the Latin American Ensemble encourages the audience to participate, according to junior and guitarist Horacio Hernandez 
"And that kind of breaks that tradition of like, all they stay seated and watch the whole time clap and that's it," Hernandez said. "So like, keeping them engaged and being interactive with them is something that Guido does a great job at."
Grupo Illini has played five performances since its formation.
Andrea Maldonado says the organization helps shed light on the many Latino musicians on campus, which she hopes encourages them to join.
"It was so nice for people to come up and say, 'Oh my God, I'm so glad you guys formed, because now we have live performances of music that we listen to, rather than all this other stuff,'" said Maldonado. 
Although she is stepping down as Grupo Illini's president, she's looking forward to the fall semester.
"I'm excited to see where everybody else like the new board takes it and how many more performances we will do and how much more official we will get," said Maldonado. "Hopefully, we will get merch soon, so we can actually be a little more dress code on stage."
Updated May 30, 2023 to clarify the types of music played by the Latin American Ensemble.