CHAMPAIGN – About three-quarters of districts in Illinois are struggling to hire bus drivers, cafeteria workers and teachers' aides, according to a survey by a state association of superintendents.
Workers in Champaign want to know how future board members will help them.
"Whether it's custodians, hall monitors, food service or bus drivers, the morale is very low, because they're all having to pull extra duty," said Champaign Educational Support Professionals Vice President Jason Isaac.
Isaac fixes maintenance problems at Unit 4's two dozen schools and other buildings.
On Tuesday, he helped moderate a forum for school board candidates with the teacher's union, parent-teacher association and the NAACP.
Seven candidates are squaring off for four open seats on the board. The election takes place on April 4. Early voting has already begun.
Isaac liked that some candidates mentioned increasing pay. He also wants Unit 4 to better advertise its benefits, like good health care and holidays.
He noticed that few candidates mentioned his coworkers until he asked a question about the support staff shortage.
"There's a ton of other team members in Unit 4 that matter, that contribute to the educational process. And I just want them to be aware and conscious of the other support staff," he said.
What does Black Lives Matter mean to Unit 4 candidates?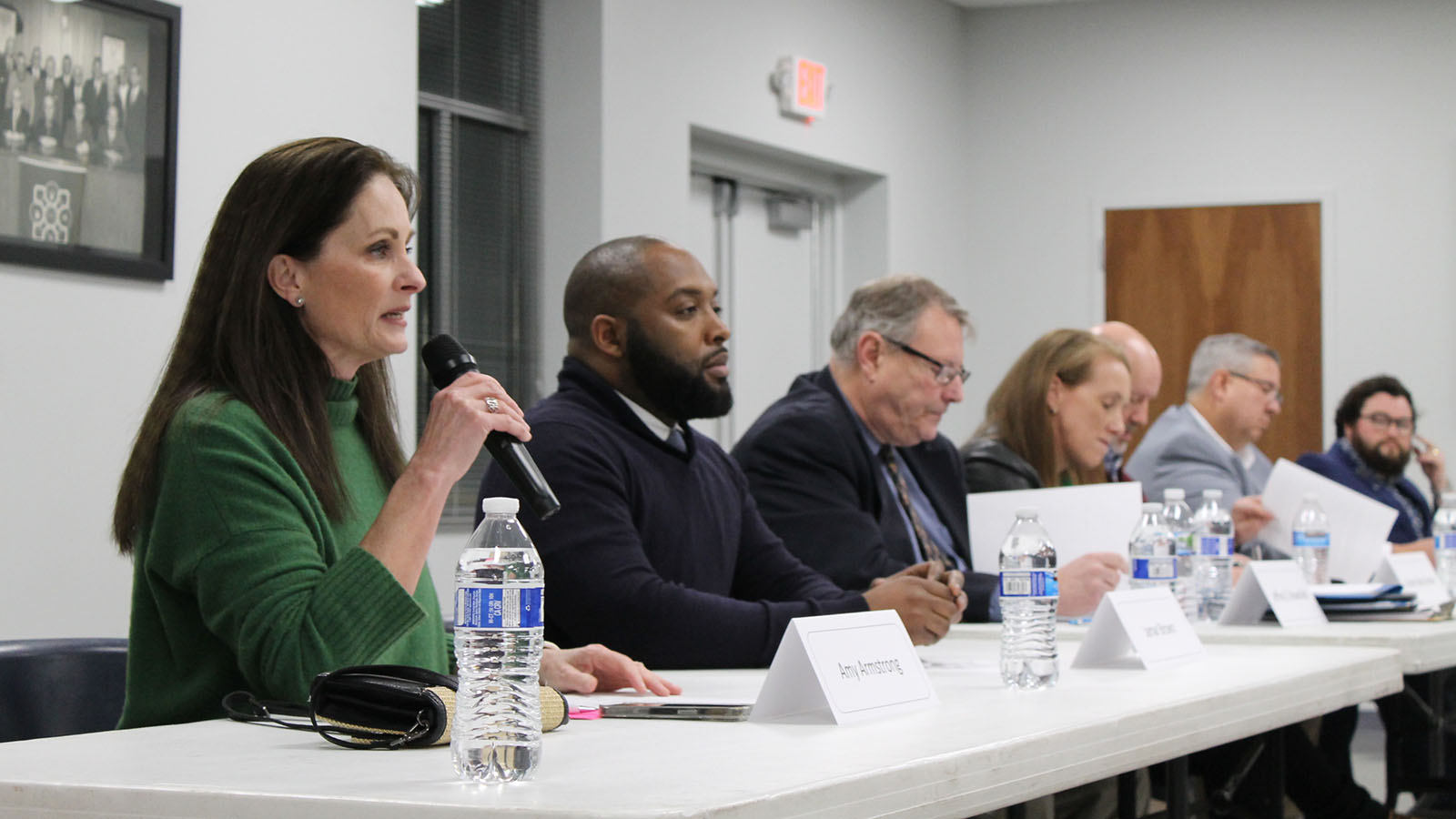 Central High School teacher Jennifer Swiontek was in the audience on Tuesday. She said candidate answers to what Black Lives Matter means in the classroom were telling.
"When I think about voting for a board member, something that's important to me is that they take on the perspective of everybody that's involved in a school," Swiontek said. "I also want them to think about those marginalized communities, the people who might not always have a voice here."
The Black Lives Matter movement highlights injustices to Black people and pushes for systemic changes. 
While most candidates said BLM was helpful or necessary, business owner and candidate Mark Holm said he was not a fan of movements that divide communities.
Here's what each candidate said:
Incumbent Amy Armstrong – "I was proud to support the resolution written in 2020 regarding racism as a public health crisis, because we find it in every system, almost every piece of legislation. … Equity is the core of making sure that we know that not everybody is coming from the same space when they enter a school building. And that is why Black Lives Matter in our schools."
Past board member Jamar Brown – "Black Lives Matters to me doesn't mean that we're all the same or that we're all going to learn the same. It's definitely not, 'I don't see color.' Black Lives Matter means see my color, still love me. See my color, still teach me. See my color, still hear me."
Retired State Universities Civil Service head Jeffrey Brownfield – "What it really means to me is through my human resources experience is that African Americans have been underemployed forever in positions that do not meet their educational and skill level. So the first thing we need to do is make sure we allow African Americans to have additional opportunities."
Attorney Elizabeth "Betsy" Holder – "For me, Black Lives Matter is about equity, not just equality. It's about learning from our history and teaching our history with racial disparity and inequity. It's about giving all races a seat at the table and working to acknowledge and overcome systemic racism."
Business owner Mark Holm – "We could all have the same situation and we may perceive it definitely with our different life experiences. I'm not in favor of a political movement that puts a label or divides students or communities against each other. We need to draw together as a community. It doesn't make any difference to me what color you are or what you do. I'm more worried about your character, what values you bring, and how we can enhance our community for everyone."
Financial advisor Mark Thies – "It's a movement that really helps us to highlight racism, discrimination and the racial inequity experienced by Black people. It's also a call to action, in response to racism and police brutality. … I think we're all human. We all get cut. We all bleed the same color. We should acknowledge the respect and celebrate not only the differences, but also the commonalities that we have amongst all people."
Social worker Andrew "AJ" Zwettler – "Black lives do matter. They matter in Champaign schools, in Champaign-Urbana, in this country. I strongly support the Black Lives Matter movement. And I would go above and beyond to make sure that our students know that."
Emily Hays is a reporter for Illinois Public Media. Follow her on Twitter @amihatt.