CHAMPAIGN – For two years, the Housing Authority of Champaign County's YouthBuild program has helped young people finish their high school diplomas, while renovating public housing properties.
The program managers also see the training program as a youth violence prevention initiative.
"It's a safe place where they can come in and talk, and we provide the supports and services so they can cope with the day-to-day things," says Champaign County YouthBuild program manager Shevone Myrick.
"[We encourage them] to take pride in their community through community service and giving back."
In an old house on East Beardsley Avenue on Champaign's north side, 17-year-old Kobe Smith saws and tugs out a plaster wall. 
Smith is one of 18 young men and women currently in the Champaign County YouthBuild program. A total of 69 students have gone through the program so far. Each student qualifies by being low-income, homeless, a youth offender, in the foster care system, or another vulnerable category.
Each cohort of students spends six months in tutoring, construction classes and leadership training with the housing authority. They get a stipend of $70 each week, with bonuses for meeting academic milestones.
And the students leave a newly renovated house in the housing authority's portfolio.
"We have scattered houses, about twelve sites across the city. [These are] single family homes that we're getting fit for – typically – mothers, who will become self-sufficient by getting a break by getting affordable housing," says YouthBuild construction specialist Vincent Andujo.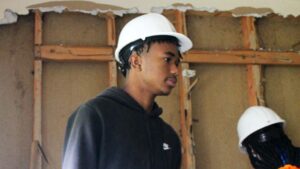 Smith signed up with YouthBuild for a chance to get his high school diploma early. He found a safe place to grow.
"It's made me into a better person," Smith says. "I really enjoy it here because there's a sense of belonging, you know. It's like you matter. No one just sits there and doesn't matter."
Smith does see YouthBuild as a good way to prevent youth violence. For example, he explains, it keeps him too busy to get involved in anything negative.
From the perspective of program organizers, Smith is growing into the thoughtful leader he already was. Andujo describes Smith as "dynamite" and "intellectual."
"He's a leader, so we try to put him in positions where he's leading. When he first came to the program, he wasn't ready to receive that type of role… But the more we worked with him, he began to see what it was we were trying to bring out of him," Andujo says.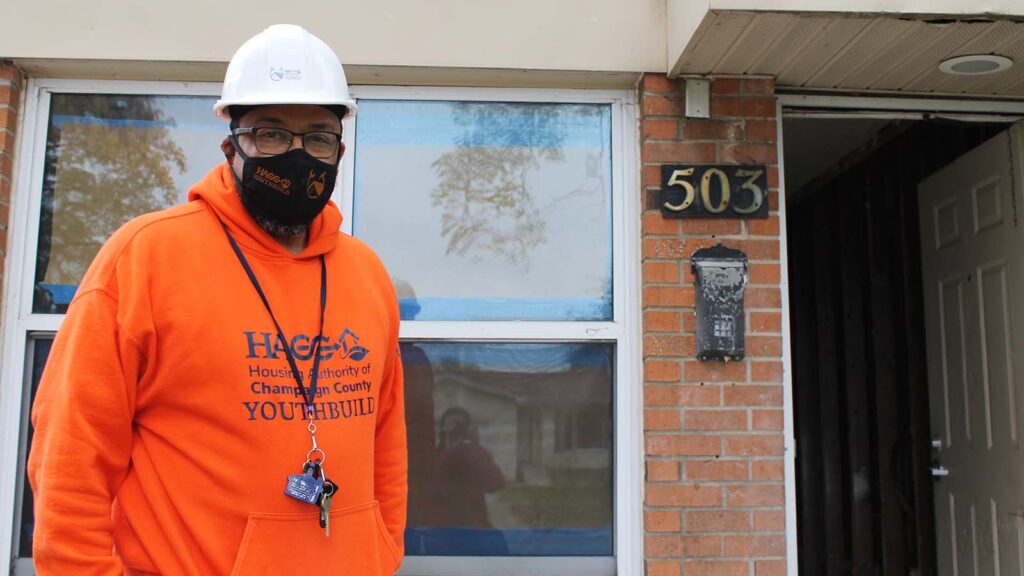 To coax out Smith's potential, Andujo and YouthBuild career specialist Leonard Bryant gave him books on honing his leadership skills. They built trust with Smith during the program's leisure activities, like watching movies. Andujo also updates his mentorship methods by undergoing regular training.
Smith's next step is college. The places YouthBuild has taken him on field trips – Southern Illinois University and Eastern Illinois University – are his top choices for now.
The housing authority has run YouthBuild since 2020 on a $1.5 million grant from the US Department of Labor.
Without a grant renewal though, the program will run out of money next year.
"The good thing about it is that we will be reapplying. So we're finishing this grant, and then we're simultaneously in the spring applying for a new one to keep it going," Myrick says.
There is enough money for two more groups of students over the course of next year.
Emily Hays is a reporter for Illinois Public Media. Follow her on Twitter @amihatt.