Okay, I know what you may be thinking. Ugh, is this just another way for some weird number to start spamming me with text messages?
Don't worry, this isn't that! Here's the deal: Our team at The 21st and Illinois Public Media continues to work hard to tell the stories of how people across the state are being affected by coronavirus. This involves having honest conversations with Illinoisans about what they're going through and hearing directly what issues really matter to them.
A part of achieving better coverage is hearing from more diverse perspectives, and making it easier for people across Illinois to connect with us to share their experiences and thoughts. 
So, we've found a way to help start these conversations: texting. We're calling it "Text The 21st." You can help shape our news coverage on the statewide radio news talk show The 21st hosted by Brian Mackey.
To join, text "TALK" to 217-803-0730 or sign up with your phone number below:
We'll send you questions a few times a week about various issues or current events. Your responses may help guide our news coverage of COVID-19. The texts are also a way for us to follow up with the work we're producing on the show.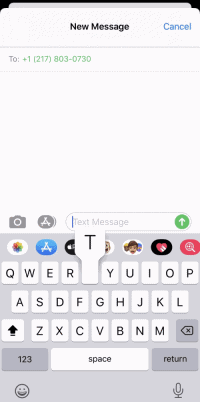 Try it out, and if you don't find our texts useful, you can opt out anytime by simply texting STOP.
It's an uncertain and confusing time for many people right now, and our news station has been working hard to continue answering people's questions and amplifying the voices of people from different communities across Illinois.
Our 21st team has been showcasing and covering COVID-19 stories such as how Illinois prisons handled its first outbreaks, how local farmers and booksellers adjusted to the stay-at-home order, how healthcare workers are caring for their families, how quaratine is affecting people's sleep and how to stay safe as stay-at-home restrictions ease.
We will continue to work hard to tell these stories and better serve our communities with the information they need to help them get through this pandemic. Help us improve and stay updated on our news coverage.
Join the conversation by texting "TALK" to 217-803-0730. We're excited to hear from you.
Eunice Alpasan is an engagement producer at WILL/Illinois Public Media.