Rantoul is looking forward to opening a new outdoor family sports complex, in 2021. Hopes for the $20 million project made it easier for village trustees in the Champaign County town to vote to prohibit cannabis-related businesses within their borders. Meanwhile in Vermilion County, city officials in Danville chose to allow cannabis businesses. The two east-central Illinois communities are working to recover from years of lost jobs and declining population. But they've made different choices on whether cannabis should play a role in that recovery.
Wikipedia's article on Rantoul says the town has never really recovered from the closing of the Chanute Air Force Base in the 1990's. The town's mayor disagrees. Chuck Smith points to the industry that's come to town since the base closed. And he says the sports complex will help even more, attracting athletes and their families from miles around to its playing fields for baseball softball, soccer and other sports.
"We are developing an entire vision around the sports complex," said Smith, "and future development as far out as ten years from now. So the complex will have an economic impact. It will also be a major driver for other commercial development in and around the complex."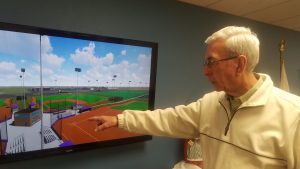 With the potential benefits of the sports complex on people's minds, Smith says public support for allowing cannabis sales in Rantoul has been low.
"Most of our citizens are worried about the social impact, so that they're not worried about the economic impacts of it," said Smith. "They don't see the economic impact being all that great, after the state gets through taking their part of it. And they also see that it could be driving the purchases back into the black market, because of the way the state is going to tax cannabis in the state of Illinois."
Baptist pastor and Rantoul village trustee Joe Wilkerson, voiced his concerns, when the Rantoul village board majority voted 4-2 in November to prohibit cannabis-related businesses.
"And I think (with) cannabis, I think that Springfield messed up when they passed this thing in the state," said Wilkerson at the meeting. "I don't think it's good for other states. And if we can keep it out of Rantoul, the longer we can keep it out of Rantoul the better off we are."
Mayor Smith says another issue was the impact a cannabis business in Rantoul might have on the family-friendly image the town seeks as it markets the new sports complex.
"You know, we never really discussed it from that viewpoint, but I would say that was a consideration," said Smith.
So far, no cannabis businesses have actually expressed interest in coming to Rantoul, which is just 15 miles from the dispensaries in Champaign-Urbana. But the opposite is true in Danville, another city that's faced hard times since factories started closing in the 1990s.
After fielding several inquiries, the Danville City Council voted in November to approve new zoning rules that keep any cannabis business at least a half-mile from residential areas. At the same meeting, council members voted 9-2 to approve a special use permit for Phoenix Farms of Illinois, a subsidiary of Cresco Labs, to open a dispensary on Lynch Road in the city's industrial east end. Cresco operates five Sunnyside dispensaries in Illinois, including one in Champaign. The company expects to open its Danville dispensary in late March, in a vacant restaurant building that formerly housed the Border Café, and before that, the Big Boy Restaurant.
Mayor Rickey Williams Junior says his support for allowing the dispensary was based on a concern that if Danville didn't allow one, a neighboring town would.
"And quite honestly, we were nearly certain Tilton would take it," said Williams, referring to a town located just south of Danville. "Tilton is much closer to most residents in the city of Danville, then Lynch Road is. So, the bottom line is, we were going to be dealing with the issue of usage and sales, whether or not we passed any kind of regulation to control it. So we thought, if we're going to deal with all these problems anyways we might as well do everything that we can to control when and how it's sold."
Williams adds that sales tax revenue from the dispensary, as much as $100 thousand a year, could help them deal with any problems. Meanwhile, the dispensary site's closest neighbors — nine hotels plus a gas station — have their own concerns.
Dori Stone manages the Sleep Inn, right behind the dispensary site. Stone says she wants to keep her personal views about cannabis out of the picture and focus on practical considerations, including traffic safety. Stone worries about congestion that may be cause additional traffic along Lynch Road, which serves the hotels and also businesses at the Eastgate Industrial Park. In addition, the dispensary will share an access road with Sleep Inn.
"This road out here in front of us, Lynch Road, gets pretty busy, and there's distribution and manufacturing here," said Stone. "There's a lot of big trucks. And when you turn off Lynch Drive to come back this way to our hotel and the dispensary, it's a two-way stop sign. And that is totally insufficient."
Stone also expressed concern about security at the dispensary where transactions will be conducted on a cash-only basis.
In response, Cresco Labs spokesman Jason Earkes says being a good neighbor is a major priority for the company. He says state law requires them to take extensive security measures, including security cameras that feed video to state police and security guards on duty at all times. As for traffic, Earkes says Cresco Labs would do what they could to relieve congestion once the Danville dispensary opens.
"We'll make sure we have ample parking and do whatever we need to to make sure we aren't disruptive to the local community," said Earkes. "Last week, with the recreational launch in Illinois, we've proved our ability to manage crowds and lines and parking. And we'll make sure that we do the same when we open up in Danville."
Cresco Labs operated medicinal cannabis dispensaries in Illinois before recreational sales were legalized, and the head of a cannabis business group says medicinal sellers have been good community citizens.
"They're there for the community," said Pam Althoff of the Cannabis Business Association of Illinois, "for the fireworks display, for the booster club, for the park development. And they have a track record of being engaged and being a participatory neighbor in these communities.
Whatever her misgivings, the Sleep Inn's Stone says she understands the potential tax benefits for Danville.
"It takes money to move a city forward, said Stone. "So I welcome the revenue for the city. The source of that revenue — again, I'm going to leave my personal feelings out of it."
But a cannabis dispensary won't be the biggest new project coming to Danville. Plans are underway for a casino to go up, across I-74 from the Sleep Inn, the other hotels and the dispensary site. Stone has mixed feelings about the casino as well, but it's expected to generate taxes in the millions of dollars each year, compared to the $100 thousand a year expected from the cannabis dispensary.
Danville's Mayor Williams says he thinks the benefits in terms of taxes and jobs "will far outweigh any kind of negative consequences or effects that we feel from having a casino here."
When it comes to cannabis, the mayor says he'll be watching to see how law enforcement handles impaired driving due to cannabis use, and whether local service agencies can deal with any increase in the number of people who develop a cannabis use disorder.
"I would see us working possibly with a provider like Crosspoint (Human Services), or someone else in town, that if we notice that people are having these kinds of issues, that we could refer them to the entity for possible counseling and support," said Williams, who says he knows people who use cannabis so heavily it prevents them from keeping a job.
Whatever its impact, once a dispensary opens in Danville it will be watched closely by other communities. Over in Rantoul, Mayor Smith says his village board could revisit the question of allowing cannabis businesses.
"I'm looking for the overall results from the state of Illinois and other communities throughout the state to get feedback so that we can make a logical and patient decision that's in the best interest of our residents and this community," said Smith.
Thanks to Pam Dempsey of the Midwest Center for Investigative Reporting for her assistance.
This story is part of Illinois Newsroom's series on The State of Cannabis, looking at issues related to the legilization of recreational cannabis in Illinois.