Illinois Public Media is tracking severe storms in Central Illinois on January 3, 2023. This story will be updated with posts from Chambana Weather meteorologist Andrew Pritchard and the National Weather Service.
---
Updated at 10:50 p.m.
Here is the National Weather Service Central Illinois map of the storm reports. It now indicates 6 tornado touchdowns. Meteorologists will survey the damage on Wednesday to determine the strength of the storms.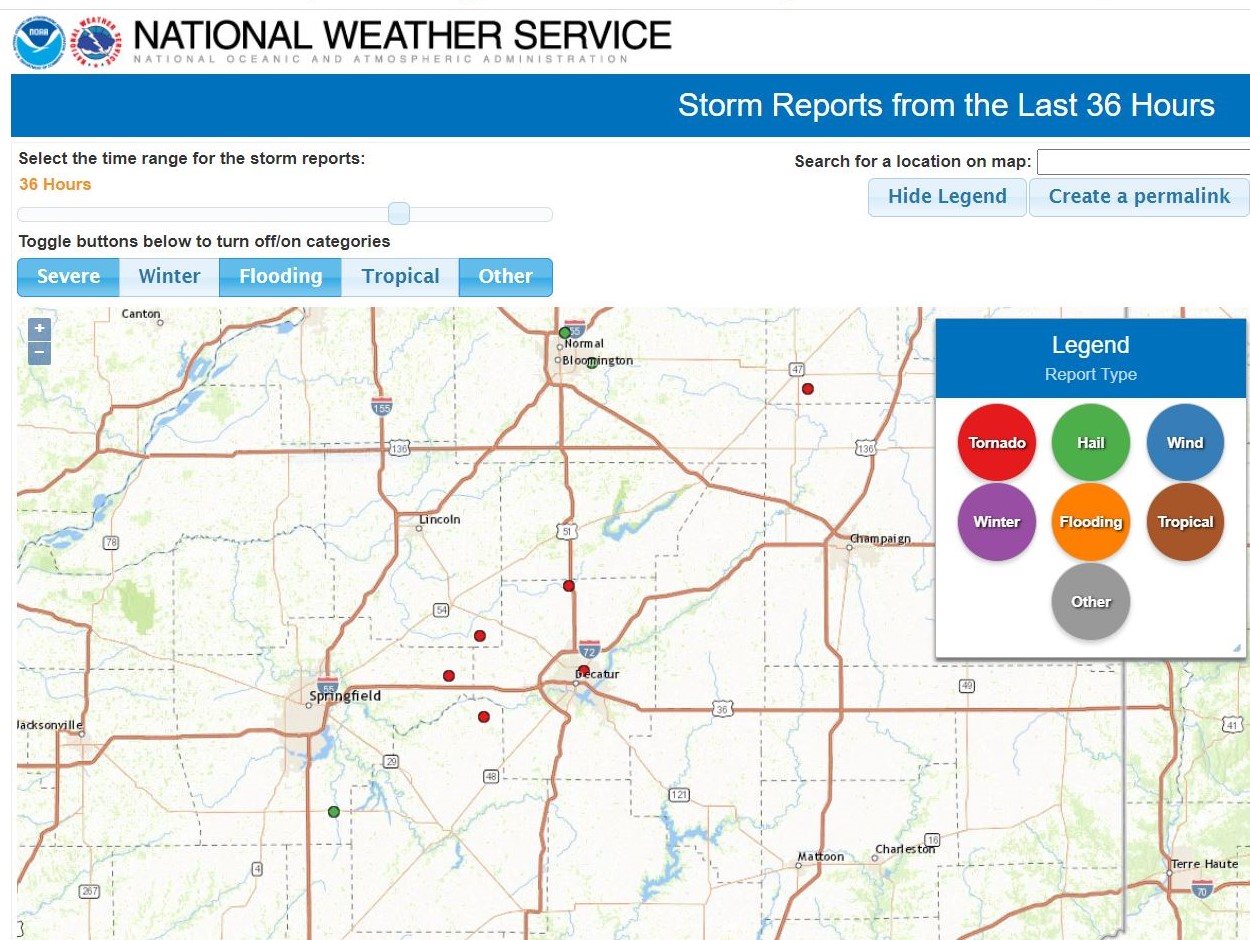 ---
Updated at 10:45 p.m.
What caused the severe storms during the typically wintry month of January? Chambana Weather meteorologist Andrew Pritchard explained to Illinois Newsroom's Reginald Hardwick it was a clash between warm humid air on the ground and colder air in the upper levels of the atmosphere. Listen to their discussion:
Pritchard: We had a very strong storm system very amplified jet stream. Now that is common for this time of year during the winter. What's not common in January is to have 65-degree temperatures, dew points pushing up to 60 degrees, and very warm and humid out there across Central Illinois. And with very cold upper-level temperatures, I'm talking as you head into the mid-levels of the atmosphere up where our commercial airliners fly, we have bitterly cold temperatures, forecast models on Tuesday morning showed surface winds out of the Southwest across Central Illinois. But what we really saw happened during the early to mid-afternoon hours was those surface winds turned out of the southeast. That slight shift from southwest to southeasterly really increased the low-level shear in the lower levels of the atmosphere, we generated thunderstorms that began to rotate and in some cases produced a few tornadoes.

Hardwick: So for people who don't track the weather as closely as you do, is it unusual to have these kinds of severe storms sometimes in the winter?

Pritchard: If you go back to December, 2018, that now stands as the third largest tornado outbreak in Illinois state history with 29 tornadoes reported across the state of Illinois. You go back to December 10, 2021, devastating outbreak of tornadoes across portions of Illinois into Kentucky and Tennessee and Arkansas. And then here we go January 3, we've got multiple tornadoes across central Illinois, at least one of which doing damage. So it is rare to get severe weather in the winter months. But here in Illinois, we kind of live on that dividing line where yes, sometimes we get bitterly cold temperatures like we thought two weeks ago. But yes, we can also sometimes tap into the warm sector of the storm systems, which is what we did. On January 3, there was heavy snow and winter storm conditions well off to the north across portions of Nebraska, into the Dakotas, Minnesota and Wisconsin. The storm system took a little bit further of a North track though. So we went into the warm sector that allowed those temperatures to warm into the mid 60s, allow the dew points to climb up to 60 degrees and that again set the stage for severe weather across Central Illinois. So again, rare, not impossible, and not impossible that this could happen again, as we head through the rest of January, February and March. It's likely we'll have more cold days than not but it's just something that you know, we can't always put severe weather completely out of the back of our minds here in central Illinois, even in the winter months, even when it's 10 below this could be two weeks off into the future.
---
Updated at 7:45 p.m.
The National Weather Service say a tornado caused minor damage in Macon County. It was one of five tornadoes reported by the trained spotters or an emergency manager between 4:00-5:30 pm on Tuesday.
No injuries have been reported.
The first of two tornadoes in Macon County occurred at 4:36 p.m. in West Maroa. Spotter reported debris from a damaged grain bin on the roadway near U-S 51 and Washington Street.
Spotters also reported tornadoes northwest of Illiopolis in Sangamon County (3:52 pm), Logan County (4:05 pm), Christian County (5:05pm) and Macon County (5:57 pm).
The second tornado in Macon County was sighted 2-miles northeast of Decatur. The Weather Service says the tornado scattered debris along a road and an adjacent field.
Large hail was also reported on Tuesday in Sangamon and McLean Counties.
---
Updated at 6:15 p.m.
Here is the top of the hour 6:00 p.m. update from Chambana meteorologist Andrew Pritchard.
---