DANVILLE – When a Vermilion county woman tried to take her dog to the vet on Thursday, the normally short trip took a lot longer on a snow-packed highway.
After hearing her German Shepherd Juno whine in pain, dog owner Melissa Bolin loaded up the sick pup and her sister-in-law Aimee in her vehicle.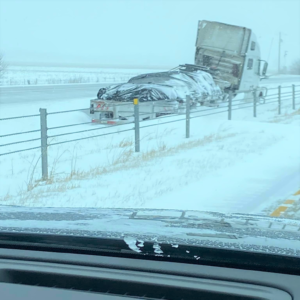 They drove west on I-74 to the only veterinary clinic that was open in the village of Saint Joseph.
The 30-mile trip usually takes a half-hour, but after a foot of fresh snow, the two women say it took hours. 
"There is a bunch of semis's [tractor-trailer trucks] in the ditches," said Aimee Bolin from the passenger seat. "The wind is starting to pick up and is blowing and the ice on the roads are super icy."
In addition to a foot of fresh snow, the drivers dealt with strong winds.
"It's crazy how the wind is pushing us, even going slow.  It's dangerous," said Aimee Bolin.
It turned out that Juno had a bad tooth infection. She was treated and sent home. 
After another slow, snowy drive, Melissa, Aimee, and Juno made it home safely.