MILWAUKEE — The Illini men's basketball team faltered during crunch time Monday night in Milwaukee. Marquette's defense denied Illinois a field goal for the final seven minutes of play, overcoming a 12 point deficit to nip the 10th-ranked Illini 67-66.
Illinois head coach Brad Underwood was aghast at his team's failure to close out the game.
"Really alarming, the number of turnovers and the lack of ball movement," Underwood said. "Turned the ball over 26 times, not getting a good look the last five minutes because we didn't execute. We turned the ball over four times in that sequence."
Listen to Brad Underwood's full postgame press conference here.
Trent Frazier scored a game-high 23 points for Illinois, including 6-of-10 from three-point range. But he committed a crucial turnover that allowed Marquette to score the game-winning bucket with 19 seconds remaining.
"We haven't gone over late (game) situations, but as a senior guard I can't turn that ball over," Frazier said. "Coach trusted me with the ball in my hands, and I turned it over."
Tyler Kolek grabbed that steal and scored that basket, the final two of his 12 points for Marquette.
Sophomore point guard Andre Curbelo struggled mightily for Illinois. He converted just four of eighteen shot attempts, dished out only three assists, and turned the ball over seven times.
Curbelo left the court kicking garbage cans and scattering a table of snacks outside the Illini locker room.
Fellow sophomore Coleman Hawkins reminded reporters after the game that he and Curbelo are still adjusting to playing with a crowd in the stands.
"It's me and Belo's (Curbelo's) first road trip. There was never fans on any other road trips," Hawkins said. "It's our first experience here. We're going to learn from these mistakes. Next time we're on the road it should be a road kill (win)."
There was also a scary moment in Monday's game when Curbelo hit his head and landed in a pile at the feet of Milwaukee Bucks players Justin Robinson and Sandro Mamukelashvili. He was examined by team trainer Paul Schmidt and returned to the game, but he was not effective thereafter. Curbelo missed the season opener against Jackson State and several practices with a concussion.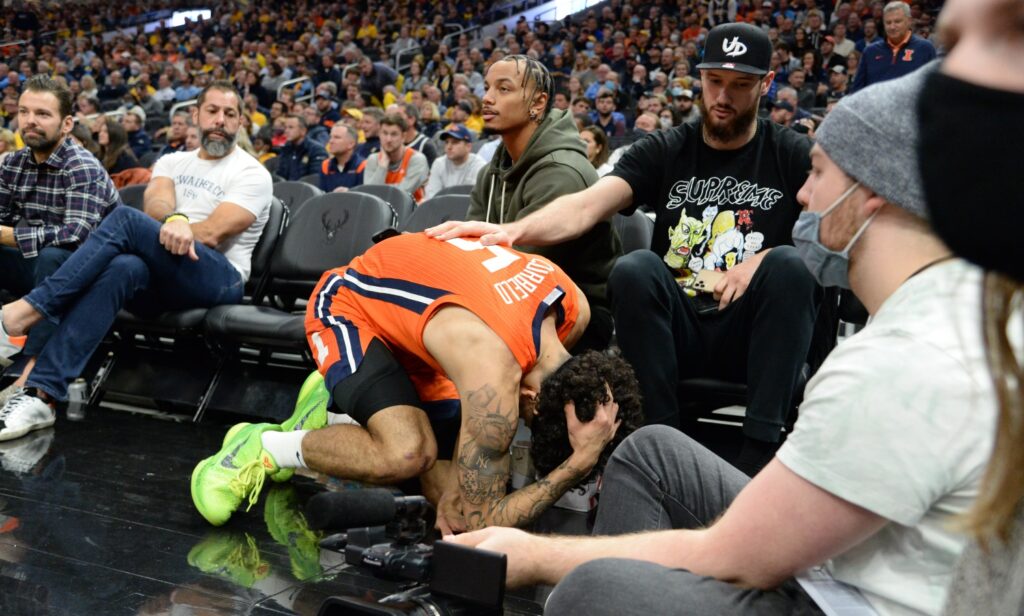 The Golden Eagles had a big advantage in points off turnovers 28-9 and committed just 16 personal fouls, compared to 24 for the Illini. Illinois was able to stay in the game thanks to a 50-30 rebounding advantage.
Maryland transfer Darryl Morsell led Marquette with 21 points. The reigning Big Ten Defensive Player of the Year caused many of Illinois' 26 turnovers. Justin Lewis added 17 for the Golden Eagles, who improved to 3-0 on the season.
Hear Marquette coach Shaka Smart and guard Darryl Morsell's postgame press conference here.
The Illini drop to 2-1. They'll have a week to practice before the two-game Hall of Fame Classic, which begins next Monday in Kansas City, with a 5:30pm tip against the Cincinnati Bearcats.
Rob McColley covers University of Illinois sports for WILL.