CHAMPAIGN — A Champaign police officer and a city resident have both died after being shot when police responded to a domestic disturbance early Wednesday morning.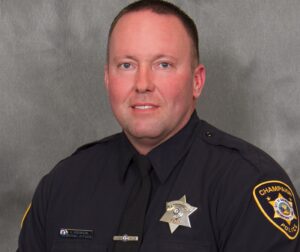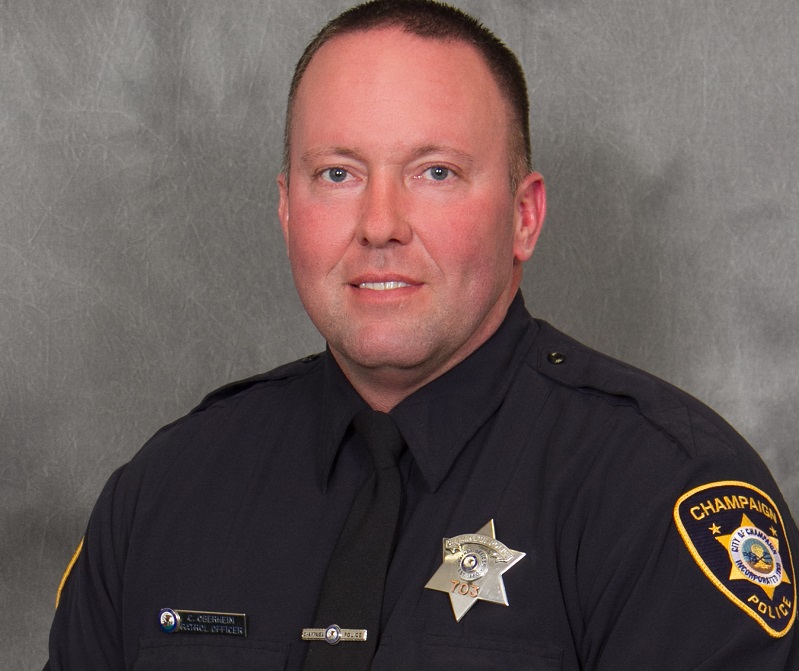 44-year-old Chris Oberheim was one of two officers that responded to a call for assistance on North Neil Street shortly after 3:00 a.m. Wednesday. Champaign Police say when officers arrived they encountered an armed person and exchanged gunfire. The suspect was killed.
Champaign County Coroner Duane Northrup has identified the suspect as 24-year-old Darion Lafayette of Champaign. He was pronounced dead at the scene.
Both officers were transferred to a local hospital, where Oberheim succumbed to his injuries shortly after 6:00 a.m. The other officer is stable.
Oberheim had been a member of the Champaign Police Department since 2008. Chief of Police Anthony Cobb says he will be remembered for his, "heroism, bravery, and the oath of office he honorably upheld in his commitment to duty."
The police department says the Illinois State Police is leading an investigation into the shooting.
At a press conference on Wednesday afternoon, Champaign County State's Attorney Julia Rietz asked for patience in releasing more details of what happened.
"We still have evidence to collect, there are still witnesses to interview, and we cannot release the video or details of the investigation at this time without affecting the integrity of the entire investigation," she said.
Officials haven't yet given a timeline for when more details will be made available, but said they hoped it would be very soon.
Champaign Chief of Police Anthony Cobb said the incident has taken a toll on the department as a whole.
"We've talked about how gunfire causes trauma. Well, it caused trauma within our own family right now, our direct family," he said. "We're working through that trauma."
In a statement Illinois Attorney General Kwame Raoul says Oberheim's death is a reminder of the risks law enforcement officers face every day.
"I offer my deepest condolences to the family, friends and colleagues of Officer Chris Oberheim. Officer Oberheim lost his life today serving his community, and we honor his bravery. May his memory be a blessing to those who knew and loved him.

"My thoughts are also with the officer who is still hospitalized. I pray for a swift recovery.

"These events should serve as a reminder to all that police officers go to work each day not knowing if they will return home to their families. I learned about this tragedy as I was meeting with federal and local prosecutors and other law enforcement authorities to focus on how we can collaborate to fight the increase of violent crime in central Illinois. We must recognize the courage and service of officers who are on the front lines of this effort, and we pray for their safety as they protect our communities."
Illinois Sen. Chapin Rose (R-Mahomet) read the following statement on the Senate floor before the chamber held a moment of silence for Oberheim.
"This morning I found out that one of my best friends in the world was shot while on duty as a Champaign Police Officer responding to a domestic call – and while he is in stable condition, his partner, Officer Chris Oberheim gave his life serving to protect those whom he had never met. My friend is a standup citizen, coached my son's little league team, volunteers faithfully at our local communities AWANA church program for kids, and is defined by his faith. 

"And while I do not know Officer Oberheim, this morning I talked to numerous people who do.  Chris was a Father of four and husband, a softball coach, and a veteran of both the Champaign Police Department, as well as the Decatur Police Department – where he still has family and numerous friends continuing to serve in law enforcement – all of whom are mourning his loss today. I also talked to the Monticello Schools Superintendent, who noted the enormity of the loss for the Monticello community in Chris' passing.  Both of these men displayed the courage and selfless sacrifice that defines our brave men and women in Blue.

"Please join me in praying for Chris's family, the successful recovery of my friend who was wounded, and to keep all of our officers in Blue safe – as they serve each of us.  Please keep them all in your thoughts and prayers."
Oberheim is the first Champaign police officer killed in the line of duty since Robert Tatman in 1967. Tatman was shot and killed during a traffic stop. His murder remains unsolved.