CHAMPAIGN – At the start of the COVID-19 pandemic, researchers from the University of Illinois at Urbana-Champaign began meeting daily with health care professionals from Carle Health System to discuss how to meet urgent needs in the health care community.
Among those needs: personal protective equipment, or PPE, including N95 respirator masks, surgical gowns and face shields. 
The pandemic meant higher-than-usual demand at hospitals everywhere, causing supply shortages nationwide.
Going back and forth with ideas and designs following FDA guidelines, the team eventually found a way to create personal protective gear largely circumventing supply chain issues created by the pandemic, says Irfan Ahmad, executive director of the U of I Health Maker Lab and assistant dean for research at the Carle Illinois College of Medicine.
The team has now made public the product design specifications and instructions for use, allowing visitors to download designs and view videos and photos of how to produce and assemble the products.
Ahmad says he hopes the designs will help other labs or health care systems looking for alternative ways to boost their PPE supply.
The process involved U of I researchers creating prototypes of each product and sending them to Carle for testing.
"They use it and they give us feedback. We incorporate it in our design," says lead investigator Helen Nguyen, a professor in Department of Civil and Environmental Engineering, at the U of I's Grainger College of Engineering. "We make a new design and bring it back to them."
The back-and-forth process involved "well over 200 people" from the U of I and Carle were involved in the PPE initiative, Nguyen says.
In addition, more than 400 local volunteers, led by Andrea Bouck at the Krannert Center for the Performing Art's Costume Shop, helped sew reusable face masks and non-surgical isolation gowns.
The team also developed sterilization procedures, which can be used by health care facilities to extend the lifetime of PPE, such as N95 masks. Those processes follow CDC guidelines and are now under review by the FDA, Ahmad says.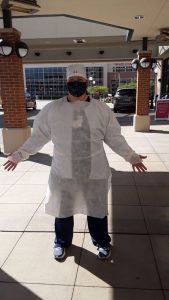 Carle spokeswoman Jamie Mullin says Carle purchased about 250 face shields, 30 CAPR shields and a thousand masks at cost from the U of I. Supplies were also made available at cost to local organizations, including OSF HealthCare and the Champaign County Emergency Operations Center, Nguyen says.
Kayla Banks, vice president of quality at Carle, says the supplies were critical during periods when the hospital's supply of certain PPE ran short. For example, she says, eye protection was scarce early on.
Banks says having this safety net for supplies gave their health care team peace of mind as they began hearing reports of PPE shortages at hospitals in other parts of the country, such as New York City, causing some to resort to using "less-than-ideal" materials as protective equipment.
"We found great comfort in being well-positioned to not ever have to broach that issue directly, despite the potential for a patient surge," Banks says. "We didn't have to make terribly drastic decisions around not allowing use of PPE that we knew was needed to protect our staff."
PPE supply lines have improved compared to two or three months ago, Banks says, but the situation is still tenuous.
"It's still a source of anxiety for health systems, not knowing what to expect with regards to when and if a surge in patient volumes would be expected," Banks says.
And even though there's been a slow-down in the number of COVID-19 patients recently, Banks says the hospitals still have to use more PPE than usual when treating non-COVID-19 patients, in an effort to prevent possible asymptomatic spread of the virus.
Compared to this time last year, Carle is using 100 times more protective glasses, she says, and the use of face shields has more than doubled.
There's also been a "significant increase" in the use of N95 masks, Banks says, although the numbers for N95s are skewed, since CDC-approved guidance on mask sterilization with ultraviolet light allows the hospital to extend the lifetime of masks by allowing for their re-use.
Ahmad says the designs created by the UIUC-Carle team could be used by manufacturers interested in scaling up production to meet short- and long-term PPE supply needs.
(The newly designed N95 masks, which are considered by the FDA to be Class II devices, would need regulatory approval before they can be used in practice, Ahmad says. Face shields and gowns are considered Class I, requiring only that manufacturers follow FDA guidelines.) 
Ahmad says the infrastructure that was built to respond to these emergent needs will enable the campus to respond quickly again, in the event there's another surge in COVID-19 cases in the community.
"And with the students coming back (this fall), we're talking about 55,000-plus, those are challenges that could still be on the horizon," he says. 
Christine Herman is a reporter at Illinois Public Media. Follow her on Twitter: @CTHerman