URBANA — The Big Ten Conference announced Wednesday that it will resume its football season with an eight-game conference-only schedule beginning the weekend of October 23-24.
The news came just over a month after league officials said the season would be postponed until at least next spring.
But University of Illinois chancellor Robert Jones says the rapid development of antigen testing and other protocols convinced him and other Big Ten administrators it was safe to play.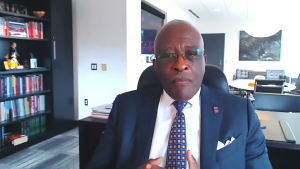 "Getting those results back in a timely fashion, and the way to confirm those that have a positive antigen by using RT-PCR (testing) was very, very convincing to myself and my 13 colleagues that lead these Big Ten universities," Jones says.
Officials say the third-party testing will provide same-day results.
Randy Ballard, the University of Illinois' associate director of athletics for sports medicine, says U of I football players will no longer be using the university's COVID-19 saliva test.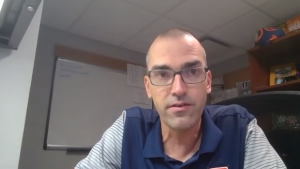 "We're moving to an antigen test. The campus saliva test is a PCR-based test," Ballard said. "It'll be useful for us, in terms of having a third party come in, so we're not further taxing our campus or our sports medicine staff with doing the testing."
The Big Ten says each school will designate a Chief Infection Officer, who will collect and report that school's testing data to the league. The conference has laid out the following guidelines based on testing positivity rate for continuing practice and games.
Team positivity rate (number of positive tests divided by total number of tests administered):

Green 0-2%
Orange 2-5%
Red >5%

Population positivity rate (number of positive individuals divided by total population at risk):

Green 0-3.5%
Orange 3.5-7.5%
Red >7.5%
Ballard says the "population" that the conference refers to is all players, coaches and other staff taking part in team activities. The Big Ten says decisions to alter practices or games will be based on the following:
Green/Green and Green/Orange: Team continues with normal practice and competition.
Orange/Orange and Orange/Red: Team must proceed with caution and enhance COVID-19 prevention (alter practice and meeting schedule, consider viability of continuing with scheduled competition).
Red/Red: Team must stop regular practice and competition for a minimum of seven days and reassess metrics until improved.
Athletic Director Josh Whitman and head football coach Lovie Smith both expressed their excitement at being able to resume the football season.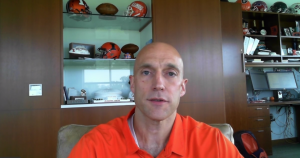 "I know how badly (the players) want to play, and I know how much this decision means to them," Whitman says.
But Smith says today's announcement is just the beginning of a long journey.
"There's still a lot of work for us to do," Smith says, "a lot of responsibility on us to do what we have to do off the field to get a chance to play."