CHAMPAIGN – Researchers at the University of Illinois at Urbana-Champaign have been analyzing COVID-19 data to help the state — and campus — make decisions throughout the pandemic.
Nigel Goldenfeld, professor of physics, and Sergei Maslov, professor of bioengineering and physics, spoke at a live-streamed COVID-19 briefing Thursday.
Goldenfeld said that at the start of the pandemic, their team's modeling efforts predicted a major spike in COVID-19 cases would overwhelm the health care system unless immediate action was taken to mitigate the spread of the virus.
The preliminary research study, which was informed by reports on how COVID-19 was spreading in Wuhan, China, and incorporated data from hospitals in Chicago, ultimately convinced Governor J.B. Pritzker to implement shelter-in-place orders in late March, Goldenfeld said. 
The closing down of businesses, schools and public spaces early on was successful at "flattening the curve" in Illinois.
Since that time, U of I's modeling team has been partnering with the Illinois Department of Public Health to access data — including number of available hospital beds and daily COVID-19 deaths — that are essential for modeling the pandemic.
Teams on three other Illinois campuses are also involved in these efforts. To ensure the predictions are reliable, Goldenfeld said the campus groups work independently to develop models based on data and then compare their findings.
"This is sort of analogous to if you are going to see a doctor and you have a very serious condition, you usually ask for a second or a third opinion before really committing to do something serious," Goldenfeld said. "Because what if the first doctor was wrong?"
Illinois moved into Phase 3 of the Restore Illinois plan in May, and then into Phase 4 in June, where the state currently remains.
As the state has moved toward reopening, Goldenfeld said the models show a second wave of COVID-19 cases is now emerging.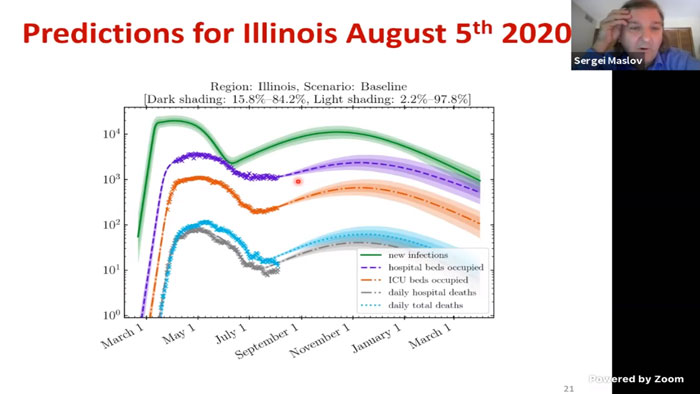 Much of east-central Illinois was not hard-hit by the first wave of the epidemic, with only a handful of deaths per day, Goldenfeld said.
The models created with data as recent as early August predict the second wave in this part of the state will result in more deaths than were seen in the first wave.
In addition to making pandemic predictions for the state, Goldenfeld and Maslov's team has conducted campus-level modeling, which U of I officials say have informed their plans to reopen this fall for a hybrid of in-person and online classes.
The plans include mandatory twice-a-week COVID-19 testing — involving a saliva-based test designed by another U of I research team — for all students, faculty and staff. The campus will work with the Champaign-Urbana Public Health District to perform contact tracing, to ensure those who are sick or have been exposed are placed in isolation or quarantine, per public health guidance.
In addition, in-person class sizes have been reduced, most classes have moved online and classes will be entirely virtual after Thanksgiving break. Campus officials say mandatory mask-wearing and social distancing will be enforced. 
Bioengineering professor Maslov said their models show that without any of those steps to prevent the spread of COVID-19, everyone on campus would end up infected within three or four weeks of reopening. But mitigation efforts should keep the number of cases in the fall to under 500.
The calculation is in fact a worst-case scenario, Maslov said, because they assume there will be more mixing and socializing off-campus in places like bars and restaurants.
While the calculations are "crude," Maslov said, but they provide a sense of how important it will be for everyone on campus to take all the precautions seriously.
"There's no single magic bullet to contain COVID-19 on campus, but a certain suite of mitigation measures is effective at minimizing the risk to a level that can be contained by public health measures," Maslov said.
He said it's also important that at least 60% of the campus opt in to the Safer At Illinois app in order for it to be effective. The app is intended to help with contact tracing.
 "If it gives you an exposure notification, you should take it seriously," Maslov said, "because there's a very high likelihood that you might in fact be infected."
The researchers said that by suppressing the epidemic on campus, the surrounding community will be better protected.
"A hybrid campus reopening seems doable," Maslov said to conclude his presentation.
"Of course, we have to worry about the local prevalence (of COVID-19) but we are lucky to be living in central Illinois where we are in a good situation with regard to that."
Christine Herman is a reporter at Illinois Public Media. Follow her on Twitter: @CTHerman