Urbana's Stone Creek golf course is now property of the University of Illinois. The course, and surrounding parcels of real estate were donated by The Atkins Group, which developed Stone Creek in the late 1990s.
University Chancellor Robert Jones and Urbana Mayor Diane Marlin joined a press conference Tuesday at the Stone Creek clubhouse, where Atkins Group Director Spencer Atkins detailed Stone Creek's community impact since the course opened in 2000.
"There's a Meijer Supercenter right up the street. There's a radio station, there's Carle Clinic, there's Christie Clinic, there's Little Hearts and Hands," Atkins said. "And believe it or not, there's over 560 tax parcels, totaling over $4.7 million in real estate revenue a year right out of Stone Creek."
Athletics Director Josh Whitman said the renamed Atkins Golf Club will re-open to the public in 2021, and will remain the home for Illini men's and women's golf programs. Whitman particularly emphasized the financial and community impact for the city of Urbana.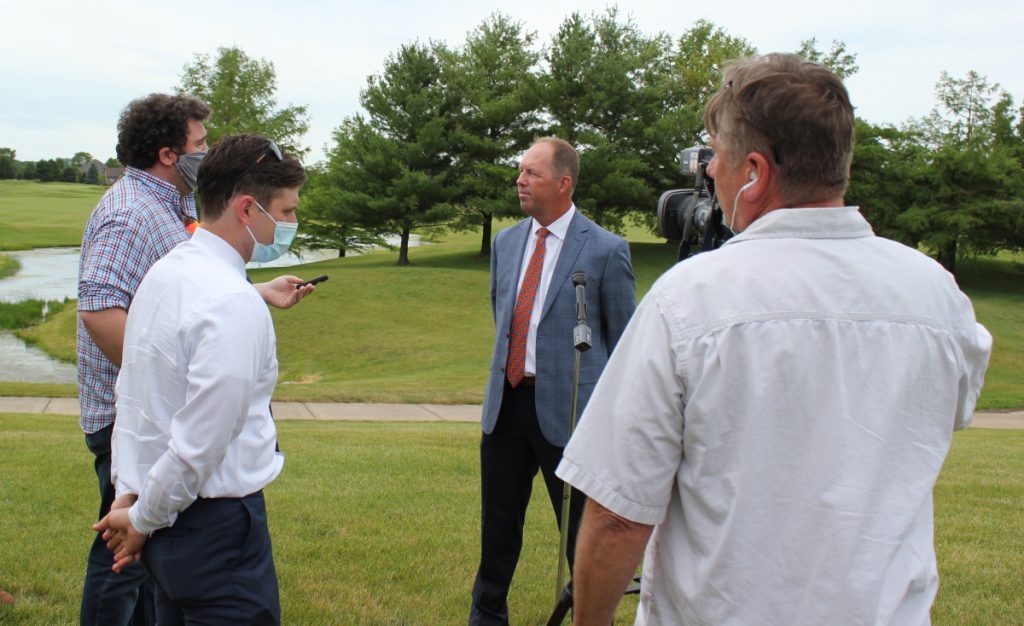 "The gift also includes more than a hundred residential real estate parcels," he said. "Those will remain on the market, and will be sold, so those are not coming off the tax rolls."
Whitman said the U of I is still working on things like pricing for the new course.
"We know it'll be a public course, and we'll be very thoughtful as we work through the pricing structure and what that means for the accessibility of the course to the public," he said.
Illini men's golf coach Mike Small said the goal is to turn the new Atkins Golf Club into a course that is championship caliber.
"The intent is to design a golf course that will host those events, but also be user-friendly to the public," Small said, "still have people come out here and, obviously, support the club."