Even before the pandemic began, Lisbeth Hernandez says she was exhausted. Hernandez is heading into her senior year at Dominican University, a small Catholic college in Chicago's western suburbs. Hernandez is undocumented, and she has temporary legal protection under the Deferred Action for Childhood Arrivals (DACA) program. Even so, she's unable to receive federal financial aid.
Colleges and universities across the country have received billions in federal dollars to support students during the COVID-19 pandemic. But they're barred from distributing any portion of that money to students who do not qualify for federal financial aid programs, which includes undocumented students, according to an order issued by the U.S. Department of Education. (Some colleges have sued over the directive.) Colleges, universities and nonprofit organizations, have had to come up with their own ways to support undocumented students who are struggling to make ends meet during the pandemic. 
For the past three years, Hernandez has managed to pay her tuition bill with scholarships from Dominican and other organizations. She also lives with her family in Chicago and commutes to school to save money on housing costs. Even with her scholarships, Hernandez still has a tuition bill of about $9,000 per year. Normally, she works as a server at a restaurant to pay it off. 
"Once school is done, I go straight to work," she says. "So that's just like really mentally exhausting, and then going back home and trying to do homework at midnight, and I'm waking up really early trying to catch the bus. So it's like, I don't know, it's a vicious cycle."
That's before the COVID-19 pandemic cost Hernandez her food service job. Her immigration status has excluded her from relief measures passed by Congress; Hernandez and her family don't qualify for the $1,200 stimulus checks that went out earlier this year, and she says she's been rejected from unemployment benefits. 
Hernandez says Dominican provided her with an extra $750 scholarship because of the pandemic. She also received about $3,000 from Bottom Line, an organization that supports first-generation college students from low-income backgrounds. She says that's reduced her tuition debt from the prior school year to about $1,300, and she's still on the hook to pay next year's tuition bill. 
"I depend on my summers to meet most of my income for the school year. And that has severely been reduced… I've already wasted half of my summer not making any money," Hernandez says. 
Hernandez, 21, says her family brought her to the U.S. from Mexico when she was an infant. This is the only country she's known, and she's frustrated she's been locked out of federal financial aid. In high school, Hernandez says she remembers hearing about other students who had worse grades but received big financial aid awards to attend the college of their choice. She says she's often wondered why she isn't deserving of the same assistance. 
"They won't help me, I guess. That's what I kind of wrap my head around. So it's always been just about me, like getting myself through it," she says. 
Because of her family's financial situation, Hernandez says she was doubtful she'd ever be able to attend a four-year college. It wasn't until a high school guidance counselor told her about Dominican that she even considered it. 
Hernandez says the generous aid package Dominican offered made attending school possible. 
"I feel like a lot of schools should, you know, be offering these types of opportunities for their (undocumented) students, because I mean, we don't qualify for (federal student aid)," she says. 
Dominican claims that about 10% of the university's student body is undocumented. Shortly after Donald Trump was elected president, the university's board of trustees approved a sanctuary campus resolution, affirming the school's commitment to all students regardless of their citizenship status.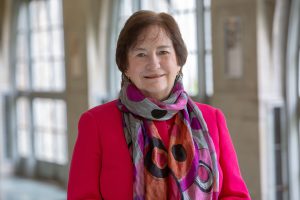 Donna Carroll, president of Dominican University, says the school pours millions of dollars into scholarships for undocumented students each year. 
She says undocumented students "are some of our brightest, high achieving students, with I think the highest retention of any group of students at the institution."
Carroll claims the average aid package for academically talented undocumented students last year was about $29,000 on a total tuition bill of roughly $34,000. 
"I used to get questions from colleague presidents about 'how are you doing this? Aren't your donors upset, aren't your alumni questioning?' And I would always say, actually the reverse is true," Carroll says. 
Over the years, she says the university has received funding from donors specifically interested in supporting undocumented students. Still, Carroll says, even those students with generous aid packages need to work to pay for what their scholarships don't cover — and for many that crucial source of revenue has been extinguished due to COVID-19 closures. 
Dominican received about $3 million from the CARES Act, which provided colleges and universities with federal money to assist them with coronavirus-related expenses and offer additional financial assistance to the neediest students.
The U.S. Department of Education issued a controversial directive earlier this year that says schools cannot give this money to students who are not eligible for financial aid programs, including undocumented students. 
"Here we have 10% of our undergraduate student body, some of the neediest (students), and they don't have access to these funds," Carroll says. 
In an effort to make sure undocumented students can continue their education, she says they've begun fundraising to support them. 
"We're trying, as we do with our financial aid, to mitigate the lack of public support with our own institutional support," Carroll says. 
Candy Marshall says colleges and universities across the country are stepping up to help their undocumented students in the absence of government assistance. Marshall leads the TheDream.US, an organization that provides financial support to undocumented students enrolled in colleges and universities across the country. She says some, like Dominican, are fundraising to support those students, and others are providing housing to those who cannot safely return home, as well as computers for people who need them to complete their work remotely.
"Their view is, look, if we have all this money coming in emergency fund money that we're only going to be able to spend on US citizens, then what we can do is go look at other buckets of money that might have been used to support US citizens, and we'll use those buckets of money to support our undocumented students," Marshall says. 
The Dream.US surveyed its roughly 6,000 students shortly after the pandemic began, and found that 80% of those who responded had lost income; more than half lost their job on a temporary or permanent basis; 65% reported needing assistance to pay their rent and utilities and nearly half reported needing help paying for food. 
Marshall says she fears that these students will drop out of school in the absence of federal assistance. 
"We started to get inquiries from students across the country saying, 'I think I should drop all my classes this term,' or 'I think I need to go down to one class,' or 'I'm questioning whether I can even afford to stay in college,'" Marshall says. She says higher education leaders are trying to come up with ways to advocate for these students in order to get them federal assistance. 
"But, let's face it, it still isn't likely that there would be success there," Marshall says. "I think colleges have to come up with ways in which they're going to be able to support these students."
Carroll, at Dominican, says financial assistance is necessary, but it's a stopgap solution to a larger problem. She and Marshall believe undocumented students should have access to federal aid dollars — and not just during a pandemic but as a matter of course. 
"Higher education by itself, particularly now as the demographic is changing, we will never be able to solve the financial issue by ourselves. We need good immigration policy," Carroll says. She says many more qualified undocumented students apply to Dominican every year than the school can afford to fund. Carroll says that would change if federal aid were given to those students. She says the decision to exclude them from aid — particularly during the COVID-19 crisis — is unjust.
"We should be able to understand the experience of these students, recognize that they did nothing to deserve the political position they are in, and they've done everything to better themselves. But they need our help," Carroll says. 
Hernandez, the senior at Dominican, hopes to graduate next year. Ultimately, she'd like to become a veterinarian, but she needs to go to graduate school in order to fulfill that dream. 
Right now, she doesn't know how she'll afford that next step in her education. 
"I haven't had any resources that have kind of pushed me towards that. So, as of now, I'm thinking about taking a gap year —  a couple gap years —  before going to graduate school," Hernandez says. 
Follow Lee Gaines on Twitter: @LeeVGaines