URBANA — Black facilities workers at the University of Illinois Urbana-Champaign are trying to end racial harassment on the job – through a class action lawsuit.
Friedman & Houlding lawyer Shilpa Narayan is representing the Black facilities workers in the case. She says that after three years of reviewing internal university documents, she's found a top-down policy of minimizing complaints of racism.
"[Over six years] exactly zero complaints of racial harassment led to any determination that the university's anti-harassment policies were violated. And for a public institution employing thousands of employees in that period, that's unheard of," Narayan says.
The lawsuit began in 2019. The two parties have now filed all of their evidence and are waiting for the court's decision on whether Black workers at the university constitute a class.
Narayan says the court can then require the university to make changes on behalf of the class – like incorporating a third party into its harassment investigations.
The University of Illinois legal team has argued that the university has addressed complaints of racial harassment by mediating conflicts, firing an employee, and more.
"The University denies the claims made in the lawsuit and has vigorously defended the case in court, which is the appropriate forum to address the allegations raised in the complaint," university spokesperson Robin Kaler wrote in an email.
"We are committed to promoting a safe and healthy learning and work environment and have adopted policies and procedures to prevent and redress all forms of discrimination."
Workers say they experience daily harassment from all-white coworkers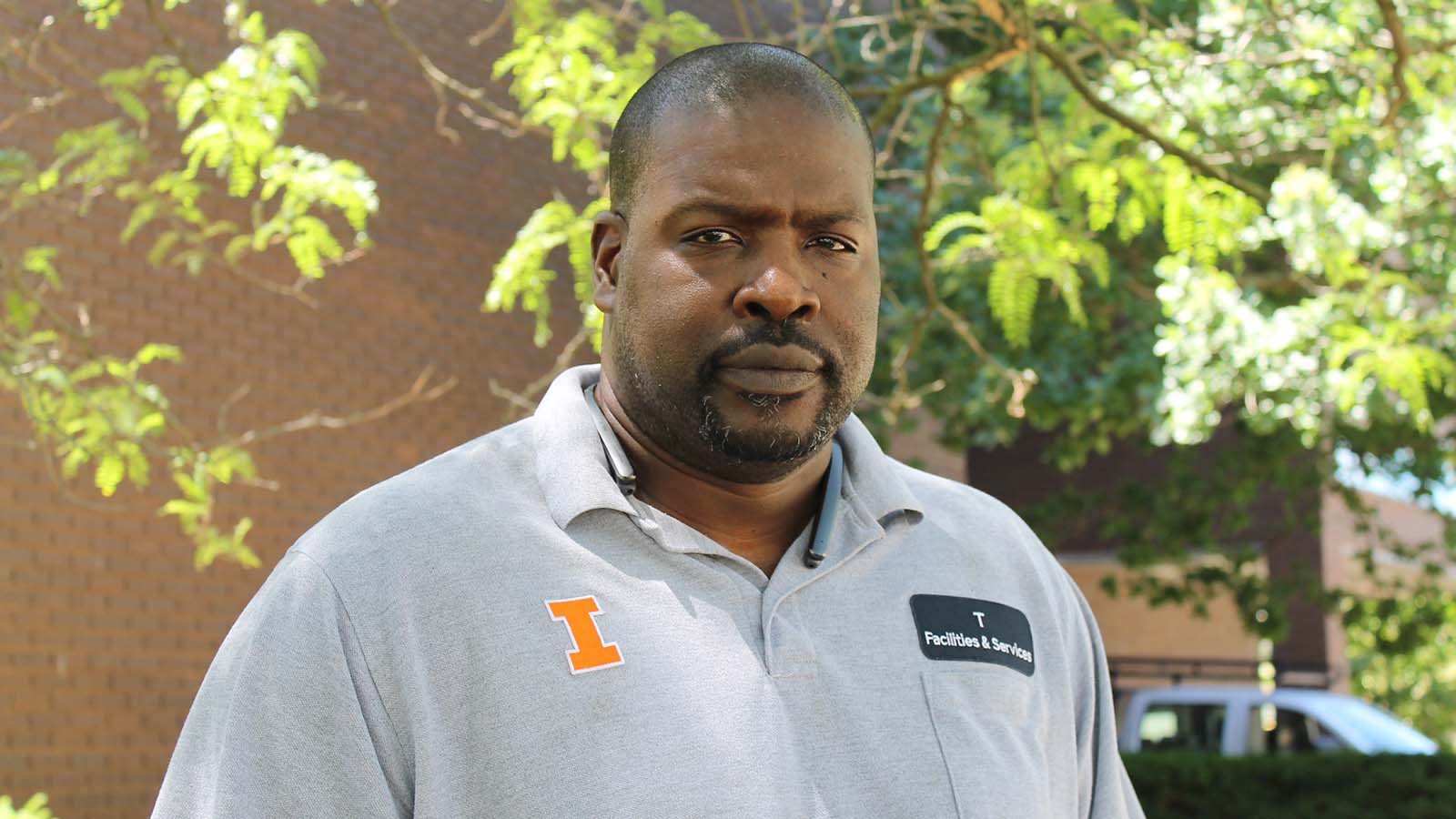 University of Illinois machinist Derick Brown, Sr. is one of the plaintiffs in the class action lawsuit. He says he experiences constant harassment from his all-white coworkers – including one who made a Ku Klux Klan-style hood out of a sheet in 2015.
"It took me back to Mississippi where I was born. It was unbelievable. And then they just start laughing and I'm the only one that's in the state of shock here," Brown says.
Brown says the daily harassment has affected his health, including his blood pressure. He says he sometimes uses vacation days just to get relief from the harassment.
University brick mason Atiba Flemons describes a similar situation – being the only African American in a department of white coworkers. He says his supervisor told Flemons on his first day that he was a diversity hire and that the supervisor would have rather hired someone else, who was white.
The lawsuit details Flemons' attempts to report racist insults from white coworkers. In one instance, Flemons was the one disciplined because investigators found his white coworker's statement more credible.
Brown, Flemons and their fellow named plaintiff, Jeffrey Taylor, ask for systematic changes in the lawsuit to prevent such ongoing harassment in the future. For example, the lawsuit requests that the university bring a third-party investigator into allegations of racial harassment and implement standard discipline (like a "three strikes" rule) to prevent ongoing harassment.
"This is the worst. I figured it would be worse being a Black construction worker on the outside. That was 'tiddlywinks' compared to here. I wouldn't wish this on my worst enemy," Flemons says.
Updated July 15, 2022 with the correct link to the University of Illinois legal response.
Emily Hays is a reporter for Illinois Public Media. Follow her on Twitter @amihatt.