CHAMPAIGN — University of Illinois service workers want a raise of $5 per hour. They say wages haven't kept up with inflation and contribute to staffing shortages.
Members of the Service Employees International Union (SEIU) Local 73 protested working conditions on Wednesday at the corner of Oak Street and Kirby Avenue in Champaign.
"We have a lot of people who get hired now and they're not even making $15. How can you pay your bills? And the way our pay raises go is [we get one] every two years. So, you know, for two years, they're going to be making less than my 18-year-old daughter," said SEIU member Katrina Jarrett.
Jarrett works at the snack bar at the Pennsylvania Avenue Dining Hall. Her daughter makes $16 at the drive-in, fast food restaurant SONIC.
Jarrett added that her daughter doesn't have family responsibilities or wage deductions for health care like university employees often do. To attract and retain workers then, the university should raise wages, Jarrett said.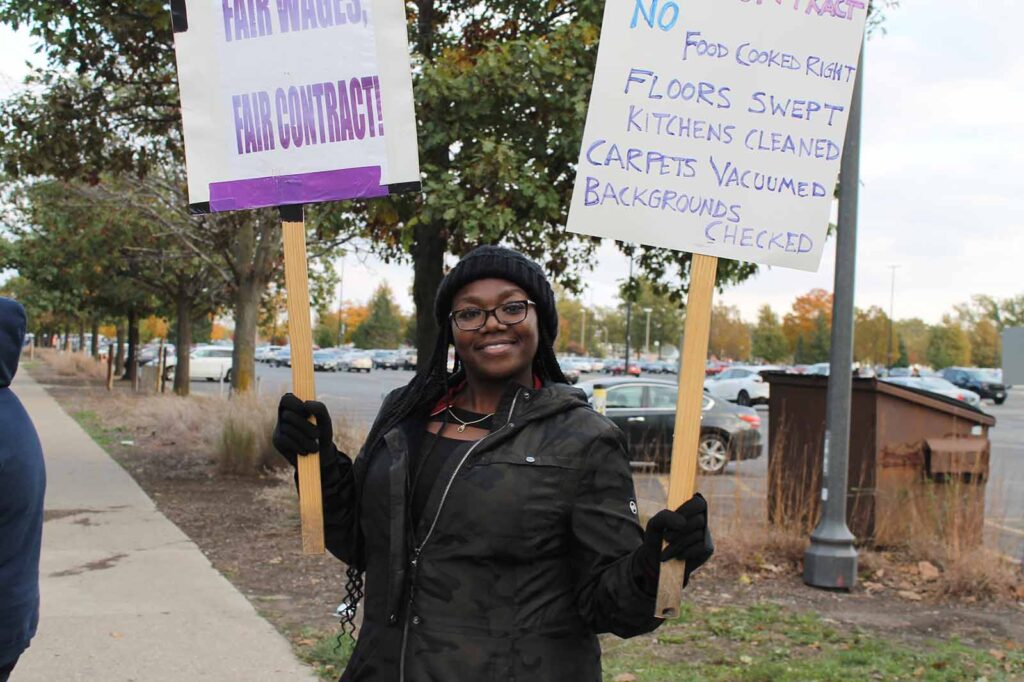 The university has agreed to start negotiations on Nov. 18 with SEIU Local 73. The union asked to start negotiations in September, to give the two parties plenty of time to settle before the current contract ends in 2022.
Union members were disappointed in the delay.
"The University values the significant contributions made by our employees who are represented by SEIU. Their current contract does not expire until August of 2022, and we are in negotiations with other unions whose contracts expire sooner," Associate Chancellor for Public Affairs Robin Kaler responded in an email.
Local 73 held Wednesday's protest to show the university how serious they are about the changes they want to see — higher wages, full staffing levels and a respectful work environment.
The university is expecting some of these demands.
"We are facing the same challenge being experienced by employers across the nation in recruiting and hiring additional employees, but we continue to work to find more prospective employees," Kaler said.
"And we are prepared to address salary compression in our upcoming negotiations."
A record number of U.S. workers left their jobs this August in what has been called the "Great Resignation." Those who stayed in their jobs are increasingly expressing their own dissatisfaction at their working conditions. Thousands of workers across the country went on strike this month.
Vacancies force employees to cover multiple jobs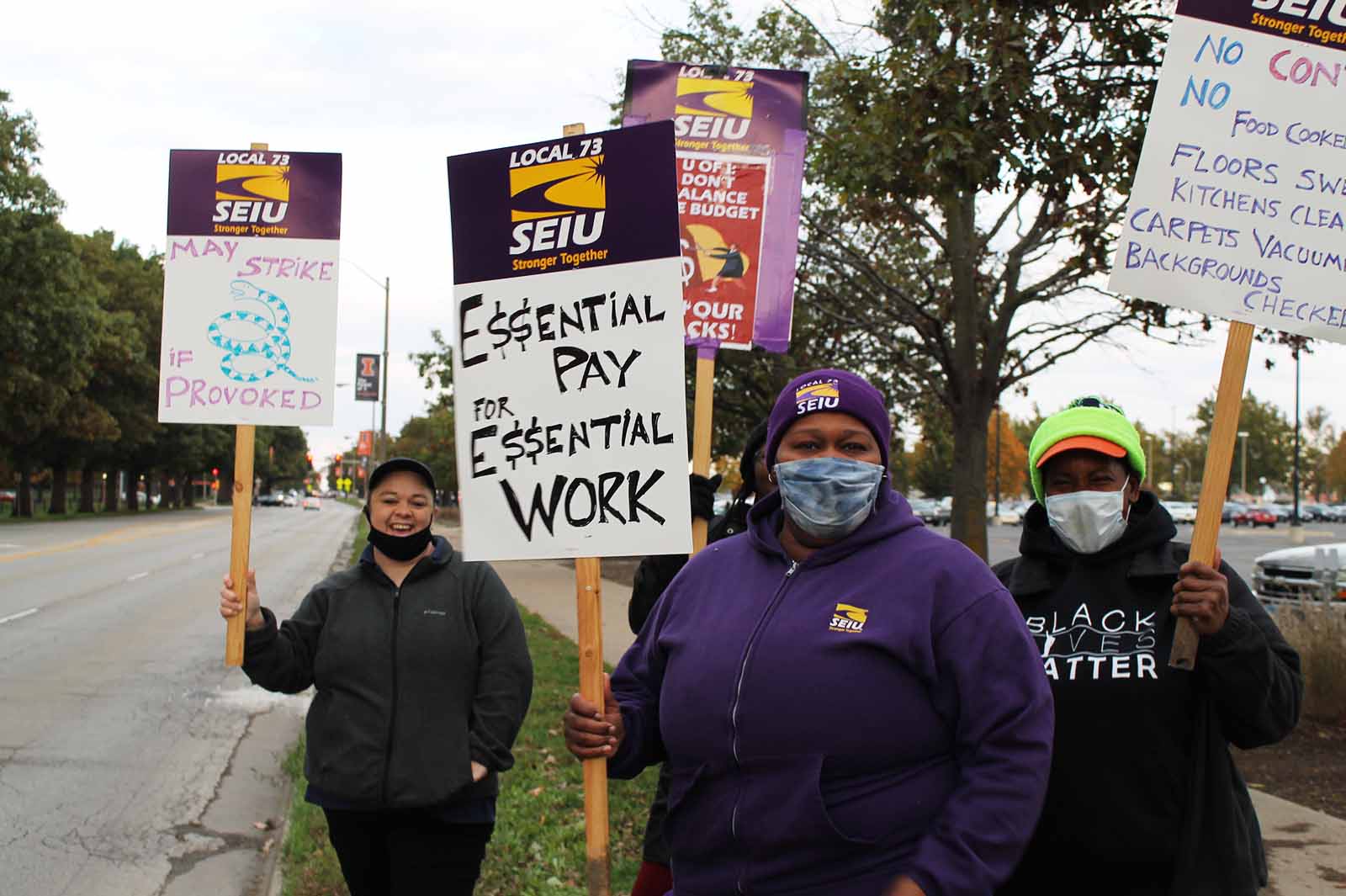 Heather Fairbanks is a snack bar employee and SEIU member. She came to the protest after a long day of filling two roles for the price of one.
The coworker who was supposed to cook burgers is transferring to another job within the university and decided to clock out early. This left Fairbanks running between the burger and pizza stations all shift.
The staff shortages feel particularly painful to Fairbanks on weekends. Up to 4,000 students might come through Ikenberry Dining Hall during Sunday brunch. If someone calls out for the day, Fairbanks can't take her scheduled breaks. There are no workers to cover her station.
"You're making French toast and normally there are two of you on two flat tops and now it's just you on one flat top [grill]," Fairbanks said. "Every pan you put out, you turn around and it's gone. It's crazy."
Fairbanks has worked in-person through the COVID-19 pandemic. This meant constantly worrying whether she was bringing the coronavirus to her father. He was dying of a COVID-unrelated illness, and she needed to visit him daily. He passed away in August.
The union's demands for the university would give Fairbanks several pay bumps, aside from the $5 raise. She would get 50 cents more an hour when she covers multiple jobs, like the pizza and burger station. She would get $1.50 an hour as hazard pay, and more.
"You know, I'm grateful — I've never worked somewhere where we have a union before," Fairbanks said. "Normally, you just get a job and either you like it or you quit, and you find another job. You don't really have a say in what's going on."
Emily Hays is a reporter for Illinois Public Media. Follow her on Twitter @amihatt.