URBANA – Cunningham Township in Urbana launched a new city-wide gardening initiative last week to help fight food insecurity in the wake of COVID-19 — and as the pandemic may extend into the fall.
The grassroots program, called Solidarity Gardens, is inviting individuals and local organizations to adopt a gardening plot to grow their own food. A "bucket brigade" then delivers the food and resources directly to people's homes.
Cunningham Township is working with schools, community gardens and community organizations to unroll the initiative—and using land plots donated by the Urbana Park District and the Champaign Park District.
The initiative aims to support low-income communities that have been hard hit by the pandemic.
"People who are extremely low-income, folks who are out of work, our immigrant friends and neighbors who don't qualify for many of the federal and state programs, are really some of the people who are facing the greatest food needs right now," says Cunningham Township Supervisor Danielle Chynoweth.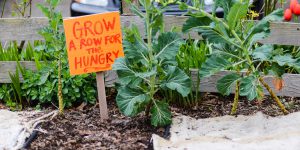 Chynoweth says the numbers of homeless and low-income people reaching out for aid in accessing food has increased due to the pandemic.
"With COVID and the massive layoffs that we've seen, we've seen a doubling of our cases almost overnight," Chynoweth says. "And we're anticipating food insecurity going into the fall with the economic devastations that we're facing."
People who want to participate in Solidarity Gardens can receive seeds and seedlings in the mail, as well as resources and gardening tools, for free.
Chynoweth says the goal is to expand Solidarity Gardens through the fall and beyond, as an ongoing effort to address food insecurity in Champaign County.
"We live on some of the most fertile soil in the world," Chynoweth says. "And no one in Champaign County should go hungry, given how fertile the soil is."