URBANA – In three Urbana elementary schools, most students take COVID-19 tests once a week. And they barely have to step out of their classrooms.
The schools are part of a pilot program Urbana School District #116 started this fall.
"It's been working really well," says district Chief Information Officer John Gutzmer. "We've been able to catch cases really early. A lot of the younger kids have been either completely asymptomatic or almost asymptomatic. So it's cases where they could have gone undetected for days or weeks."
COVID cases and hospitalizations among Illinois children have climbed in recent weeks. This rise is steeper in less-vaccinated regions like southern Illinois than in the more-vaccinated Chicago region.
The state public health officials recommend that schools test those with symptoms and regularly screen unvaccinated students. At the moment, that still includes all children under 12.
It was Leal Elementary School's turn to screen students on Wednesday.
Special COVID tester Latrina Jones herded kindergarteners into the hallway to take a BinaxNOW antigen test. Some kids wiped the swab around their own nostrils. Some waited for an adult to do it for them.
After each child sanitized their hands and filed back into the classroom, Jones and two coworkers moved with their cart of test tubes to the next classroom.
Between 50 and 90 percent of students at each school have family permission for these tests. The antigen tests come from BinaxNOW and are almost free, thanks to a mixture of state supports.
The district's goal is to get all results back by lunchtime, when students take their masks off to eat and are at higher risk of spreading COVID-19.
The other two schools where hallway testing takes place are Dr. Preston L. Williams Jr Elementary and Yankee Ridge Elementary.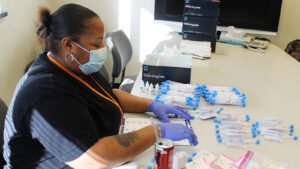 The pilot program fits into a variety of COVID testing methods at Urbana schools. Staff can drive up to check their status with a BinaxNOW antigen test before school. Another drive-thru option is open biweekly to anyone in the school community. Middle schoolers and high schoolers have their own testing options.
And then there are tests ready at all of the nurses' offices in case anyone has COVID-19 symptoms and needs to know whether to isolate.
District #116 often gets questions about expanding the pilot to the last three elementary schools. Gutzmer says the district just can't find the staff to do that.
"Right now our biggest constraint is staffing. We've been working really hard to hire extra CNAs (certified nursing assistants) and extra testing staff," Guzmer says. "If you know anybody who's looking for a CNA job, send them our way."
By the end of Wednesday, Urbana had tested between 350 and 400 students at Leal Elementary School for COVID-19.